In a Competitive and Complex Job Market, Relationships Reign Supreme
78% of recruiters find their best quality candidates through referrals.
Recruiting is fundamental to the health and success of all businesses today. Finding, nurturing, and hiring the right talent is now a dynamic, diversified process, requiring recruiters to tap into social networks, analytics, mobile, and beyond.
This year's study examines trends, challenges, and opportunities faced by recruiters nationwide. It reveals a fiercely competitive job market and the multifaceted approach that recruiters are taking to fill their companies with quality talent.
What you need to know:
Recruiters are facing an increasingly demanding and competitive talent market
95% of recruiters anticipate the job market to remain or get more competitive.
Over a quarter of companies anticipate hiring 100+ people in the next 12 months.
30% of recruiters report an average employee tenure of just 1-3 years.
Today's dynamic recruiter uses every tool available to connect with job seekers
Only 4% of recruiters are not using social media in recruiting efforts.
72% of recruiters say data analytics is somewhat or very important in the hiring process.
19% of recruiters find quality hires via mobile career sites.
To recruit and retain the perfect fit, recruiters must prioritize relationships
After referrals (78%), recruiters find their best candidates through social and
professional networks (56%) and intern-to-hire programs (55%).
69% of recruiters have increased their initial salary offers in the last year.
63% note that offering employees benefits like medical and dental care is the most attractive
incentive for new candidates, over perks like free snacks or casual dress code. Quality still comes first
56% of recruiters cite the lack of skilled or qualified talent as a key stumbling block.
In assessing quality, 88% report that culture fit is very important and 87% cite previous job experience as key.
However, 57% report that GPA is unimportant and 63% believe cover letters are unimportant.
In the next year, improving the quality of hires is the number one priority for a plurality of recruiters.
Meet Today's Recruiter
To support the demands of modern business, recruiters must be as dynamic as the tools they use.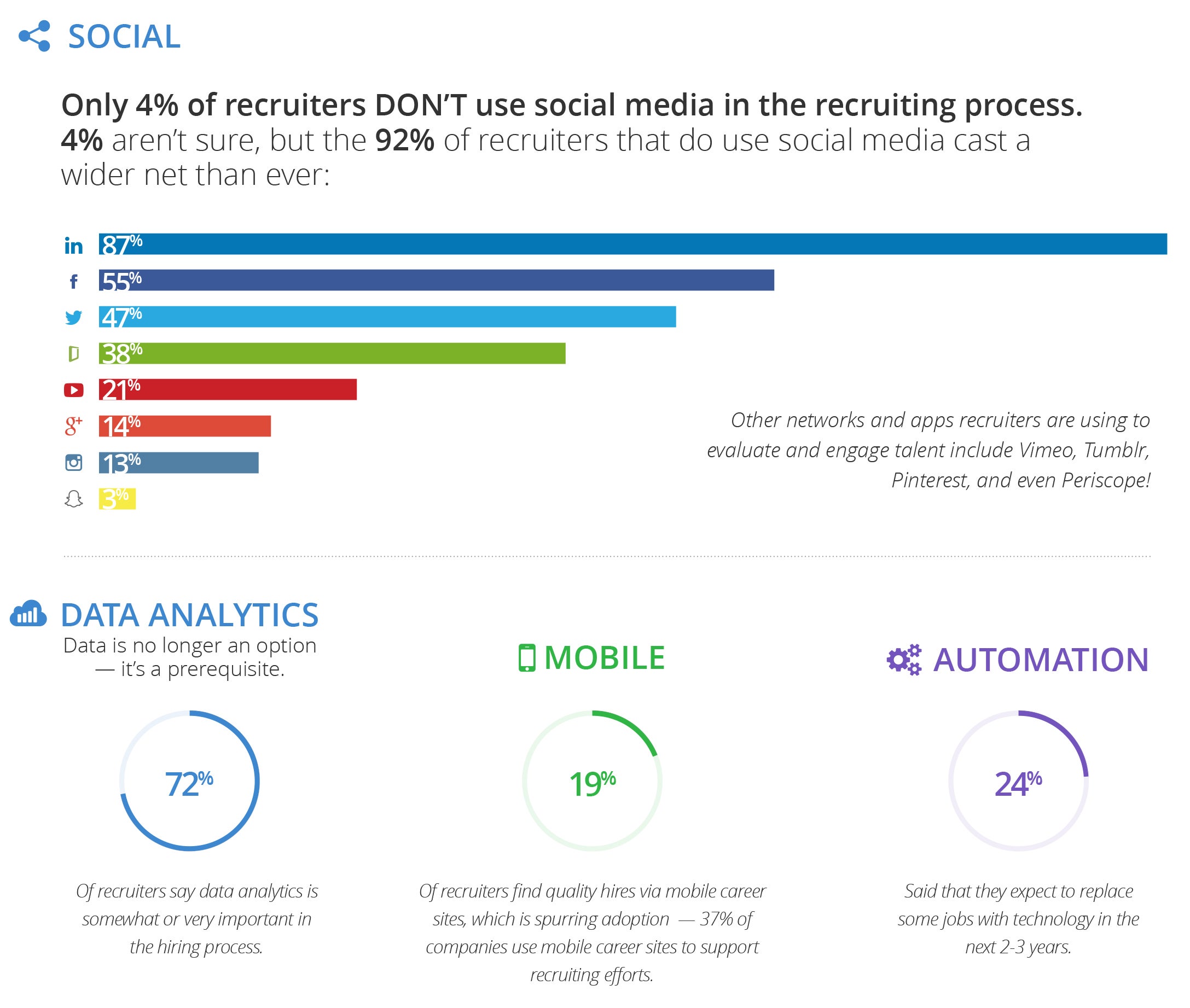 The Realities of Modern Recruiting
Here's a snapshot of recruiting today, from introduction to onboarding.
Recruiters find candidates from various places, but referrals remain the most effective source of quality hires.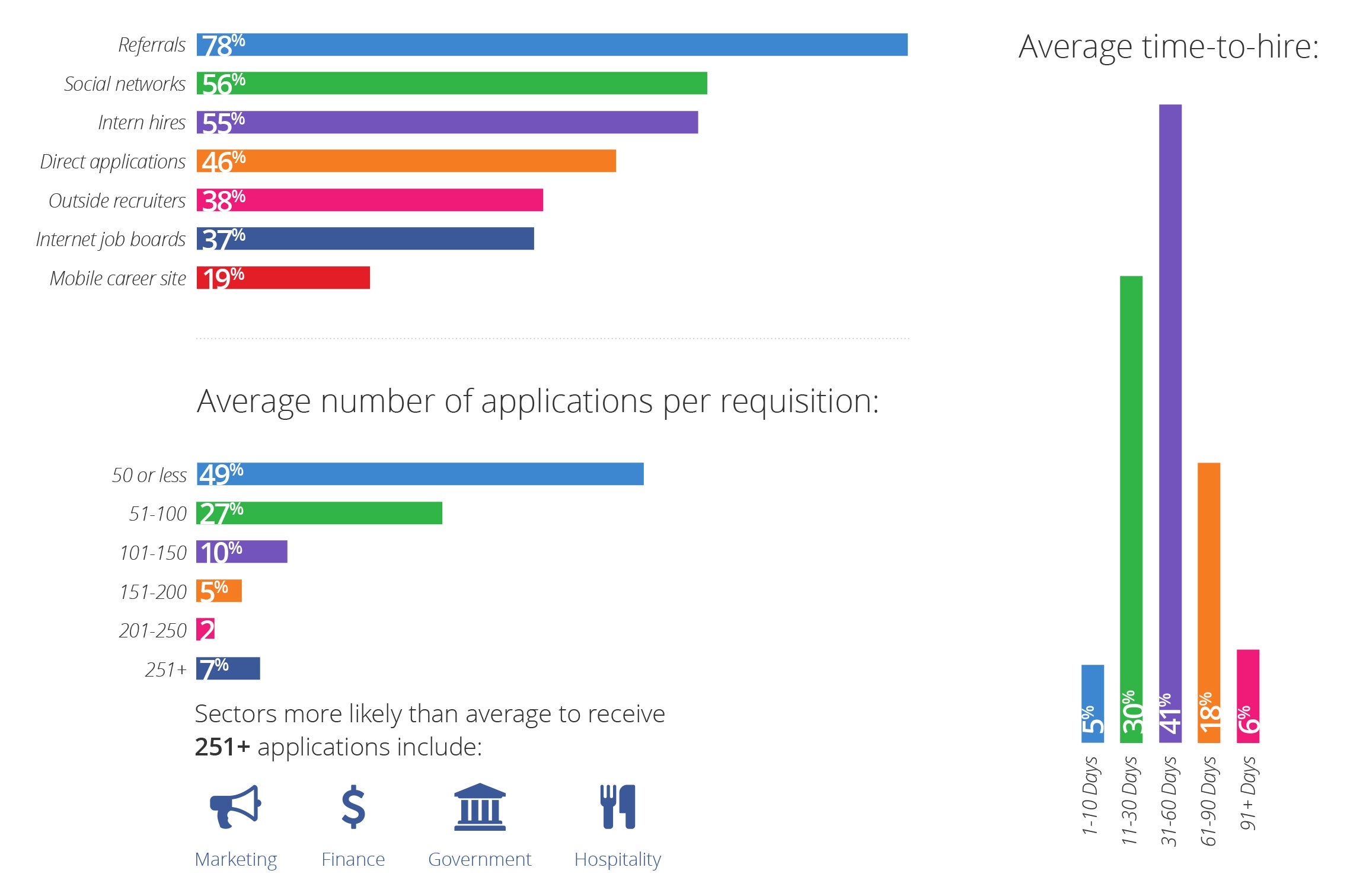 Small Teams Face Steep Quotas
95% of recruiters anticipate the hunt for talent to remain or get more competitive in the next 12 months.
Over a quarter of companies anticipate hiring 100+ people in the next 12 months.
This percentage skyrockets for fast-growth industries: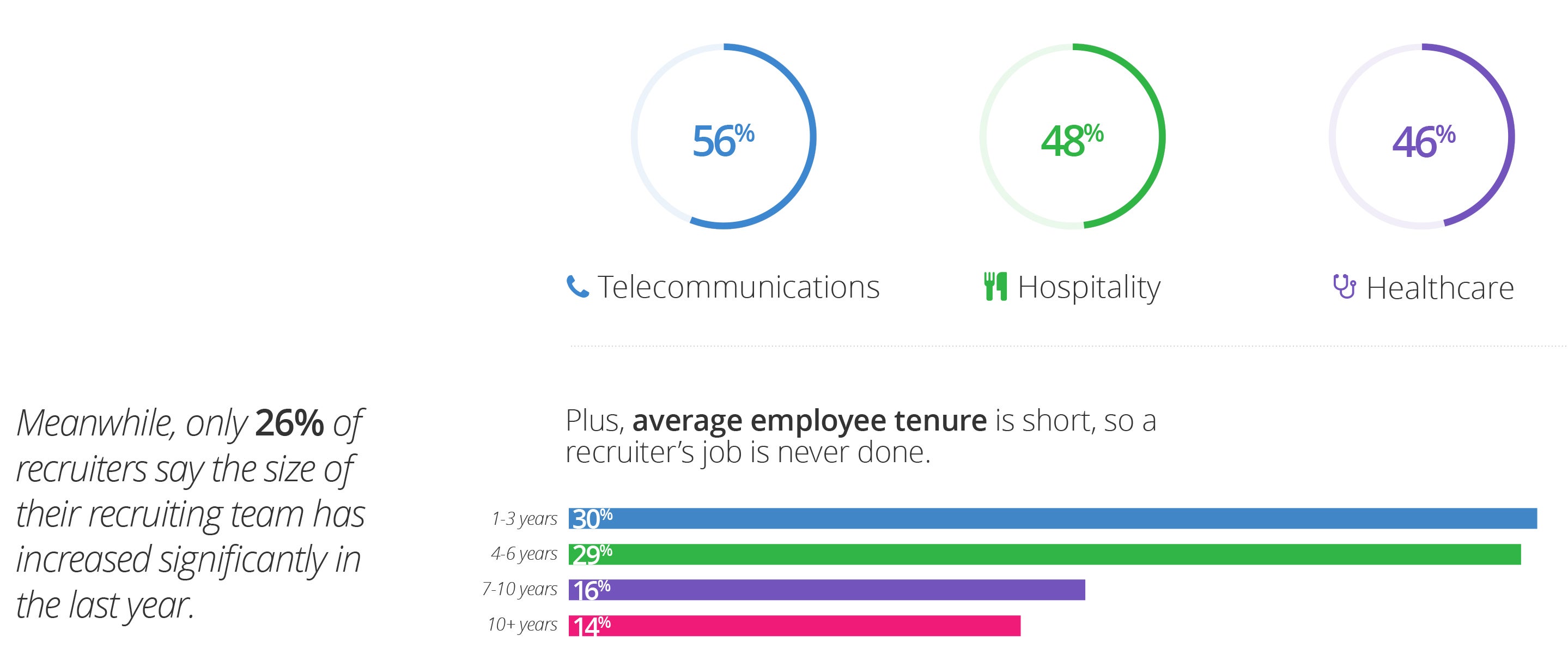 Even the Best Recruiters Face Stumbling Blocks
56% of recruiters are hurting for skilled or qualified candidates.
Internal bottlenecks have a real impact on hiring efficiency. Recruiters cite these as top challenges: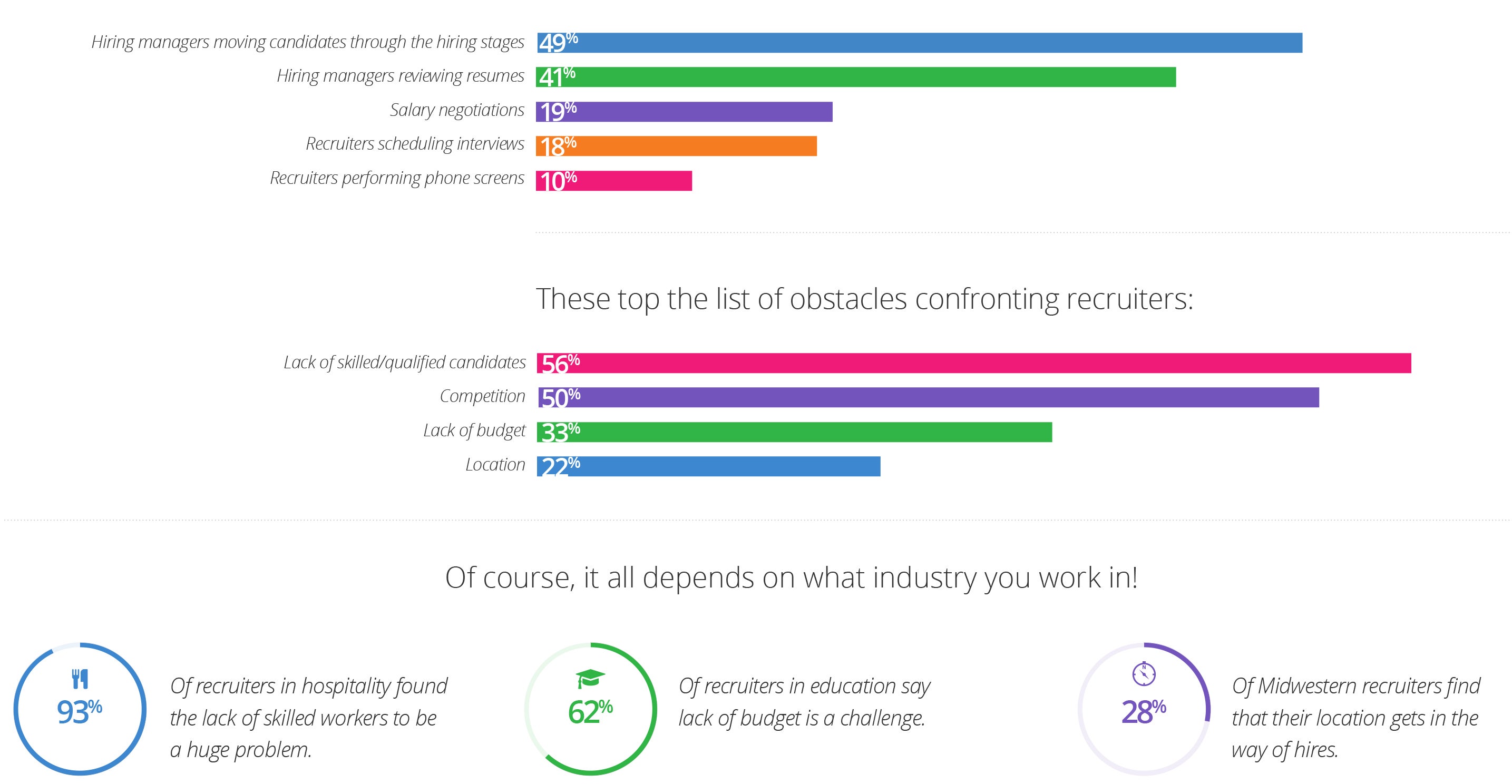 Relationships Get Talent Through the Door
The dynamic recruiter works with their team to keep the talent pipeline full.
78% of recruiters find their best quality candidates through referrals. This is up from 60% in 2014. In the next year, 41% of recruiters plan to invest more in referrals.
Recruiters use these employee incentives to help keep referrals coming in and the candidate pipeline full: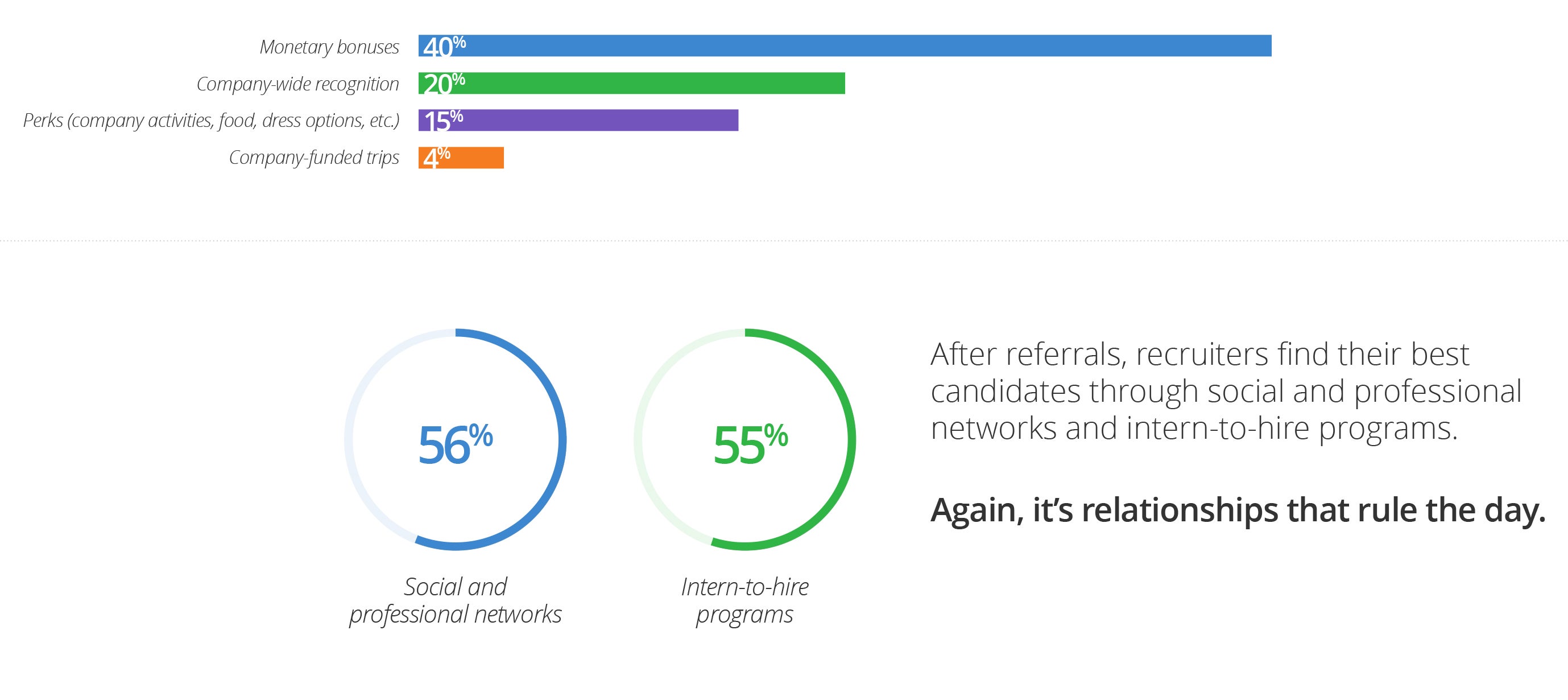 Marketing Matters
More than a quarter of recruiters say that lack of brand awareness is one of the biggest challenges they face in attracting top talent.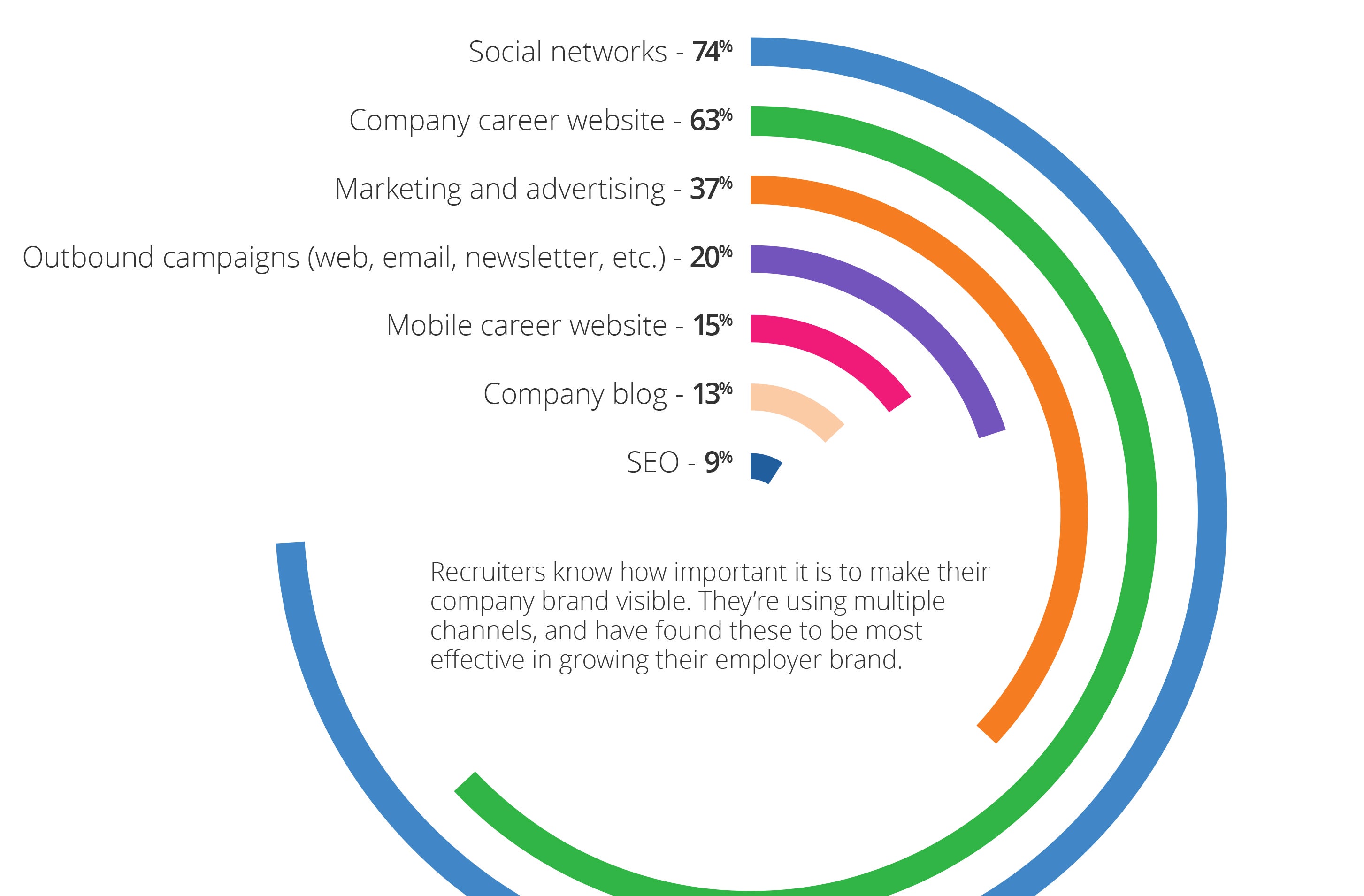 A Good Candidate Is Hard to Find
Recruiters are getting creative about how they evaluate job seekers.
96% of recruiters still count on face-to-face interviews, and 93% rely on resumes. But status quo assessments are not enough — recruiters are diving deeper to understand candidates. Creative examples include: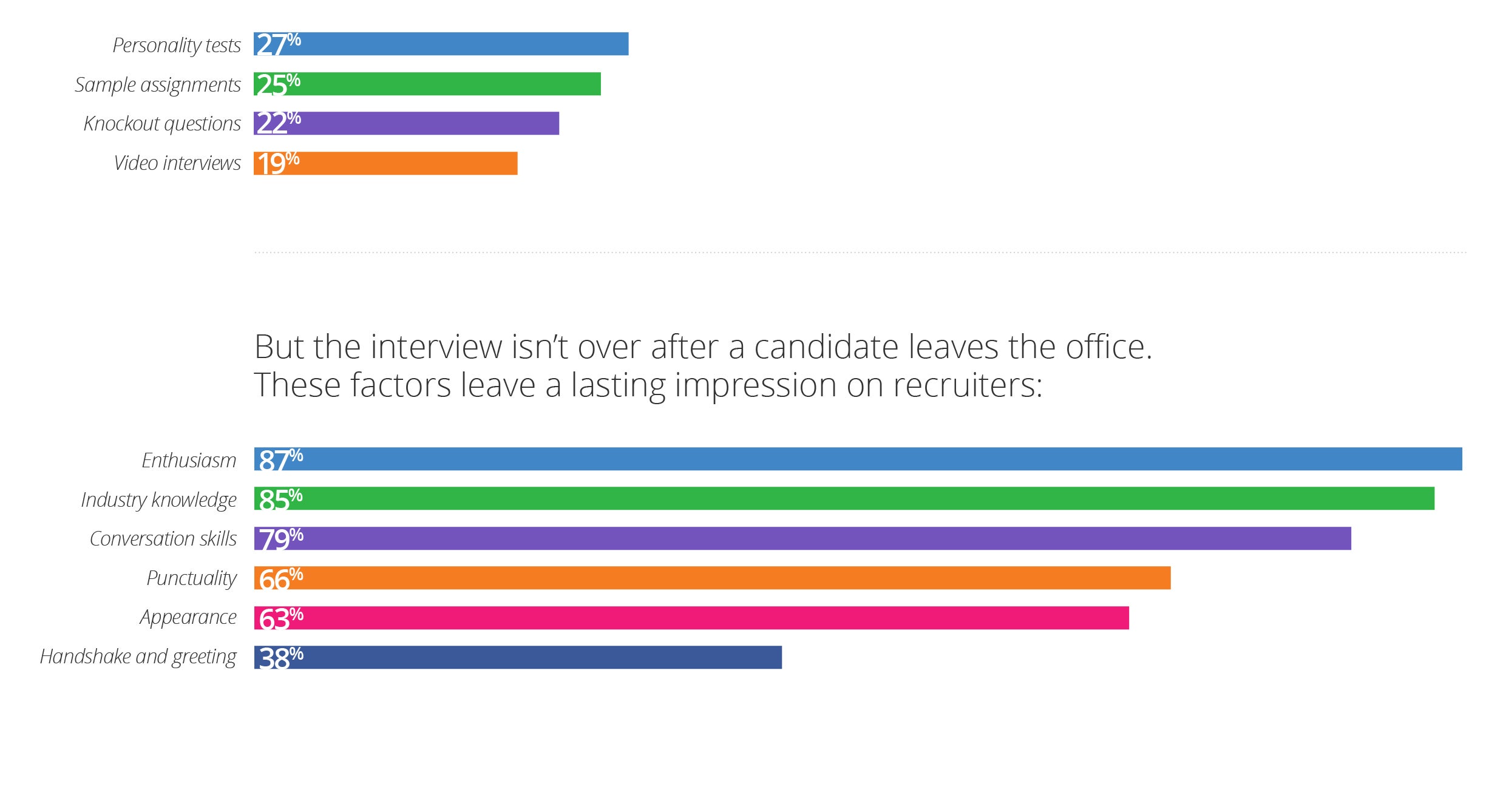 What Matters to Recruiters — and What Doesn't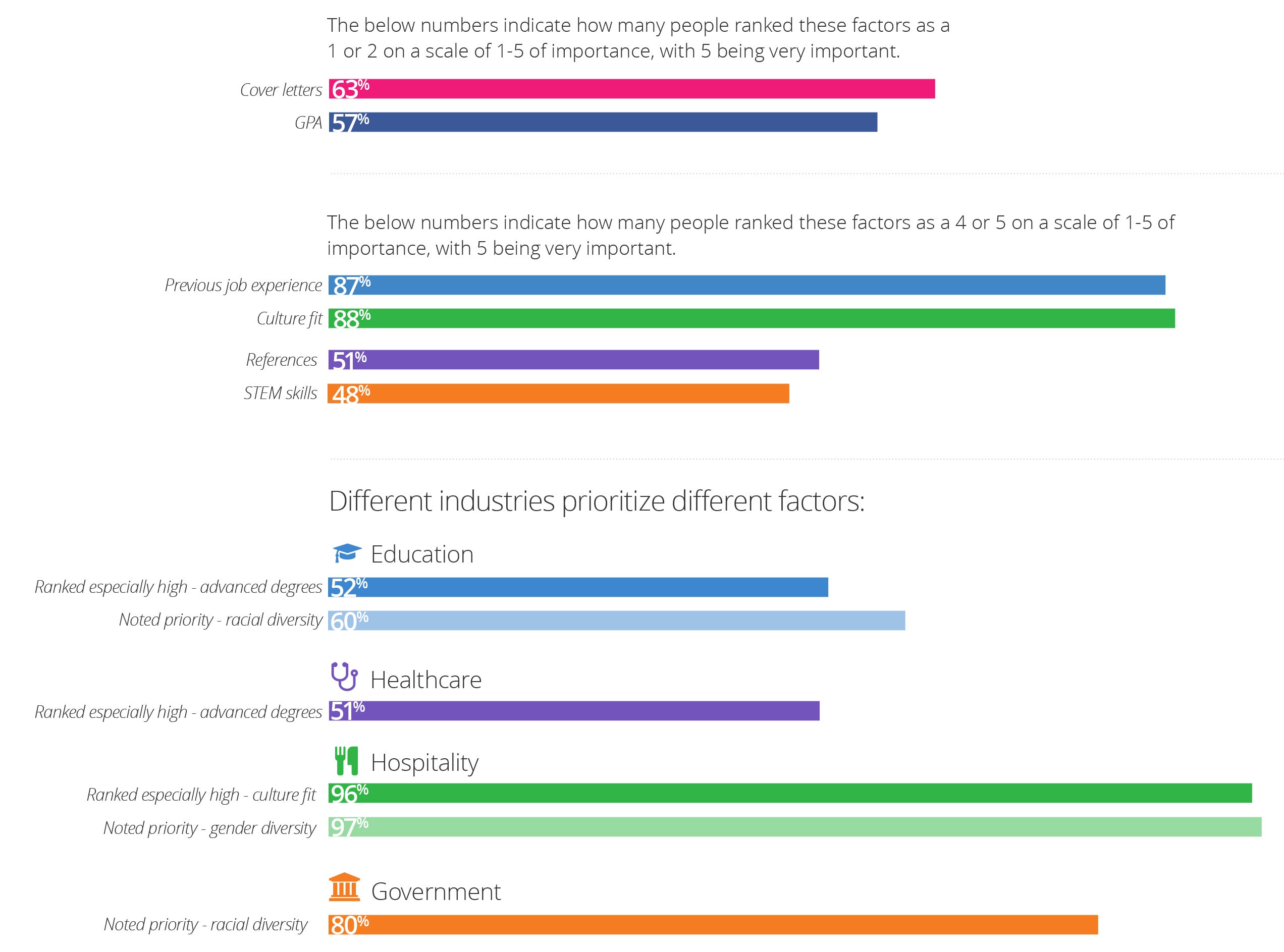 Social Media Is a Gold Mine for Recruiters
Online networks are chock-full of precious data, both personal and professional. Recruiters are digging deep to uncover what really matters.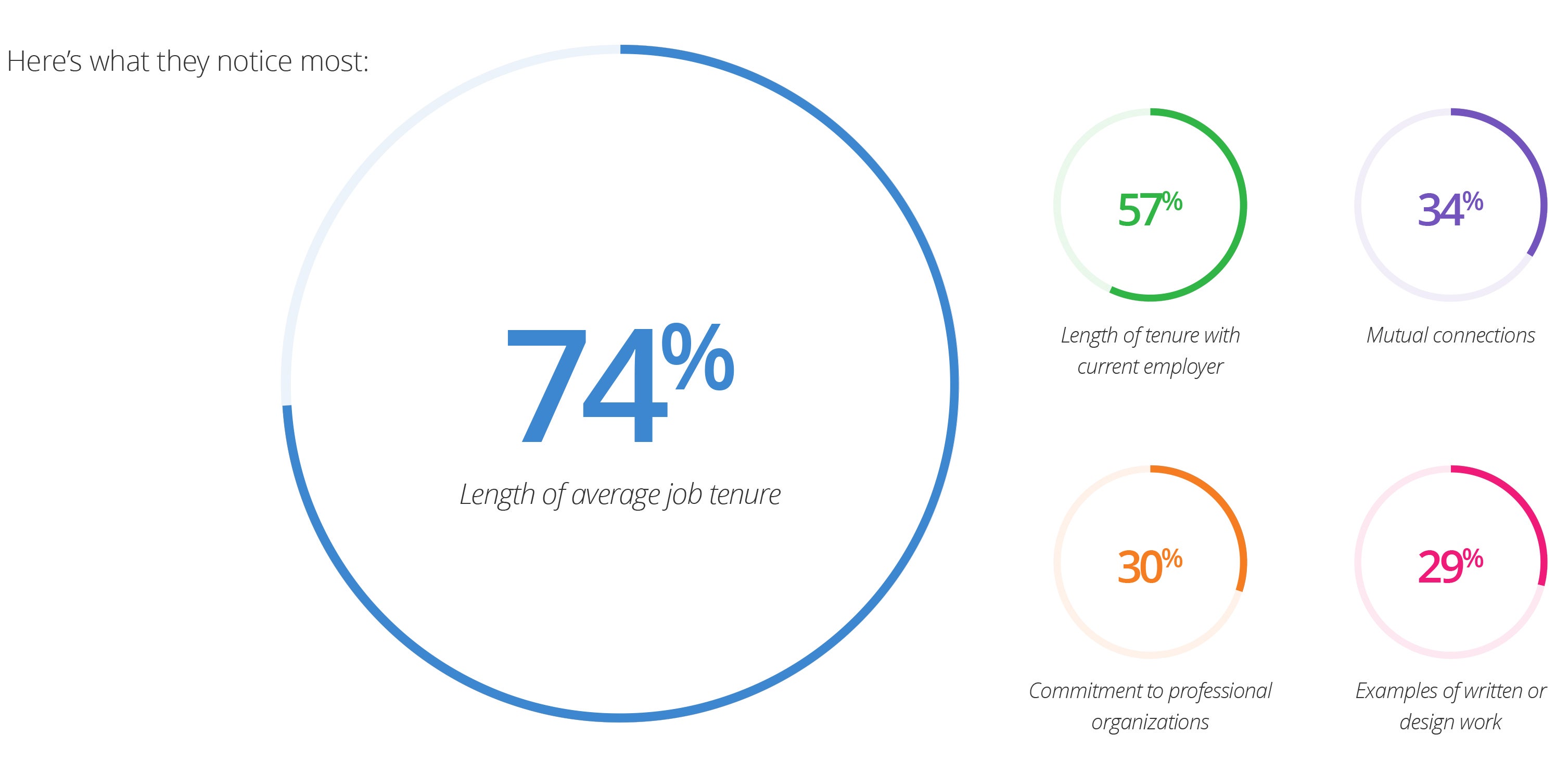 Recruiters' Advice for Candidates on Social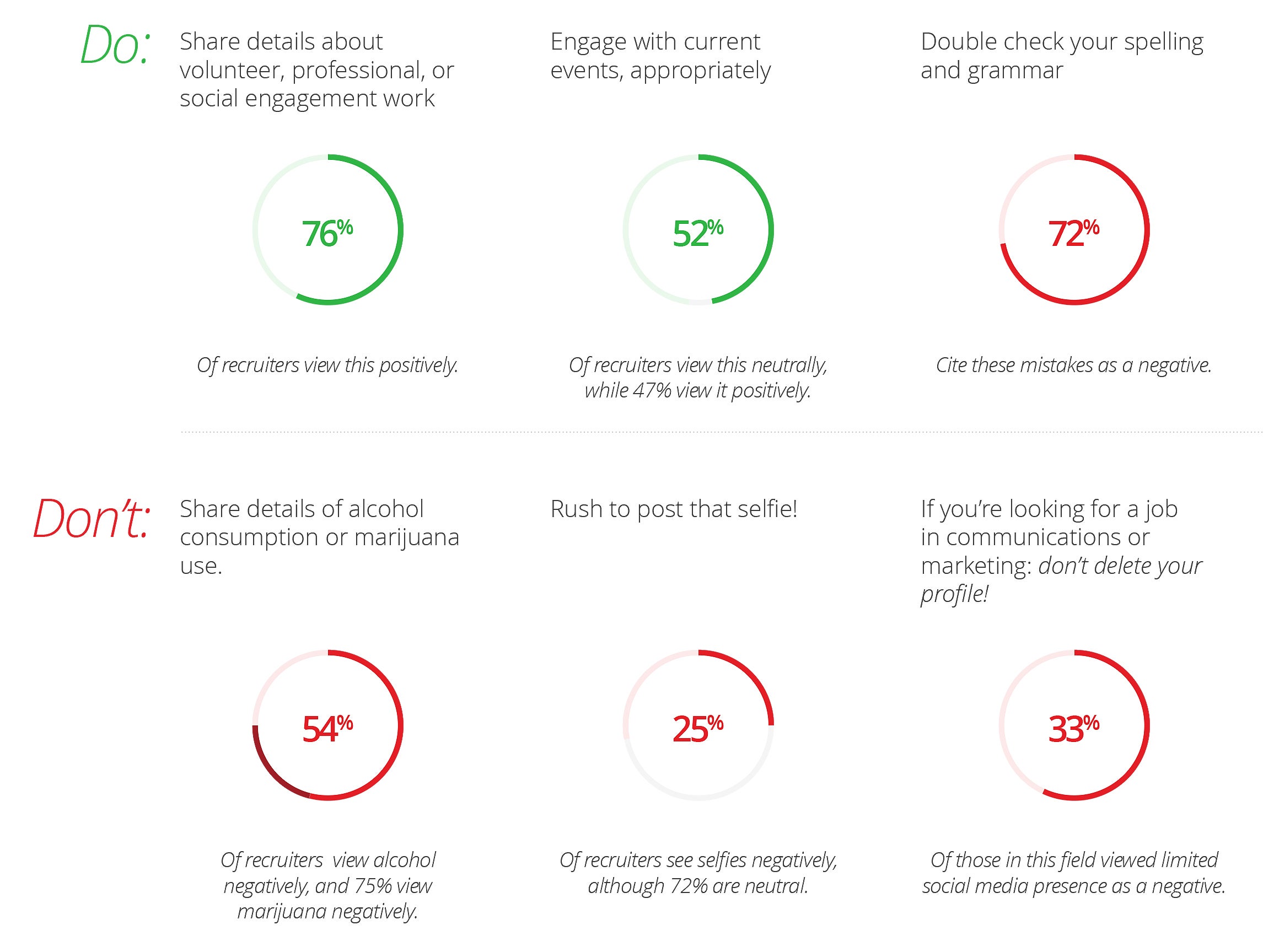 The Art of Negotiatio
Over the past year, 68% of recruiters have noticed that candidates are more likely to negotiate their salaries.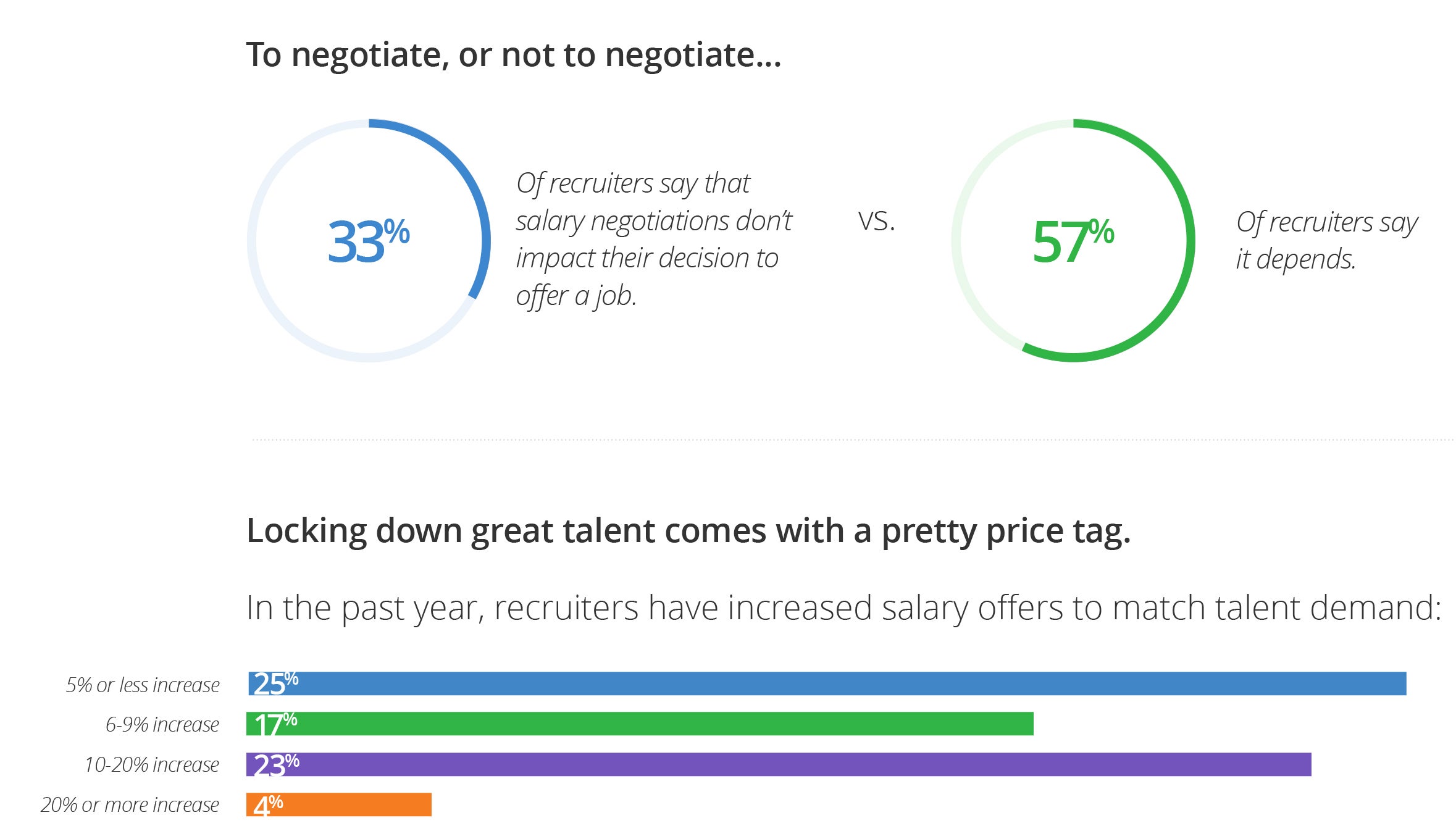 Perks are nice. Healthcare is better.
Fundamentals are most effective at enticing new candidates.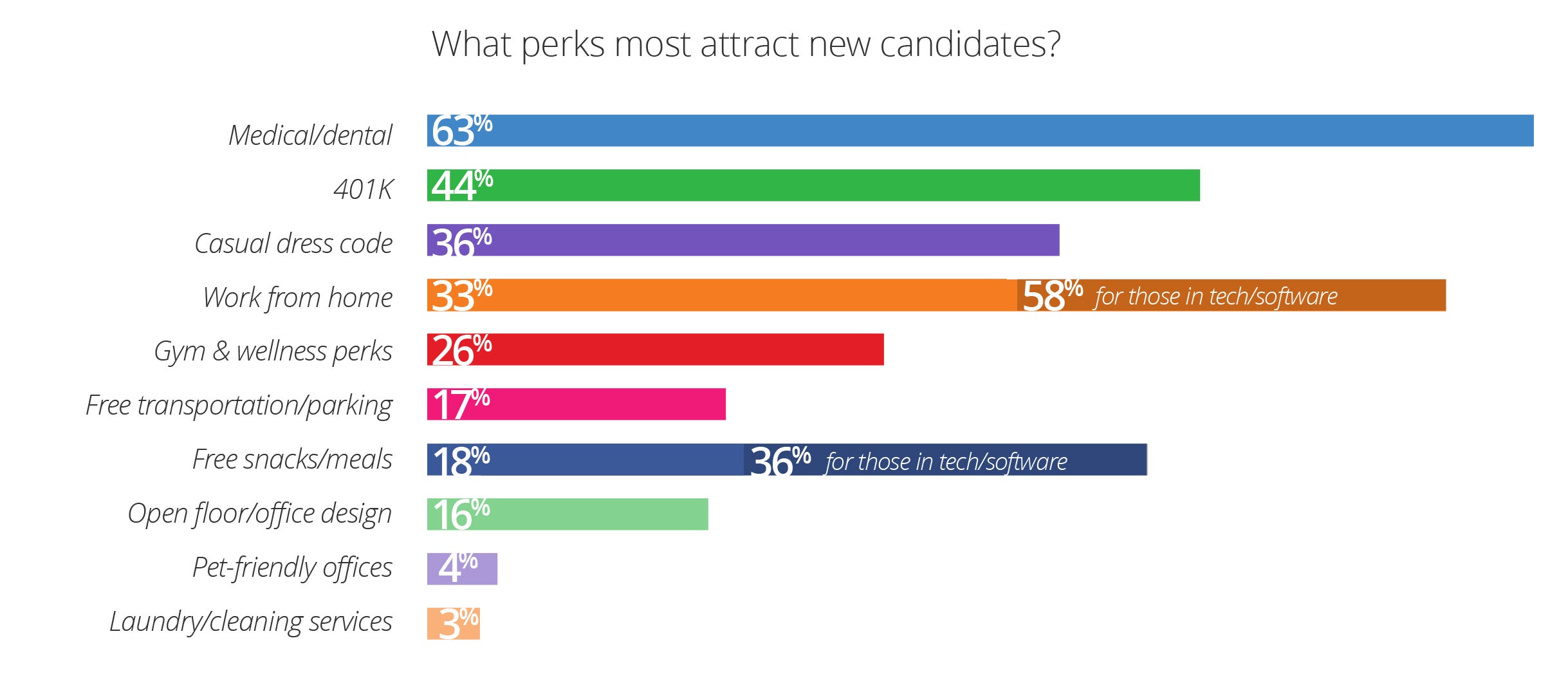 To ensure better hires, recruiters are willing to invest more.
Over the next year, recruiters are aiming for improvement in a few key metrics: