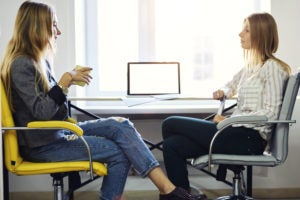 Think back to a job interview that sticks out in your mind. You may remember how nervous you were, or maybe how excited you felt about potential employment. Whether you got the job or not, chances are, you don't really remember the interview questions so much, but you do remember how the experience shaped your perception of the company you interviewed with.

According to a Career Arc survey, nearly 60% of job candidates have had a poor candidate experience. You may think it doesn't matter if they don't get hired, but when 72% of those candidates share that experience, it can hurt the company's reputation. If you want to attract rock-star employees, and create and maintain a positive employment brand reputation, make the most of every candidate experience.
Define the Role (and Company) Well
Vague job descriptions will usually produce mediocre candidates. Be specific with not only the role, but the company culture as well. Think of it in marketing terms and sell the position! Dr. Jack Wiley, author of RESPECT: Delivering Results by Giving Employees What They Really Want and Chief Scientific Officer at Engage2Excel, agrees that the more clearly you can define the position, the better.
Explain the exciting aspects of the job that go beyond the job description.  Communicate the vision for the team, department, and/or organization to instill  confidence for a promising future and opportunities for growth and development — highlighting how the candidate can achieve his/her career goal. — Dr. Jack Wiley
Research shows that 69% of job applicants desire to know about a position's
responsibilities. Dr. Wiley said to make sure you are truthful about what the position entails.
Explain the performance expectations for the job and how the organization keeps employees well-informed. Also, describe the social/physical working conditions, and the resources available to the candidate to help get the job done. — Dr. Wiley

A good recruiter will make sure that the job position is written clearly and concisely, with the ideal candidate in mind.
Be Flexible and Relational
A candidate's experience with your company matters, regardless of whether or not he/she ends up working for you. Be deliberate about treating candidates like people — not numbers. Geraldine Moncade, Digital Analyst and Communications Director of Nearshore Systems, has seen first-hand how flexibility can help a recruiter in the hiring process.
Not every candidate is the same, and from my experience working with hard-to-find profiles, one of the best qualities a recruiter can have is to be flexible and adapt quickly to a candidate's personality. A recruiter that is able to mold his/her communication to fit the candidate's is going to create a secure, easy-going environment that will make the interview process a bit smoother and pleasant. — Geraldine Moncade
Seeing the candidate as a unique individual and forming a relationships is key, even when the candidate may not seem like a good fit. You never know when they could end up working for you, or recommending the job to a future star employee.
Give a Killer Interview
A candidate's interview will make or break the experience. Make sure your hiring manager is prepared for the process and ready to engage with the potential candidate, not just read off a list of generic interview questions. Make sure the person conducting the interview:
Knows each candidate. Read over resumes before the interview and memorize key points.

Conducts the interview in a comfortable environment.

Eliminates distractions. Make sure the door is shut and phone is off.

Maintains eye contact. Don't just read questions off a paper.

Asks open-ended questions to get more insightful answers.
Christine Cummings is the VP of Marketing at All Set, a business to find the best housekeeping and landscaping pros. Her tip for a great interview: make sure you take notes.
In my 7+ years of hiring and managing people I have made many mistakes, received great feedback from candidates, and adjusted my hiring process a lot. Take notes during all interviews to make sure you do not ask the same questions multiple times. — Christine Cummings
Prepare in advance, and come up with questions that are specific and relevant to the job. Founder of the entertainment blog Streaming Observer, Eric Anthony says to skip the psychological tricks
Avoid asking obscure questions to see how the interviewee will react. Questions like, "If you could have any superpower, what would it be?" are better suited for first dates than they are for job interviews. First and foremost, ask questions to determine whether this person would be a good fit for the job or not. — Eric Anthony
Don't use cliche questions. Create an effective interview by scripting questions that will bring appropriate traits and skills to the surface.
Provide Feedback and Follow-Up  
Most professionals who have endured corporate hiring processes say the primary frustration was the lack of communication during the process. Updates during each step help the candidate feel in-the-loop.
Give candidates an update after every conversation on next steps and the timeline for those. Send every applicant a final answer. For those you have never followed up with, a standard email is enough. For candidates you spoke to, send a personal email with a reason why they did not get the job. — Christine Cummings
Jaime Lizotte, HR Solutions Manager with ComplyRight, agrees with the importance of follow-up.
Always follow-up. Even if you chose to move forward with another candidate, follow-up is key. You owe it to all of the candidates to let them know where they stand in the process. — Jaime Lizotte
A startling 94% of professionals want interview feedback after a rejection. Don't let the candidate fall into the black hole of those who didn't move forward in the hiring process.
Give them closure.
Create a Memorable Candidate Experience
Even if it is their dream job, a great candidate will be far more likely to accept a position if they are impressed by the hiring process. Give them a glimpse of the heartbeat of your company, show them how organized and efficient you are, and demonstrate how you put people first.
Jana Tulloch, a human resources professional at training firm DevelopIntelligence, stresses the importance of courteous communication.
Focusing on cultivating positive interactions and building relationships should exist at the start, regardless if the individual ends up working  with you or not. — Jana Tulloch
Give your candidates an experience they will remember, by going out of your way to treat them with respect. Even the ones who don't get hired will walk away with good things to say about your company.