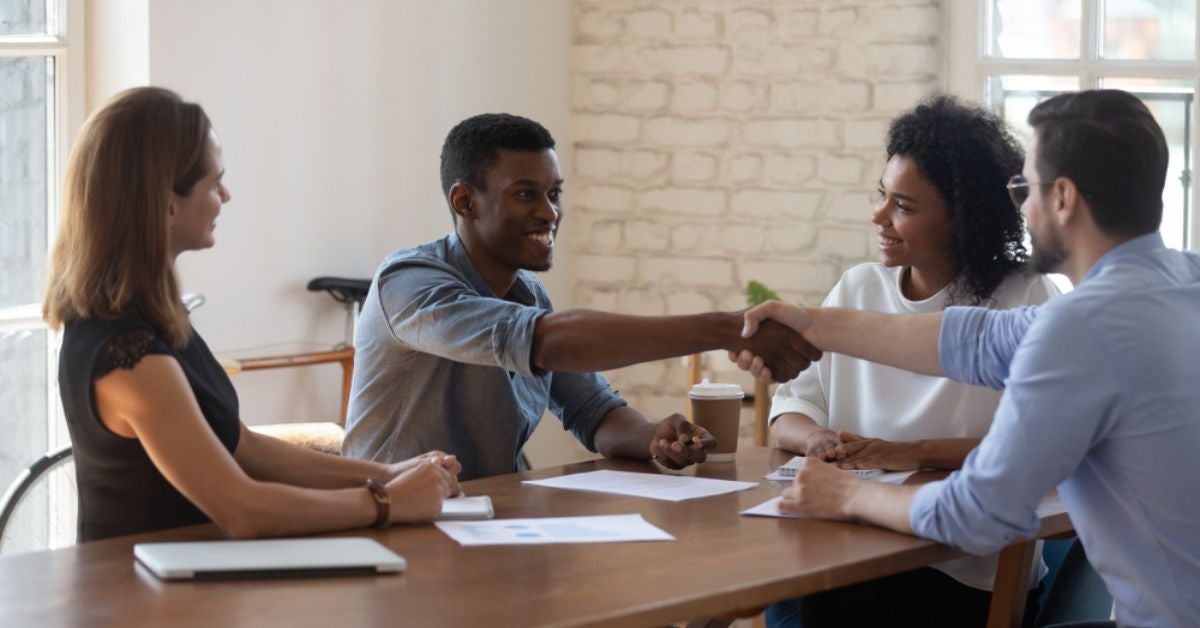 Ensuring your hiring team collectively provides a positive candidate experience to each and every individual you reach out to and speak with for open roles is one of the most critical areas of your company's recruitment strategy today.
In short, if it was evident before reading this guide, improving your candidate experience efforts regularly should always be a top priority for recruiting staff, hiring managers, and interview panelists.
How to provide a consistently positive candidate experience to every job seeker you engage
Of course, saying you want to take action to create a positive candidate experience for all prospects in your funnel is one thing. It's quite another to actually put a plan in place to improve your CX approach.
With that in mind, here are five expert ways you can go above and beyond to make sure your candidates enjoy every aspect of the recruitment process — even if they don't end up being hired.

Keep candidates informed every step of the way
When seeking to create positive candidate experiences, communication is key. No candidate likes to be in the dark. They want to stay informed and updated about where they are in the hiring process.
Unfortunately, too many recruiters and employers treat the hiring process as a one-way street, requiring prompt answers and updates from candidates, without offering the same thing in return.
Let them know when their applications have been received and are being reviewed.
Even send rejection letters to let them know they will not be moving forward in the hiring process, offering insights into the reasoning behind your decision instead of a form letter.
Let your job candidates know what to expect
Hand-in-hand with keeping candidates in the loop regarding their place in the hiring process, it's equally important to let candidates know what to expect if they are hired.
That means offering them a clear and detailed glimpse not only into their new role's responsibilities, but also into your company's unique culture.
Today's job candidates understand the importance of company culture. In fact, 88% of surveyed job seekers said they believe that a good company culture is essential to business success.
Demonstrate the things that make your company culture stand out from the crowd (read: other employers) using Jobvite's fully customizable, premium career site building toolkit.

Reduce unconscious bias using AI software
One of the biggest obstacles standing in the way of improving any hiring process is unconscious bias. Even when we tell ourselves we're not being biased during candidate selection, there may be ways our bias peeks through even without us knowing it.
Not only can perceived bias negatively impact your candidate experience, but it also is very likely preventing you from making the best hiring decisions to benefit your business.
Jobvite's built-in AI capabilities are designed to help recruiters accurately identify the experience and qualifications they need most, then zero in on exactly which candidates best satisfy those needs.
Maintain relationships with "runner-up" candidates
When does your candidate experience end? After you decide not to hire them, right? Wrong. Just because a candidate isn't right for the position you currently need to fill, that doesn't mean they won't be right for a different role in the future.
With Jobvite's CRM, you can get ahead of new requisitions and make sure you have the right talent identified and engaged before your business needs them. Instead of starting over from scratch, you may already have dozens of prime candidates sitting in your recruitment pipeline.

Leverage automation to take care of some TA tasks
The days of having to manually execute every single recruiting- and hiring-related activity are (thankfully) over. That's because talent acquisition automation software now can take care of (once-tedious) tasks for just about every member of your recruitment org.
"Consider automating lower-value tasks like interview scheduling, responses to frequently asked questions, and the sending of digital paperwork," Employ SVP People & Talent wrote for Recruiter.com.
"In automating these high-volume tasks, you'll create a better candidate experience and be able to spend more time on strategic decisions," Corey added.
Learn why so many enterprises leverage Jobvite's Talent Acquisition Suite to improve their candidate experience efforts — and take their hiring strategies to the next level.