Diversity hiring has been an important topic for decades. And while much has changed over the years, the goal of creating a diverse and welcoming workforce remains elusive for many organizations. Today, the conversation has expanded from simple "diversity" to "diversity, equity, and inclusion" (DEI). Yet companies are still grappling with some of the same questions they always have: What does workforce diversity really look like? Why is it important? And how can we make it happen?
As an organizational leader, you are no stranger to the concept of creating a diverse, equitable, and inclusive (DEI) workplace for all employees. But did you know that 49% of recruiters report that candidates inquire about a company's DEI programs during the interview process, and 44% consider the commitment to expanding DEI in their organization an important factor in accepting a job offer.
Yet a surprising number of recruiters (20%) shared that their teams still aren't planning to prioritize DEI in the near future. Even more concerning, 27% of recruiters have reported candidates have turned down an interview or job offer in the last year due to a lack of diversity in the workforce, based on recent Employ data.
In a competitive talent market that still favors candidates, company leadership should make the investment in expanding DEI in their organizations and creating a supportive, inclusive culture. Leaders across every industry agree that diversity of representation in their companies increases innovation, sense of belonging, employee happiness, and ultimately, the bottom line.
It shouldn't be a surprise that companies with a wider diversity of representation and inclusive workplace cultures are more innovative and successful in their industries compared to competitors with homogenous workplaces. In fact, it's become such an essential part of the employee experience that diversity and inclusion is now a key metric for making the Fortune 500 list, ensuring that companies remain committed to improving diversity, equity, and belonging in their workplaces for the long term.
When talent teams and company leadership join forces and prioritize attracting diverse candidate slates when hiring, they can improve DEI in their organizations. In fact, recruiters are expecting increased budgets for DEI activities in the coming year, which they plan to use on things like employee referral programs, recruitment marketing, and internal mobility incentives. Many talent teams are dedicating time and resources to DEI and requesting the budget to make these goals happen. An impressive 68% of recruiters reported that they believe improving DEI in their organization will be a priority in the next year.
To dig in even further, let's take a look at three focused insights on how you can bolster DEI initiatives in your organization:
#1: Shift Your Definition of "Diversity" 
In the 1980s and 1990s, most companies had a simple two-race view of diversity. Today, the very idea of diversity hiring has evolved to include not only race, but gender, ethnicity, age, orientation, physical ability, neurodiversity, and more.
This evolution is partly due to increased visibility and empowerment of previously marginalized groups, but there are also demographic shifts at play. The U.S. population is becoming more diverse over time, especially in younger segments of the population. In fact, Generation Z (born 1996-2010) is the most diverse generation in history, with nearly half comprised of racial or ethnic minorities.
Age distribution within the U.S. workforce is also changing. As the youngest Baby Boomers approach retirement age, younger generations will step into leadership roles — bringing with them stronger convictions about diversity and inclusion. In the wake of the pandemic, there is also a trend toward earlier retirement, which will only amplify the impact of younger leaders.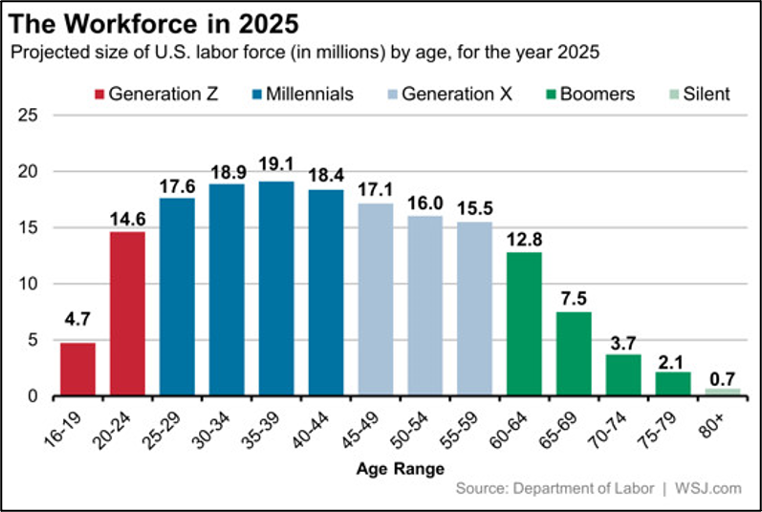 PRO TIP: The U.S. Bureau of Labor Statistics is a great resource for trends, demographic data, and other info to help guide your DEI strategy. 
#2: Create an Inclusive Workforce 
The impact of the Great Resignation is still reverberating through the labor market, creating some of the tightest hiring conditions in history. With fewer candidates available for every open role, companies have an opportunity — and an obligation — to take a more deliberate approach to strategic hiring and DEI initiatives.
The fact is, a diverse and inclusive workforce benefits everyone. Diverse teams are more innovative, more productive, and report greater employee satisfaction. Studies by McKinsey have demonstrated that companies with diverse leadership produce stronger business results. A commitment to DEI can even help with hiring, as nearly half of job seekers consider this factor when evaluating a job offer.
PRO TIP: Download our new e-book, THE WHO, WHAT, WHY, WHERE, AND WHEN OF DIVERSITY, EQUITY, AND INCLUSION for tips and actionable insights to develop your DEI programs.
#3: Enhance your DEI Efforts with Technology
While DEI and diversity hiring is very much a human-centric initiative, the right technology can help to find and engage diverse audiences, reduce recruiting bias, and improve hiring outcomes. For example:
PRO TIP: Jobvite's Diversity & Inclusion Pack offers a unique combination of technology and services to help our customers build a more diverse pipeline of talent.
It's never been more important to create a diverse and inclusive workplace — one that truly reflects the society in which we live. Most companies have not yet reached the workplace ideals they desire, but every step in the right direction makes a difference.
---