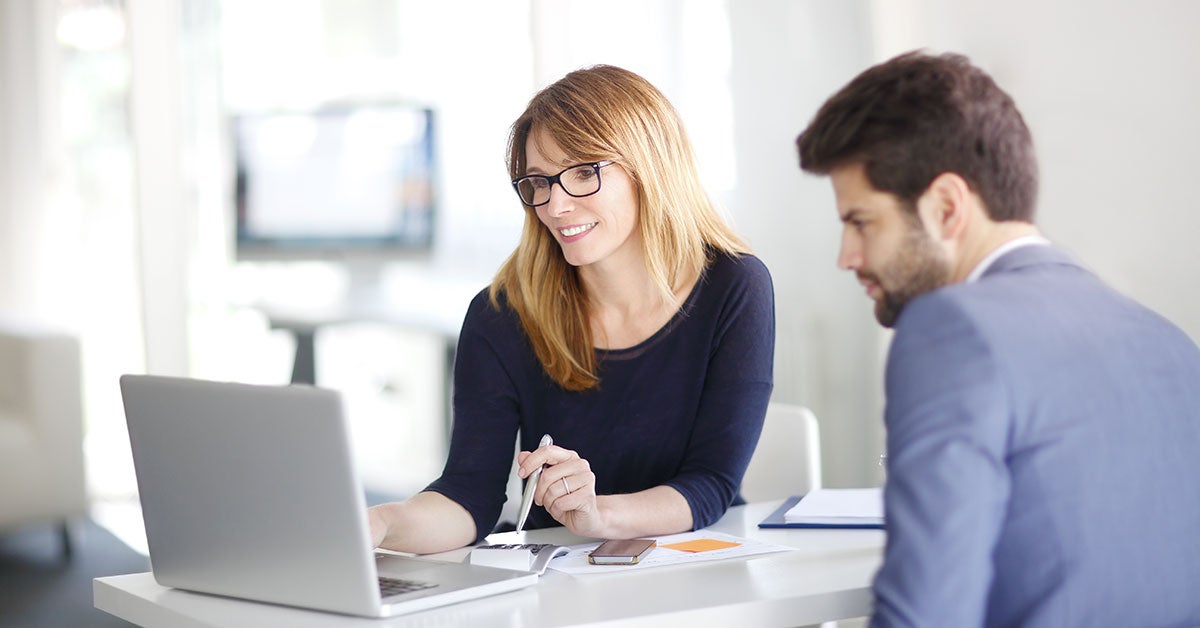 Refining your hiring process is a never-ending endeavor for your talent acquisition team, human resources department, and hiring managers. Each stakeholder plays a distinct role in improving various hiring process steps to better engage and convert job applicants and sourced candidates:
Your TA team must develop highly compelling job postings to entice top talent (i.e., their ideal candidate profile with the appropriate skills sets for roles) to apply for jobs.
Your HR org must address inefficiencies with things like conducting background checks and reference checks and ensuring the careers page reflects the employer brand.
Your hiring managers must refine the list of specific questions they ask good-fit prospects in in-person interviews and video interviews to strengthen their structuring interviewing.
When these hiring team members regularly revamp these facets of their active recruitment process and communicate and collaborate with one another throughout the talent acquisition cycle, they, in turn, enhance the quality of their hiring process — as well as the candidate experience provided.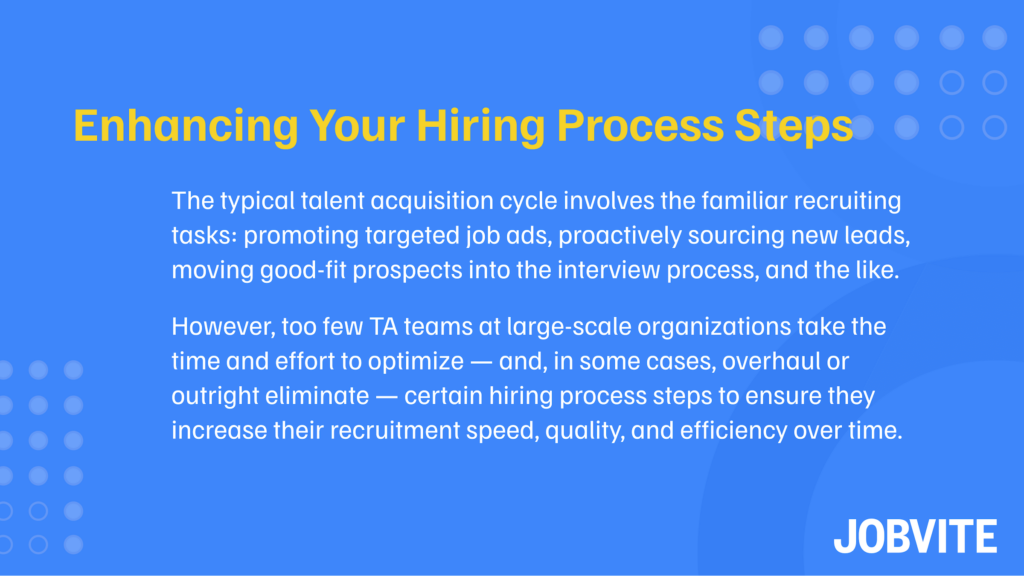 5 tips to design a better hiring process
Your end goal is to create a process that highlights the company's culture — that is, your mission, vision, purpose, and values — and aligns with the needs of the candidate and remaining free of bias.
From posting targeted ads on job boards and social media, to scheduling interviews in a timely manner, to advancing high-quality candidates from one funnel stage to the next seamlessly, there are many boxes to check to ensure all of your hiring process steps lead to more effective recruiting.
Here are five tips to help you steadily augment your hiring team's TA efforts.
1) Start with writing inspiring, inclusive job descriptions
To attract the best candidates, consider including the following details in your job descriptions:
What you're looking for and expect from the candidate to succeed in the position
How eventual hires will be compensated in terms of salary, perks, and benefits
How your business constantly improves its culture and prioritizes DEI initiatives
A clearly defined list of skill requirements that are must-haves for candidates
Nice-to-have areas of expertise and skill sets you may also be looking for in a hire
All your job description templates should be consistent to ensure candidates across all platforms get uniform experience. Moreover, have guidelines in place that hiring managers can use to create and update job descriptions as needed. (Updates are often due to poor engagement with postings.)

2) Adopt a one-time, pre-screening process with prospects
Why should it take your company weeks or even months to make a single hire? This is not only costly, but also comes at an opportunity cost. Yet, that's exactly what most orgs do today: Take their sweet time with evaluating top-of-the-funnel candidates to ensure they engage only the top 5% of leads.
While 36% of employers take roughly 4-8 weeks to hire, another 27% take as long as 8-12 weeks, per Recruitment Buzz. A lengthy screening process should not be acceptable in your company.
To avoid taking this long, one pre-screening call per prospects will do the trick. This call should cover:
A confirmation email of the received application
A concise overview of the org and the position
Validation of the candidate's CV and resume
Learning if a lead is legally allowed to work for you
Tackling any questions from the job candidate
Guidance on what follows in the hiring process
Pro tip: As candidates are increasingly embracing mobile, think about incorporating text recruiting into your process. Jobvite's Text Recruiting solutions can seamlessly pre-screen candidates using artificial intelligence and chatbots, saving time and frustration for both recruiter and candidate.
3) Adjust your interview process and stages as needed
The hiring process should include two types of standard interviews: technical and value-based.
Technical interviews
Technical interviews involve having the candidate perform a task to assess their ability to work in the position, largely consisting of behavioral questions. Leave this interview knowing whether or not the candidate in question should get a job offer, should they do well in the non-technical interview.
You can identify a person's suitability for a role just from the way they answer technical questions. Straightforward Qs give you a good idea of the individual's strengths and weaknesses from the get-go.
It's worth mentioning that long interviews are not recommended. If that's unavoidable and you take, say, more than two hours, pay the interviewees for their time as a sign of your appreciation and respect.
Value-based interviews
This kind of interview aims at identifying candidates who align with your organization's values. Prospective employees can relay whether their particular values align with those of the business.
At the end of the interview, you should have evidence supporting that alignment of values and establish the following the candidate's interpretation of the value, whether they have demonstrated the same in the past, and how they'll exercise the value in your firm if you hire them.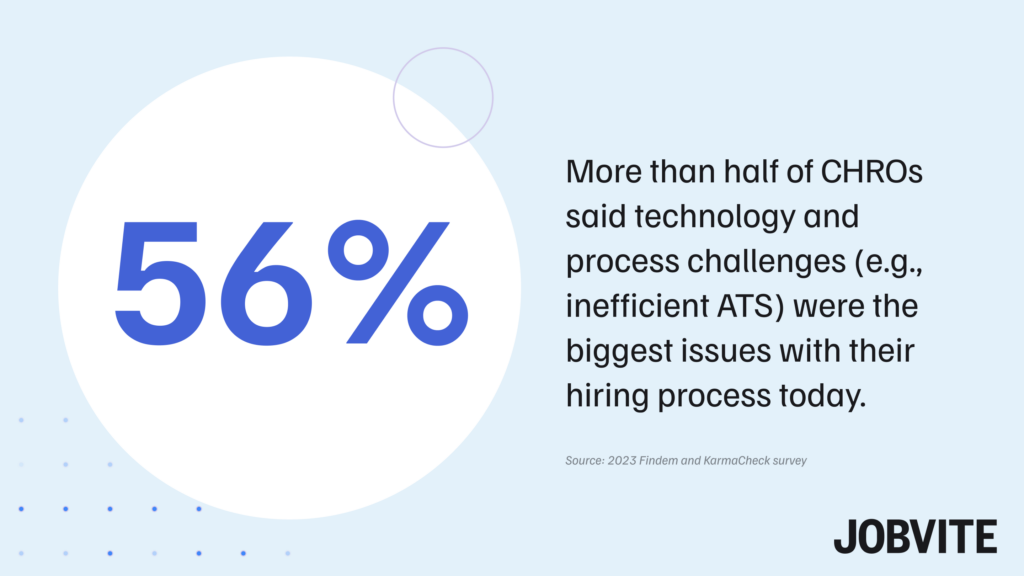 4) Implement an objective candidate rating framework
To ensure the process is 100% fair, develop a scoring spectrum, fitting both the company and the position. With such a system in place, you guarantee fairness, regardless of who the interviewer is.
Every task or interview should have specific dimensions that you evaluate candidates on. Have a scale of, for instance, one to five, that you use to rate the candidate. Additionally, include a space for description, where the interviewer can provide context regarding their rating.
The best idea is to have another person present during the interview and to be precise, different people for different dimensions, to help with the rating. This will make the success rating process even fairer and ensure consistent standards in the hiring process.
5) Be quick, transparent, well-planned, and intentional
The hiring process is critical for any company. Therefore, you need clear timelines before you can start it. This includes the ad and posting windows, a deadline for applications, and interview dates.
Most importantly, be transparent with the candidates to make them aware of all events as they unfold. Be available to prospects and provide them with updates at every step of the hiring process and what to expect next. That way, they won't get nervous and exit the process outright.
Enhance your hiring process with help from Evolve, our complete Talent Acquisition Suite. Learn more about our advanced ATS for enterprises by chatting with a Jobvite rep today.