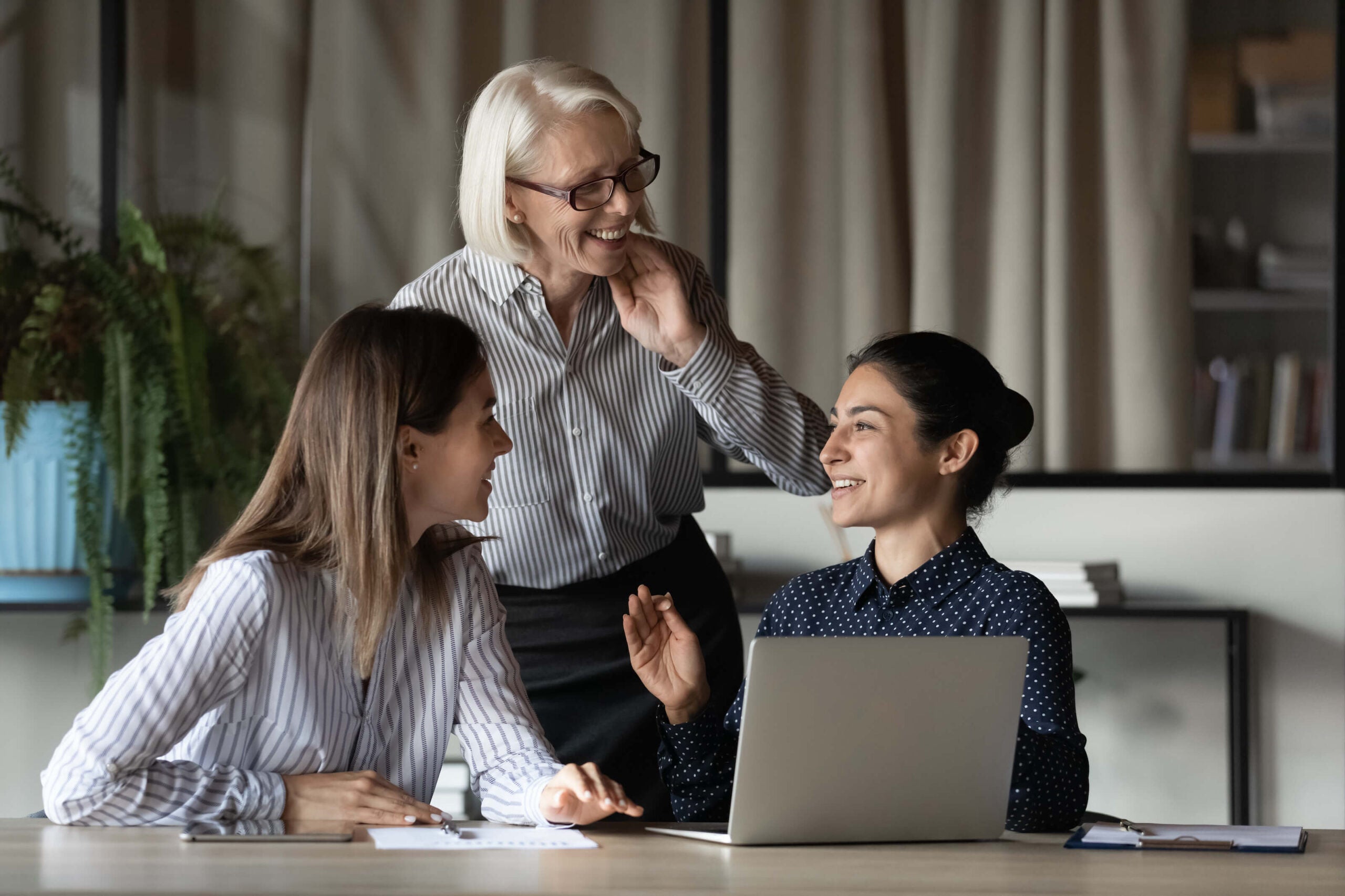 Your enterprise's definition of "effective" talent acquisition strategies likely differs from other large-scale orgs. The truth, though, is all big businesses run mostly the same recruiting and hiring playbook.
The only real differences between your talent acquisition processes and those of other companies is your company's unique business model, goals, and hiring needs. That said, there are several tried-and-true recruitment approaches leading enterprises execute today to grow and scale as desired.
8 highly effective talent acquisition strategies
Between the time hiring managers submit a requisition to fill (or backfill) a job opening and a candidate accepts an offer, your talent team has worked tirelessly to identify, engage, and advance top-tier prospects throughout the recruitment funnel. During this time, your recruiters:
Sourced and nurtured top talent from proven sourcing channels
Prioritize talent management by leveraging your ATS's (hopefully advanced and easy-to-use) recruitment database and pipeline management capabilities
Screened strong-fit candidates whose skills aligned with job postings' specs
Introduced those individuals to hiring managers so they can assess leads' fit
Moved into the interview process in earnest to answer more questions about their experience and expertise and provide insight into how they'd tackle certain tasks
Collected candidate feedback from interview panelists to gauge their sentiment
Liaised with the hiring team to help decide which prospects deserved offers
To augment this process, though, your talent leader and ops manager(s) must do two things:
Evaluate your talent acquisition strategies from a high-level vantage point and analyze recruitment and hiring data to offer insights-centric suggestions and adjustments to their recruiters.
Learn how other enterprise orgs (those in and out of your industry) succeed with their respective talent acquisition strategies today — and even emulate some of their approaches.
With that in mind, here are eight effective strategies your talent team should try today.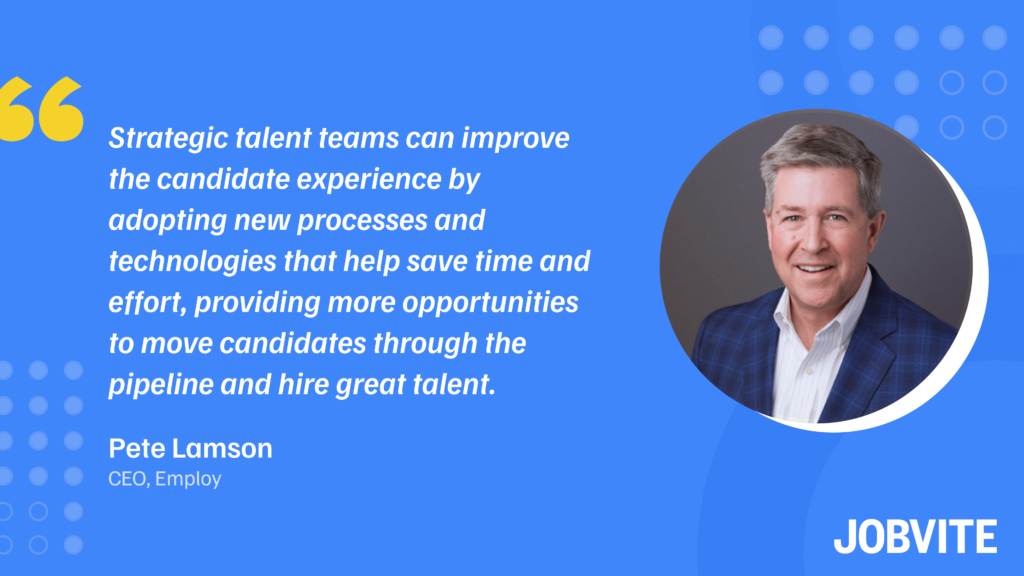 1) Strengthen your employer brand
Reputation and perception impacts attraction. (Talent attraction, that is.) So, create a compelling and distinctive employer brand to act as the foundation of your successful talent acquisition strategy.
As the embodiment of your company's greatest qualities, mission, and values, your employer brand should resonate with potential candidates and set the tone for their entire candidate experience.
A positive employer brand includes:
A clear mission and vision statement
Transparent company culture
Competitive compensation and benefits packages
Well-defined career paths and growth opportunities
Positive employee testimonials and engagement
By highlighting your company culture on your website, social media, job boards, and all other touchpoints with candidates, you will make your org more appealing and recognizable.
2) Improve your job descriptions
Clear, concise, and engaging job descriptions attract the top candidates. Plain and simple.
By focusing on the specific skill sets required for an open role, including relevant terms tied to a position (i.e., ones related to day-to-day duties and desired impact), and showcasing your company culture and benefits, your job postings will be more likely to resonate with the right audience.
Just ensure your job descriptions are:
Succinct yet specific outlining essential responsibilities and qualifications
Fully inclusive, meaning they use gender-neutral language and tone only
Aligned with your company culture and values as well as your brand mission
Feature semantic keywords for enhanced searchability (job boards, search engines)
Also, look beyond traditional job boards and explore new ways of reaching your target demographic, such as niche job boards, industry forums, and social media. A well-written job description should paint a clear picture of the overall job expectations and offer an enticing look at your company.

3) Streamline your recruitment processes
A seamless hiring process not only enhances the candidate experience but also helps in avoiding losing top candidates to a competitor. Automate repetitive tasks, such as candidate tracking and interview scheduling, to simplify and speed up your recruitment processes.
Your HR department should also evolve its talent acquisition approach through regular communication with department managers, creating an open channel for feedback and adjustments.
Candidates expect a fast, simple application experience. And they will readily abandon any applications that are unintuitive, take too long, or are too complex.
That's why Genuine Parts Company (GPC) brought on Jobvite's advanced applicant tracking system with candidate relationship management capabilities: to remove as many barriers as possible from the moment someone starts an application, so they don't click away and convert into a lead.
"If you're simply maintaining speed, then you're going to fall way, way behind," said GPC VP of HR Operations & Compliance Kirk Allan. "The only way to stay competitive is to adopt the most innovative toolkit so you can race ahead at a very fast pace. Jobvite has now given us the ability to do this."
4) Secure more employee referrals
Your existing employees could be your strongest talent magnets. For many enterprises, leveraging employee referrals has proven to be one of the most effective talent acquisition strategies.
So, encourage members of your workforce to participate in your employee referral program. How? Primarily, by offering financial incentives and keeping the process straightforward and user-friendly.
In orgs with a strong company culture and high employee engagement, workers are more likely to recommend friends and acquaintances who share the same values and work ethics.
Offering incentives for referrals (e.g., $500 for any referred candidate who is hired and stays with the business for six months) not only motivates current employees to participate in the hiring process but also helps attract candidates who may not have otherwise considered applying.
The cornerstone of any successful referral program is a best-in-class ATS in which you can store referred leads and allow employees to submit said leads. Jobvite's referral module helps orgs like ACCO Brands harness their social capital to attract high-quality talent.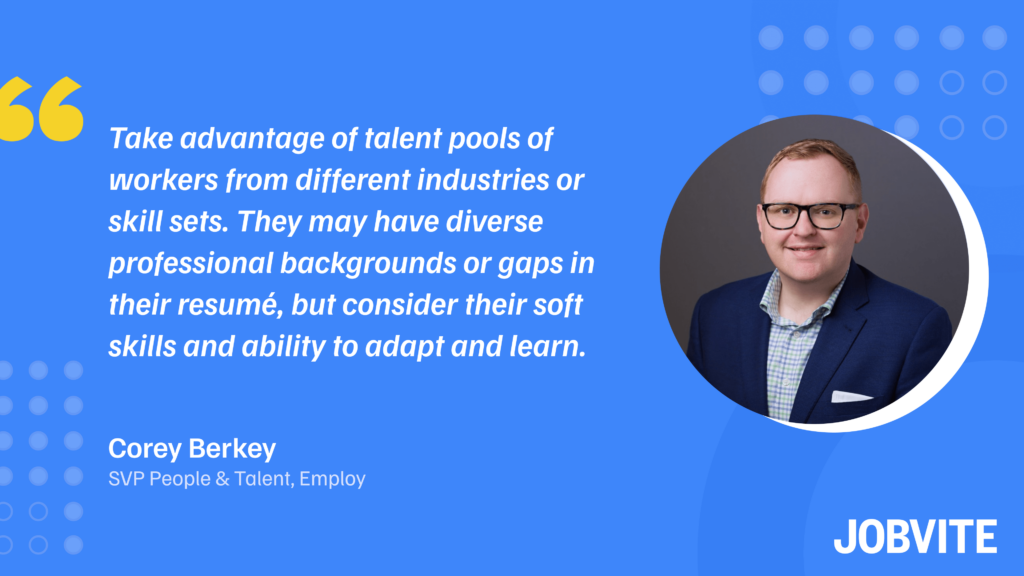 5) Develop and nurture your talent pool
Building a strong talent pool — even during "down" periods when hiring is at a standstill — provides a ready source of potential candidates for your talent team to engage.
Specifically, doing so can help you discern which top contenders in your database are ideal for new requisitions that open up down the line.
Constructing said pool is one thing. But, you also must actively engage with leads through nurturing relationships with targeted messages: both personalized (check-ins with particular prospects) and semi-personalized (newsletters about brand updates to "cold" candidates).
By proactively engaging with potential candidates and keeping them informed of job openings and company events, you can create a pipeline of talent ready to be tapped into when needed.
6) Strengthen your candidate experience
The candidate experience is a crucial element to consider in your talent acquisition strategy, ensure your hiring process is streamlined and transparent, providing clear communication and feedback to candidates at every stage.
To steadily enhance the quality of your candidate experience:
Ensure job postings are clear, well-written, and accurately reflect the position
Streamline application processes to lessen candidate frustration and drop-off
Communicate frequently to keep leads apprised during the recruiting process
Conduct respectful and transparent interviews and allow for feedback afterward
By prioritizing the candidate experience, you will not only attract top talent (and keep other employers from hiring them), but also improve your company's reputation and increase retention.

7) Tap into your talent analytics
We live in the era of big data. Thus, it's essential to harness the power of your talent data to discover and engage potential candidates. Make data-driven decisions by using advanced analytics to:
Understand which sources and nurture approaches are strongest and weakest
Identify skill set gaps in your current workforce (syncing with your HRIS/HCM)
Forecast hiring needs, based on projected company growth and attrition
Uncover info about industry hiring trends (through labor market reports)
Measurement is a vital necessity to the success of any talent acquisition strategies today. Ensure you have the requisite people, processes, and tools to evaluate these facets of your TA efforts.
8) Optimize the application process for mobile
Today's job candidates live on their phones. So, your recruitment processes should prioritize mobile optimization. That is, you must ensure that your job postings and application process are optimized for mobile devices. Moreover, you must invest in mobile ads on job boards and social media.
By making the candidate's mobile experience seamless, you will maximize the likelihood that they pursue your job opps. Look no further to learn the importance of a strong mobile experience for job seekers than Jobvite customer Hearth & Home Technologies (HHT):
Combining Jobvite's smart recruiting tech and a solid understanding of its talent market, HHT has leveled up their talent acquisition approach.
By knowing what was important to them and the behaviors of their candidates, they used Jobvite's Intelligent Messaging, which allowed their recruiting team to send text messages to candidates. This, in turn, has boosted candidate engagement and made interview-scheduling a breeze.
Response from candidates immediately improved by nearly 50% for HHT after adopting Intelligent Messaging and Jobvite ATS.
"We needed to be able to get to people where they were on the devices that they were using," said HHT Director of Talent Acquisition Steve Lewis.
Adopting these talent acquisition strategies can help your org attract and retain top candidates, leading to increased productivity, innovation, and stability.
Want to learn more about how Jobvite can help you thrive in today's hiring landscape? Schedule a demo to learn how our ATS can strengthen your talent acquisition strategy.