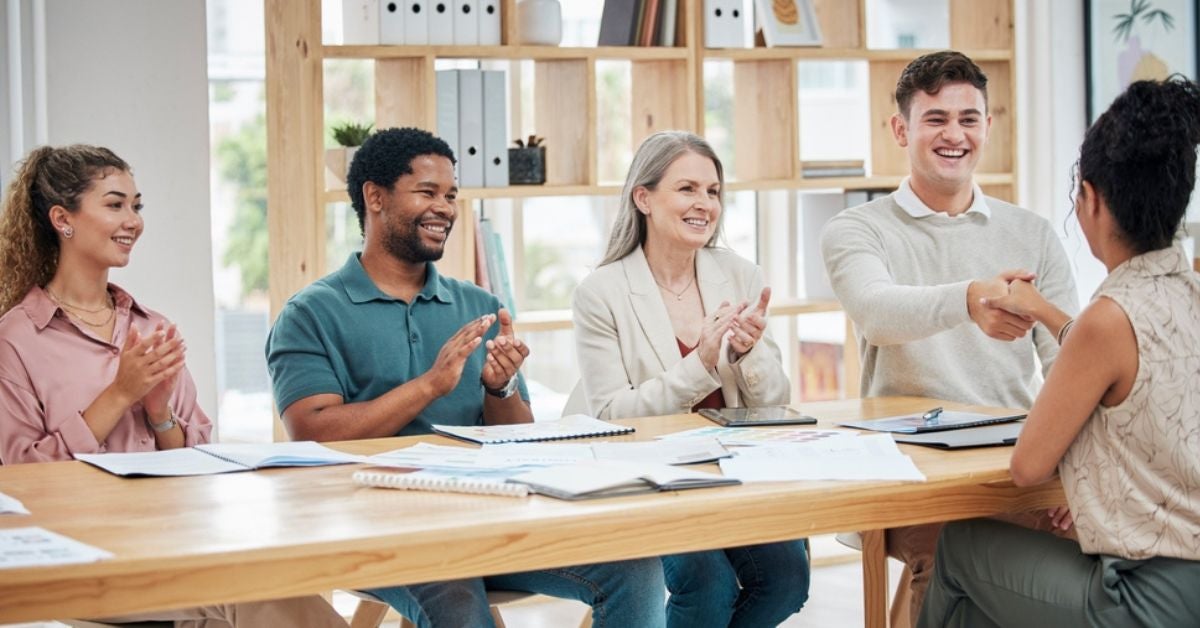 Distinct hiring needs require different recruiting strategies.
This isn't "new news" for enterprise talent acquisition pros such as yourself. However, it can be difficult to forget sometimes. Especially given you have to search for and evaluate active and passive candidates all the time and determine which ones to advance to the interview process.
Each of your recruitment strategies to attract top talent for various roles and teams across your org (e.g., ones for e-staff, departmental leaders, and technical personnel) requires a unique approach to identify, engage, and assess qualified candidates of interest.
It may seem stressful to think about having to multiply your recruiting efforts, so to speak, simply to build connections with potential candidates needed to fill critical openings at your org.
The good news? It doesn't have to be. All you need is alignment within your recruitment function.
In other words, each TA specialist must know their specific role when it comes to bolstering your candidate pool, engaging the right prospects, and streamlining the interview process.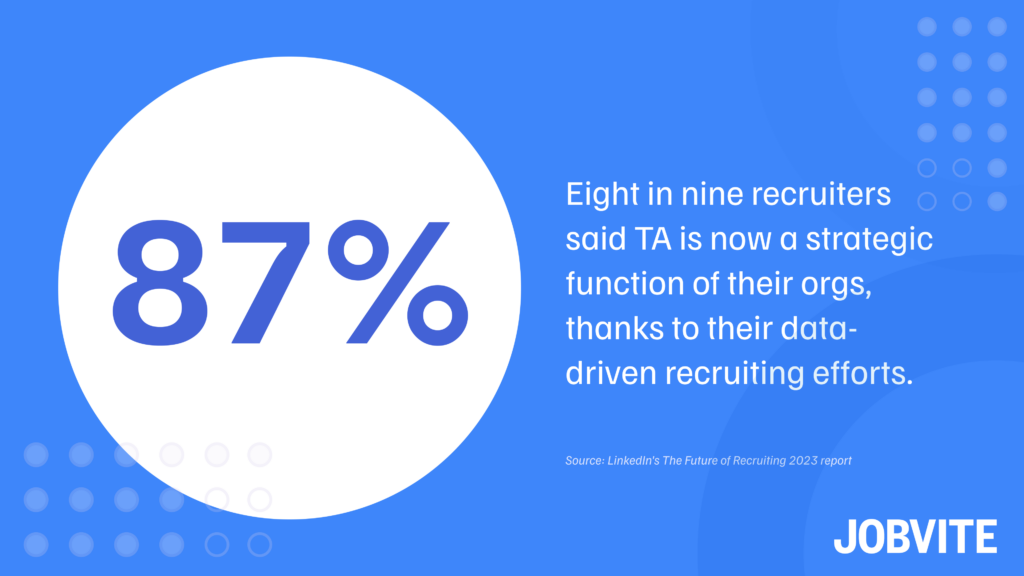 10 proven recruiting strategies for enterprises
Testing out where you post jobs. The messaging used on your careers page. Experimenting with new nurture schedules and touchpoints. These are all granular talent acquisition tactics that certainly merit your attention for ongoing improvement and optimization.
But, if you truly want to elevate your recruiting and hiring performance, you need to think bigger.
Here are 10 high-level recruiting strategies that can help you make consistent progress with your core TA metrics and ensure you only engage and hire premier job candidates.
1) Regularly refine your employer brand
Every org has an employer brand. And it should be top of mind for recruiters and talent acquisition pros when thinking about the kind of impression they are making on candidates. (Not just external ones.)
How well you're perceived by prospective hires is just as crucial as how your customers perceive you. So, it's vital to market yourself to applicants just as you would market yourself to customers.
Communicate clearly and consistently why people should want to work for you. Explain what it's like to work at your company. And differentiate yourself from competitors who are looking to hire top talent too.
2) Adjust job posting language and structure
When recruiting, one of the biggest mistakes any business can make is to put out incomplete or misrepresentative job postings. Some employers think it's better to avoid being specific about what a position's responsibilities entail or what kind of pay and benefits are offered.
Applicants don't like being kept in the dark. They want to know what they're getting into and they deserve transparency in job descriptions.
Be thorough and intentional when creating job postings. Include all details about what the position you're looking to fill involves and exactly what kind of candidates you're seeking. That doesn't mean you should be long-winded. Be as concise as possible. Just don't sacrifice specificity for brevity.
3) Recruit at "proven" colleges and universities
Experience counts significantly when recruiting candidates, but it's not the only thing that matters. Sometimes the best candidates are the ones who don't have much experience, but are new to the job market and have recently graduated.
Ambitious college graduates are one of the best resources a growing business has access to, especially when you're looking to fill entry-level positions or internships.
Contact a school's careers services office to create a steady pipeline of well-trained applicants.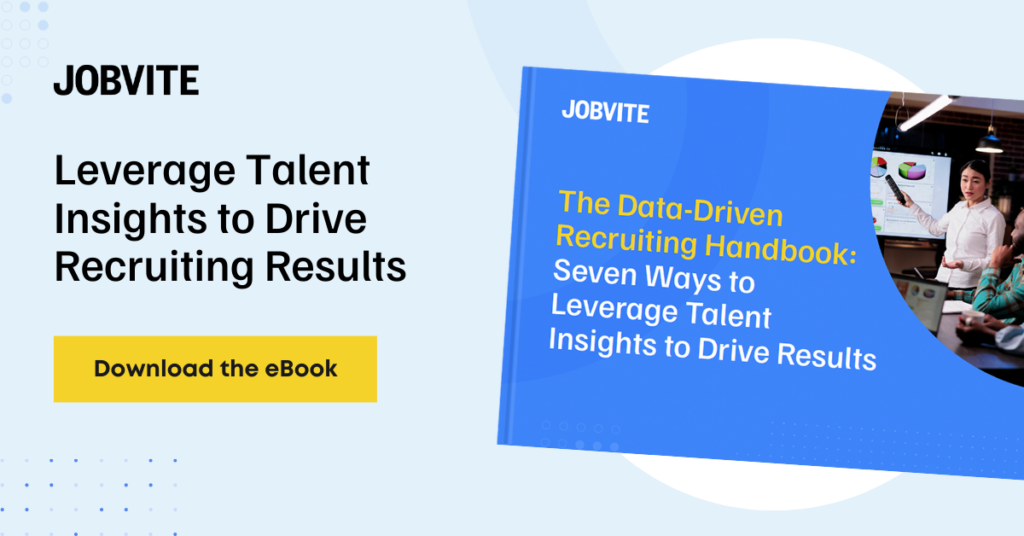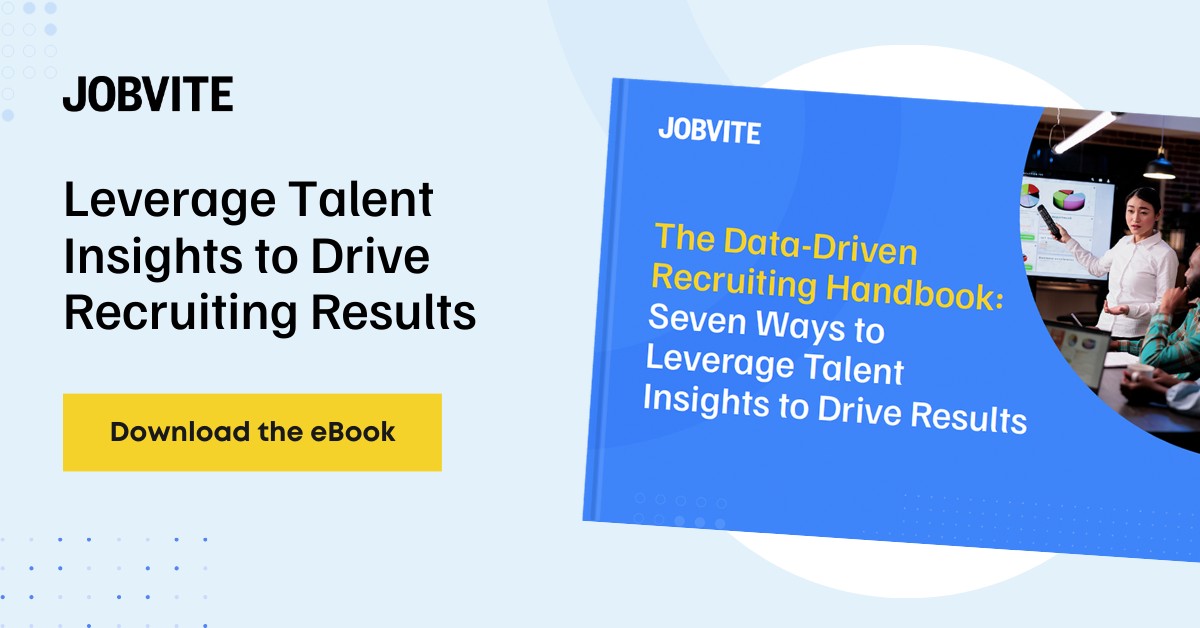 4) Host and attend industry events
Campus recruitment events and job fairs are a great way to meet job-seekers, but they're not the only networking opportunities you should be taking advantage of.
Non-recruitment industry meet-ups are where the most passionate members of your industry are likely to be found. They provide a great way for you to reinforce your employer brand and make connections.
Even better than attending industry events is hosting them. This not only brings candidates directly to your doorstep, it also positions you as a leading company within your sector.
5) Treat applicants like customers
Among the most important factors that determine if an applicant chooses to work for your business instead of a competitor is candidate experience.
Think of the recruitment process as an audition. Most job seekers believe that their experience during application, interviewing, and onboarding is indicative of what their experience will be as an employee.
So, ensure that the impression you make is a good one. The rule of thumb is to treat potential employees the same way you would treat potential clients.
That means being courteous, transparent, enthusiastic, and responsive. If an applicant has questions or concerns, hear them out and reply to them in a timely manner.
6) Take advantage of social media
Social media is an outstanding tool to communicate with job seekers. If the only place you're putting the word out about open positions is on dedicated job posting boards and niche career communities, then you're missing out on social recruiting opps.
(Particularly, as you likely already suspected, on LinkedIn.)
What's more, social media is one of the best tools you have for showing off your company culture to attract new talent. Employee resource groups, brand awards and recognition, community volunteering efforts. These are all things worth promoting often on your social presence.

7) Create an employee referral program
Who knows better the specific needs, assets, and attributes of a company than the people who already work there? Your current employees don't exist in a vacuum. Chances are, they know dozens of other industry pros (if not more) who would be a good fit for your business.
That's because many job seekers want to see employers as more than just a place to collect a paycheck. They want a sense of community and belonging and a strong company culture.
8) Re-engage with past applicants
One of the most frustrating things about recruiting is that you'll see several qualified individuals, but you'll only be able to hire one or two at the time. Fortunately, this can actually work in your favor when it comes time to fill new job openings.
Reach out to past applicants you weren't able to hire to see if they are still available and interested in working for you. Not only will they likely be happy and grateful that you remembered them, but this is also an exceptionally efficient use of your own time and resources.
9) Look to your current workforce
Sometimes you don't have to look very far to find talented candidates. In fact, in many cases the right candidates to fill open roles are already working for you.
Promoting internal mobility or encouraging employees to apply from within your org can significantly reduce the amount of time it takes to fill important positions.
Aside from onboarding top talent, saving time and money is another goal of just about every enterprise org's hiring process today. With internal mobility, you have a highly effective recruitment strategy that lessens the need for sourcers to look externally for net-new leads.
By taking workers who have proven themselves and promoting them to higher or more specialized roles, you're communicating to your workforce that hard work is rewarded.
10) Use the right talent acquisition technology
If you still are using point solutions or are not considering leveraging a holistic approach to talent acquisition technology, then you should reevaluate the need to consolidate your tech stack.
The Evolve Talent Acquisition Suite is a unified recruiting solution for the entire TA lifecycle.
From screening and interviewing to onboarding and retention, Evolve is designed to streamline recruiting and help you deliver better results that improve your business outcomes.
Find out how you and your talent acquisition team can execute these recruiting strategies more effectively and efficiently with Jobvite's powerful applicant tracking system.