Social networks lead all other recruiting channels for planned investment by employers as the economy recovers
Today, we've released the results of the Jobvite Social Recruiting Survey 2010. This is the third year we've fielded the survey and published the results. The adoption of social networks for recruiting has gained momentum significantly over that time and it's fascinating to see how usage changes and grows.
"…social network recruiting has become a mainstream channel for employers who need access to talent," said Dan Finnigan, CEO of Jobvite.
The results of our 2010 survey show that 83% of respondents are now using or planning to use social media for recruiting. This higher adoption of social recruiting this year is especially significant as we had the largest, most diverse sample of respondents since the survey began.
Over 600 people completed the online survey. Responses came from a broad range of industries and company sizes. (Only 3% of respondents were Jobvite customers.)
The 2010 Jobvite Social Recruiting Survey found social network recruiting continues to gain momentum, while companies decrease spending on more expensive recruiting channels, like job boards and third party recruiters or search firms:
46% of respondents plan to spend more on social recruiting in 2010 than 2009
36% will spend less on job boards and 38% will spend less on third party recruiters and search firms
For candidate quality, respondents rated social networks significantly higher than job boards who landed in last place; while referrals were the most highly rated for quality
LinkedIn (78%), Facebook (55%) and Twitter (45%) continue to be the most widely used social recruiting channels. Facebook and Twitter usage grew significantly this year and respondents reported that YouTube and blogs have also become significant social media channels for recruiting use. (The full report has more data on how respondents use each of the channels for various aspects of recruiting.)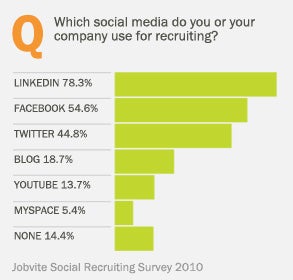 Among those actively hiring in 2010, adoption is even greater:
92% of those hiring in 2010 currently use or plan to recruit via social networks
Of this group, 86% use LinkedIn, 60% use Facebook and 50% use Twitter for recruiting
In addition, 50% of hiring companies plan to invest more in social recruiting while only 17% will spend more on job boards and 36% will spend less on job boards
The survey also reinforced the importance of the social profile for jobseekers. More than 80% of respondents review social profiles at least sometimes – almost 1/3 always review them.
Why do companies plan to "spend more" on social recruiting this year when social recruiting is a low cost channel? We think it's because as the economy begins to recover, companies looking to make new hires are seeking the most cost-effective, efficient ways to find new talent. And recruiting through social networks and social media can provide the return on investment companies need now.
We hope you'll dig into the full results of the 2010 Jobvite Social Recruiting Survey for data on: how social recruiting programs are measured; use of social networks like LinkedIn, Facebook, Twitter and YouTube for recruiting; spending trends and candidate quality of recruiting sources; use of online profiles in reviewing candidates; employee referral programs; hiring plans and applicant characteristics for 2010.
And then let us know what new questions you think we should ask next year.