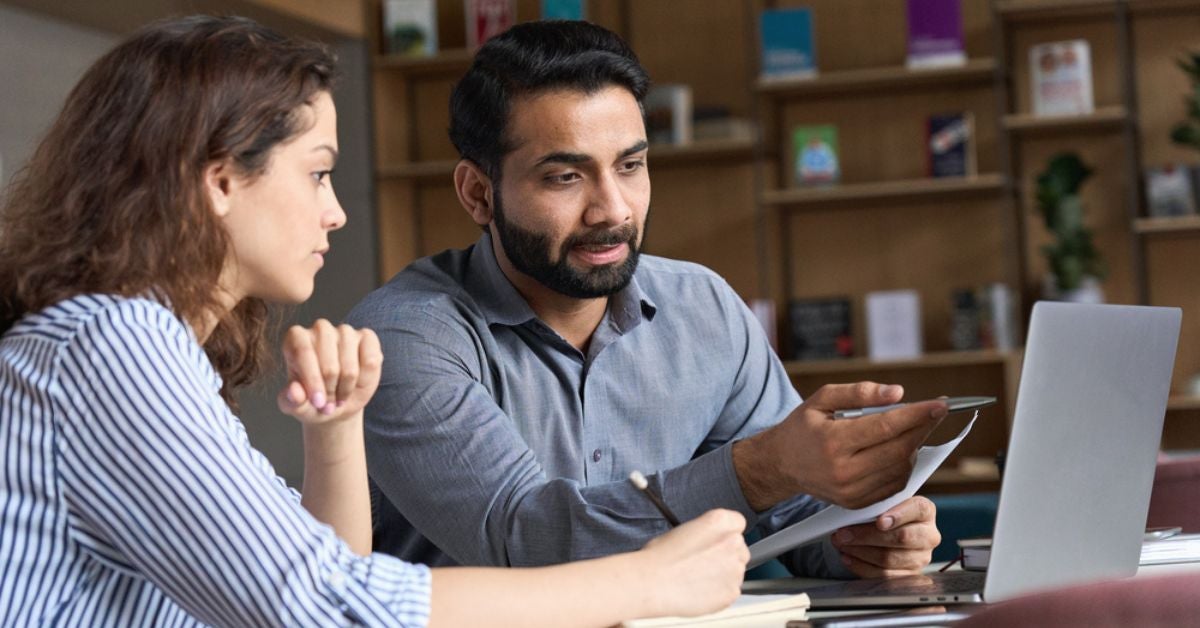 Recruiting automation software isn't a nice-to-have in today's hiring environment.
Rather, onboarding talent acquisition technology (read: an advanced applicant tracking system purpose-built for enterprise TA teams like yours) is now necessary to streamline every part of the recruitment process and make smarter hiring decisions as an organization.
By taking tedious tasks away from recruiters with a leading recruiting automation technology, you free up their time so they can tackle more important tasks tied to their pipeline management:
To realize this vision of a more well-oiled recruitment machine, though, you need the right tech. And that means examining the capabilities of your current tools and systems to learn what you can replace.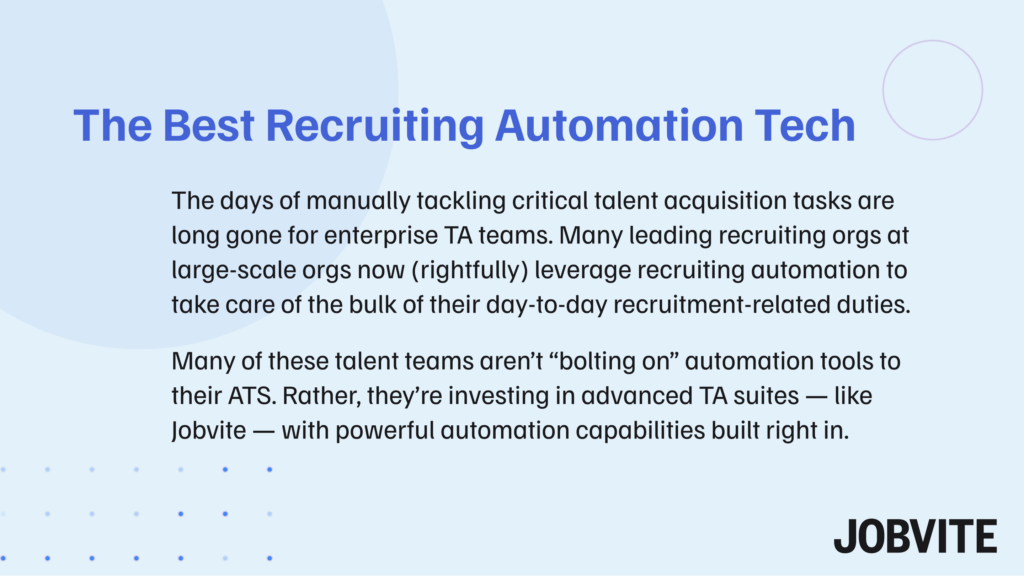 Applying recruiting automation: 5 use cases for your talent acquisition team
There's no question recruitment is a human-centric job. (AI-oriented chatbots can initiative chats with candidates. But, they tend not to build strong relationships with them. Who knew?)
That said, within the scope of the TA function, there's a wide variety of tasks that can benefit from recruiting automation. These include the more tedious and repetitive parts of any recruiter's job description, where automation can be applied to get the job done quickly and efficiently.
Five popular examples include:
1) Job posting
Using an automated tool, you can automatically distribute postings to hundreds of job boards (e.g., LinkedIn, Indeed, ZipRecruiter). You can also customize posting destinations based on specific job attributes to ensure it's seen by the most relevant candidates. And centralized management of all your job postings means you can edit or update your listings from one system, across all locations.
2) Resume screening
Automation makes it easy to find the right skills and experience at scale. With automated resume screening, you can streamline the time-consuming (but necessary) process of reviewing resumes.
Automatically ingest resume or profile data into your CRM, review candidate qualifications, collect feedback from hiring team members, and decide together whether to advance a candidate.
3) Passive nurturing
Passive candidates represent an incredibly valuable talent pool. But, historically, it takes time and effort to develop them into engaged prospects. That's where automated workflows help.
Recruitment automation lets you nurture passive candidates with automated email or text campaigns to keep them up-to-date on job openings, company news, and other relevant content.
4) Interview scheduling
Slow, inefficient interview scheduling can cause applicants to lose interest. And, while you're busy juggling schedules, they may already be meeting with your competition. (Not ideal.)
Automated scheduling tools eliminate the need to manually check calendars and send call invites. Instead, this tech automatically proposes interview times, confirms availability, and books meetings.
Scheduling changes and unexpected cancellations can be communicated instantly. That means neither side is left hanging. (That is, waiting for the other party to move the process forward.)
5) Internal feedback and collaboration
Sharing information within the hiring team is essential to collaborative recruiting, but it's a resource-intensive process when recruiters have to chase down stakeholders for their input.
Automated internal comms tools allow hiring managers and other stakeholders to enter feedback on each candidate and store it in a central location, where it's visible and accessible to the entire team.

The key benefits of recruiting automation
No matter how large or small your TA team may be, automation lets you turn repetitive manual tasks into a more manageable workload that can easily scale up or down along with your hiring needs. And recruitment automation offers a number of pros over traditional, manual processes.
Here are a few big benefits.
Free up valuable time
Recruiters spend countless hours on manual, repetitive tasks like posting job openings, screening applicants, and scheduling interviews. While these tasks are necessary to keep the hiring process moving forward, they don't contribute much to the company's long-term success.
Recruitment automation streamlines these laborious duties so recruiters can focus on the critical, strategic elements of recruiting. For instance, they can spend more time analyzing their recent opportunities ("won" and "lost") to make data-driven changes to their talent acquisition approach.
Enhance the candidate experience
Communication is a key element of a great candidate experience. Automation can ensure that every candidate receives consistent, timely communications that put your employer brand front and center.
Remember: Recruiting automation won't remove the human element from your hiring process. Instead, it can actually create a more personalized, engaging experience for top talent you engage.
Increase process visibility
Recruiting automation improves transparency throughout the hiring process. This ensures execs, hiring managers, and your TA team remain aligned across your full-cycle recruitment cycle.
Candidate profiles are managed in a single location, giving recruiters and hiring managers access to details about their current status, communications they've received, and next steps in the process.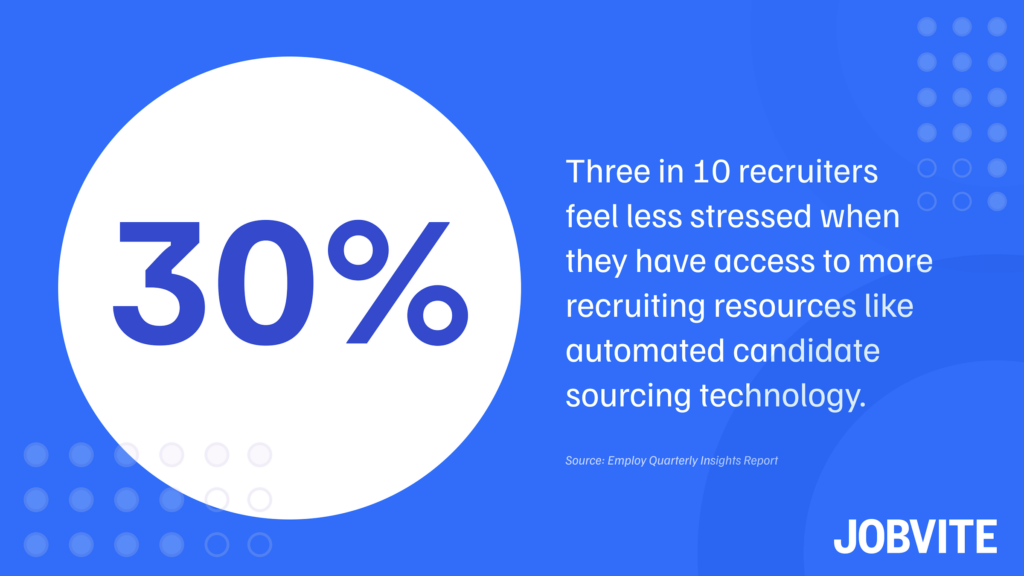 Potential challenges of recruiting automation
The benefits of recruiting automation are clear and there are countless ways to use it, but that doesn't mean the path to adoption will be easy or stress-free. By anticipating the pitfalls you may encounter along the way, you can prepare appropriately and increase your chances of success.
Fear of automation
A top challenge of adopting recruitment automation is a knee-jerk reaction to the concept in general. Automation is depicted as a replacement for human labor. (And no one wants to feel expendable.)
The truth is, automation isn't meant to replace recruiters. As noted, it's intended to augment talent specialists' work by simply taking over the reins as it relates to repetitive manual tasks.
Show critics in and outside your talent team how automation can make their work (read: lives) easier — and even advance their careers, when utilized properly — and they'll become fans in no time.
Internal adoption
Humans are naturally resistant to change. So, successful implementation of any new tool can be a struggle. Start by ensuring that you have buy-in from the top down, to create built-in support and accountability. If possible, recruit your most supportive stakeholders to help champion the initiative.
Brand and experience concerns
You may face resistance from people who think automation will make the employer brand feel robotic and sterile, leading to a poor CX. You can reassure those folks that automation can actually enhance your brand by delivering consistent messaging that's timely, engaging, and personalized.
And, because automation leaves recruiters with fewer manual tasks to complete, they can focus their attention on delivering the best possible experience to the most qualified candidates.
Technology integration
Proper integration can be a point of frustration with any tech. That's especially the case when it's intended to make your life easier. Systems that don't integrate seamlessly with one's tech stack just end up creating more work. (Not to mention delays in the candidate journey and hiring process.)
So, take the time to question automation vendors on their integration capabilities. Be sure your IT team is involved in the selection process as well so they can have insight and input.
Jobvite's Talent Acquisition Suite is the perfect recruiting automation software for enterprise TA teams today. Book a demo with a Jobvite rep today to learn more about our ATS.