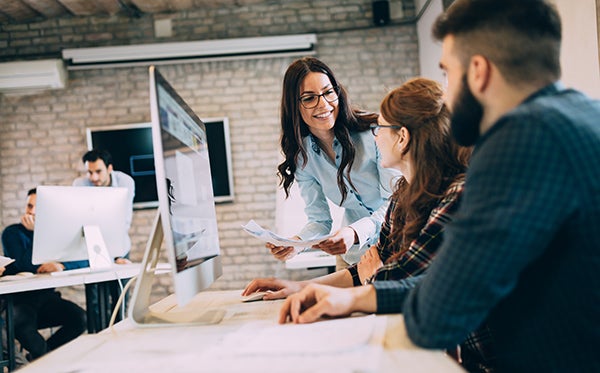 Ten years ago, US unemployment rates reached a staggering 9.9 percent. Millions of job seekers scrambled to find work. Now, the tides have turned. In 2018, there were more jobs available than workers to fill them. This means recruiters are facing a lull. At 3.9 percent today, unemployment rates are near historic lows. Job seekers can afford to be picky about their next career move. Positions are staying vacant, which is costing companies money. So, when your company needs workers, how do you attract top talent? The key, experts say, is incorporating creative marketing in your applicant tracking system.
Building and Promoting Brand Image
To effectively draw candidates, you'll need to develop and broadcast a solid brand image. One of the fundamental aspects of brand image is consistency. This means having uniformity in the fonts and colors you use, your tone, and the messages your company conveys. Applicants want to know who they will be working for and what the work culture is like. If they have to guess, they'll move on to the next. A clear brand identity makes your company more trustworthy for both job seekers and customers, which translates to more employees and more business. In fact, recruiters say that about 12 percent of their best investments lie in advertising and marketing.
Conversational Recruiting
In the past, recruiting solutions focused on one side: the hiring company. But now, you need to engage candidates to keep their attention. This means conducting one-on-one conversations with applicants throughout the hiring process. Social media, video chats, and even texting are among the newest and most effective ATS tools that hiring managers can use. In the US, the average email open rate is about 20 percent. However, Americans check their phones approximately every 12 minutes, or 80 times each day. Research also shows that communicating via text enables recruiters to multi-task. From reviewing applications to onboarding, it significantly shortens the hiring process. Through texting alone, you can improve hiring efficiency by sending pre-screening texts and collecting data on each candidate for the interview team.
The Power of Social Media
According to polls about their company's most necessary expenses, 21 percent of recruiters voted in favor of their company's website. That number jumps to 47 percent for social media. Currently, roughly 85 percent of all organizations use social media to recruit prospective hires. About 73 percent of millennials (people aged 18-34) say that they found their current job through social media. LinkedIn has an 89 percent success rate in hiring candidates. However, many job seekers say that Facebook is their preferred social media site. An added advantage of using social media for recruitment is that quite often, it's free! A cutting-edge recruitment system that includes social media can make the interview and hiring process seamless. In sharp contrast to 2009, recruiters can no longer sit back and wait for candidates to come to them. Now, with historically low unemployment rates, applicants can be more selective than ever in choosing a job. Incorporating marketing strategies into your recruitment process, such as creating a strong brand identity, engaging in two-way conversations with candidates, and searching for job seekers on social media, go a long way in helping you attract the top candidates.