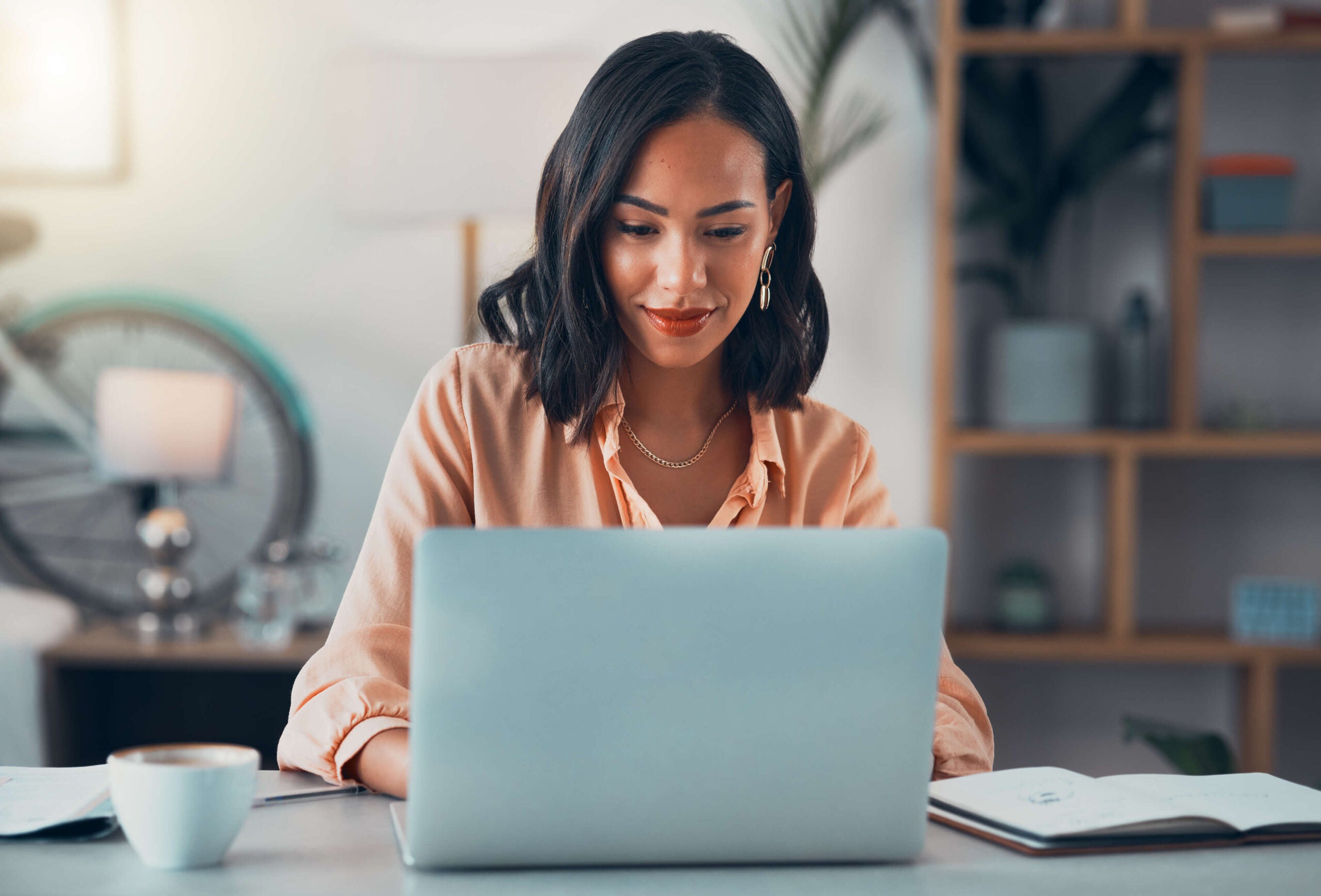 An applicant tracking system (ATS) helps companies organize candidates for hiring and recruitment purposes. These systems allow businesses of all sizes and across industries to collect candidate information, organize prospects based on experience and skill set, and filter applicants.
While traditional ATS software solutions are excellent for storing candidate details, the best ATS systems today empower talent acquisition teams to both track all communications with prospective hires in a single location and more efficiently and effectively engage, interview, and analyze leads.
Using a leading ATS system, recruiters can easily search and filter resumes and other candidate info, decreasing time to fill and ensuring their companies hire the best people for each position.
If you and other hiring stakeholders at your business are wondering, "How can an applicant tracking system streamline and improve our recruiting and hiring efforts?," you've come to the right place.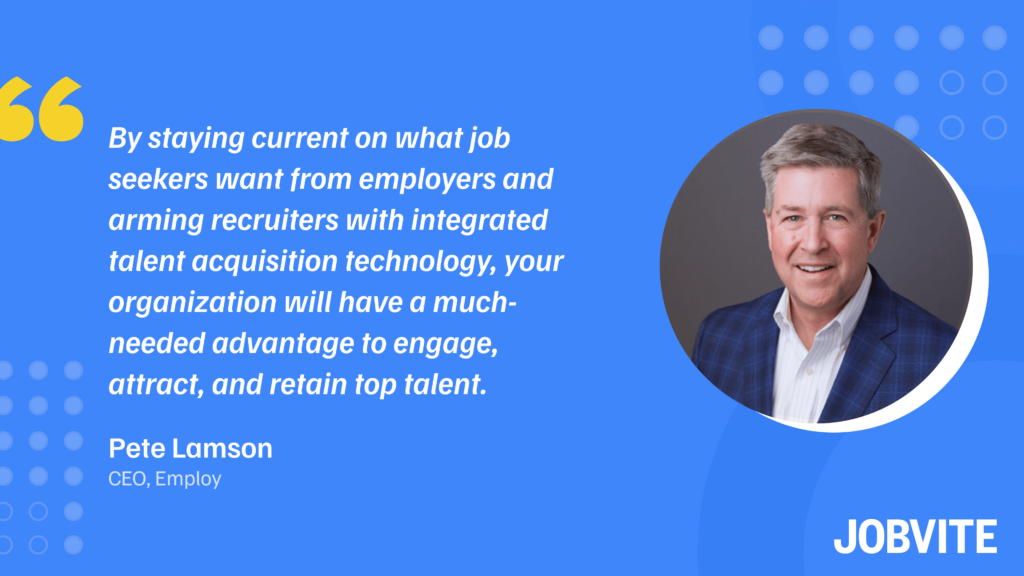 What is an applicant tracking system?
An applicant tracking system simplifies most of the modern recruiting process for TA teams by using automated intelligence to screen for the best, most qualified candidates and empower recruiters to identify, reach out to, interview, and advance qualified candidates quickly and efficiently.
Since many open positions can attract hundreds or even thousands of candidates without the necessary qualifications (i.e., work experience, education, certifications), this saves companies and recruiters lots of time that would otherwise be spent manually weeding out these job applicants.
Using next-gen automation capabilities in a best-in-class applicant tracking system, day-to-day recruiting tasks can be put on relative autopilot for today's talent acquisition teams. It can also open up more time for them to focus on other essential elements of recruiting, including:
Posting job openings on career sites and job boards
Connecting with leads on social media (e.g., LinkedIn)
Building relationships with job seekers of interest
Assessing employee referrals and internal talent
Nurturing them through the recruiting funnel
Scheduling interviews with potential candidates
Converting late-stage candidates into new hires
Rediscovering top talent already in their database
Analyzing updated-in real-time recruitment data
Orgs that lack an advanced ATS in their respective TA tech stacks are more likely to lag behind other businesses in terms of scaling their companies with top talent at their desired rate.
These companies are also more likely to lose out on high-quality candidates to one of the many other employers out there whose talent teams use one of the best applicant tracking systems.
"With other employers that are looking for the same top candidates that you are, if you're not using technology to help … with the actual applicant tracking component … you're going to be at a disadvantage," Employ CEO Pete Lamson shared on Recruiting Daily's The Use Case Podcast.

How do applicant tracking systems work?
Candidates are looking for application processes that are easy and user-friendly. The best applicant tracking systems allow people to easily apply for a position via any device without needing to log in.
This means that employers benefit from securing a larger pool of applicants, who can then be tagged an labeled accordingly, based on the info in their resumes.
From here, all recruiters have to do is sort through their database by filtering based on skill sets and searching for keywords from the job descriptions published internally and externally to find strong-fit candidates for open roles.
During the recruitment process, applicant tracking systems allow hiring team members to submit feedback immediately following interviews with prospects and add notes about each candidate.
These scores and notes tied to engaged candidates allows hiring managers and other decision-makers to evaluate prospects in a bias-free manner and advance the ideal candidates quicker.
What's more, the best ATS software solutions use the latest technology, such as natural language processing and artificial intelligence, to scan resumes, provide recommendations on which candidates to reach out to for job openings, and search for talent of interest already in one's ATS.
And the top applicant tracking systems also integrate with both popular and niche job boards (i.e., those specific to certain types of jobs, like tech and engineering) and offer universal, one-click job posting to publish listings for available positions to said job boards with amazing ease.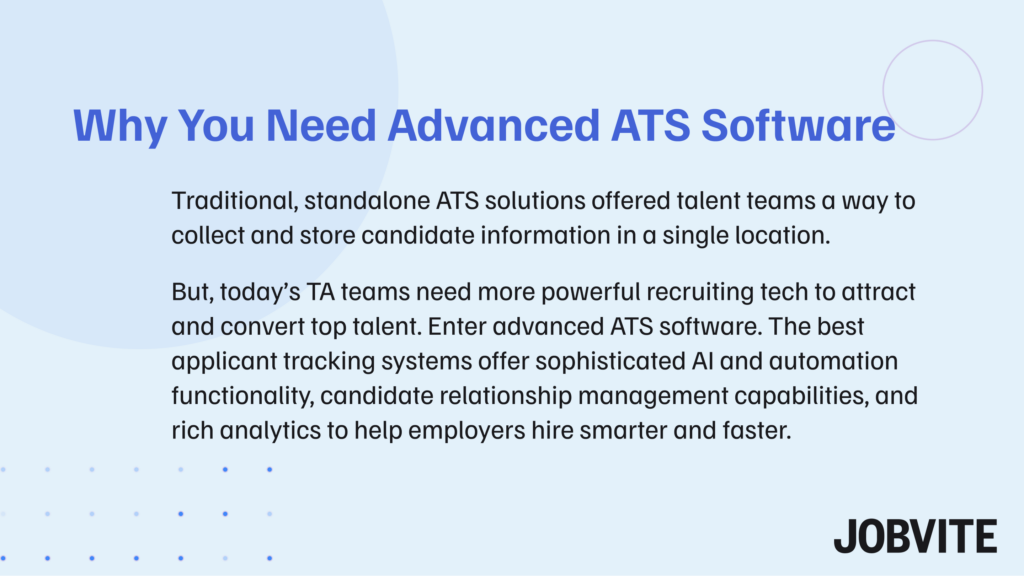 The benefits of an applicant tracking system
There are many pros to using an applicant tracking system. By investing in advanced ATS software for your talent acquisition team, your business can expect to see metrics like talent pipeline efficiency, interviewing speed, overall hiring costs, and candidate quality improve over time.
Some of the biggest benefits you and your org can realize with a top ATS system include:
Reduced time to hire/fill for critical roles
"In order to fill their open roles with the best talent possible, companies must act both quickly and strategically," Employ SVP People & Talent Corey Berkey recently wrote for Spiceworks.
"This starts with the right tools and processes," Corey added. (Translation? Employers need a best-in-class ATS solution to accelerate their recruiting efforts and meet target headcount goals.)
From the moment you pinpoint a premier prospect who seems like an optimal fit for an open role to the time they sign and submit a job offer letter, you tackle a lot of vital TA tasks.
Only with a leading applicant tracking system can you streamline those activities and ensure you steadily improve your average hiring speed.
With Jobvite, for instance, talent leaders and operations managers can get a holistic view of their entire team's pipeline progress in real-time and share insights with TA specialists.
Meanwhile, each recruiter can see data tied to their own recruitment activities to easily discern where each leads is in their funnel and determine next steps to take with each active opportunity.
Improved collaboration for your hiring team
It's not just talent acquisition that benefits from applicant tracking systems.
Hiring managers can also keep tabs on progress with their active requisitions to ensure they have full visibility into how many applicants have applied for their roles, how many proactively sourced candidates recruiters have found, and where each of these individuals resides in the funnel.
As job seekers move from one interview stage to the next, hiring managers can easily compare candidates right in the ATS software and, ultimately, extend offers to their preferred prospects.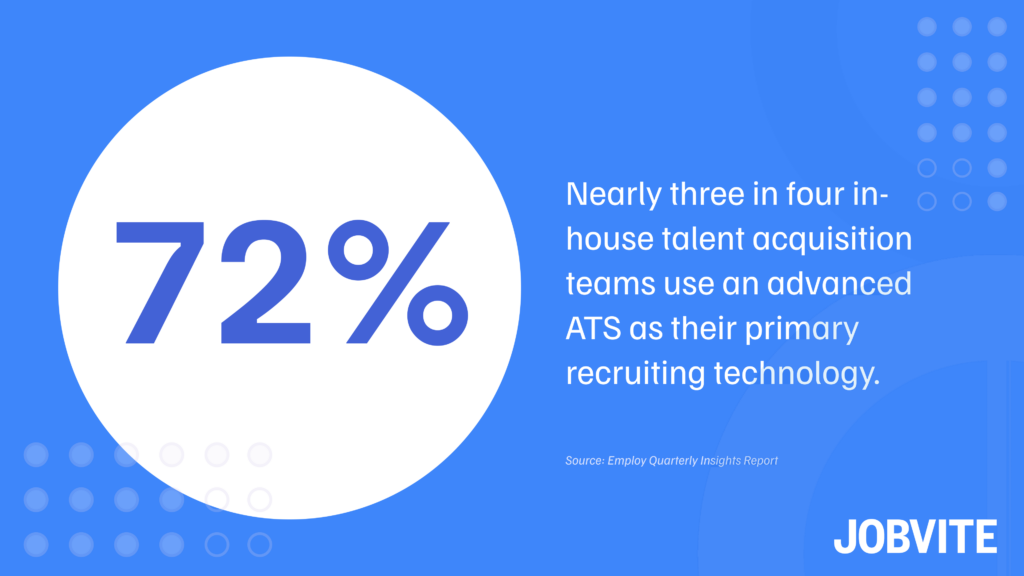 Enhanced recruiting technology utilization
Direct integrations to essential recruitment tools and human resources systems enables talent acquisition teams to sync data between their applicant tracking system and other hiring solutions.
This ensures these TA teams' end-to-end recruiting process is both highly transparent (i.e., all hiring stakeholders can get a real-time, at-a-glance view of pipeline progress and historical performance) and critical candidate data is shared with business intelligence tools and HCM/HRIS systems.
What's more, these direct connections can speed up tasks across the recruiting funnel: from writing inclusive impact job descriptions and sharing automated interview updates internally, to giving assessments to candidates and conducting background and reference checks.
Increased diversity across your workforce
Diversity remains top of mind with many companies today — and for good reason. Data shows the more diverse your workforce is, the more innovation and growth your org will realize.
Thus, having an ATS that makes it easy to source diverse talent where historically underrepresented and marginalized groups tend to look for can become a competitive differentiator for your business.
Start using an applicant tracking system today
Recruiting new talent for your business can be a major challenge. And you want to be sure you end up with the right choice. Having an ATS can help simplify the hiring process and save recruiters and hiring managers a huge amount of time, stress, and energy. (Not to mention help your business grow.)
Convene with other hiring and tech decision-makers. Research the ATS marketplace. Compare vendors. And, eventually, you'll end up with a leading applicant tracking system that transforms your talent acquisition strategy for the better — and makes hiring far easier for your org at large.
Find out how your business can benefit from using Jobvite's applicant tracking system today. Schedule a one-on-one demo with our team to learn all about our ATS software.