What is the new normal?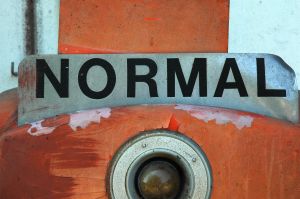 My last post left off asking some questions: what are the realizations that have now hit us about how people look for work and workers? What's "the new normal" from the vantage point of employer, jobseeker and recruiting professional?
This conversation is one we'll approach from many vantage points…these are just observations I am putting out as a starting point for this dialogue:
The Jobseeker Perspective
In short, we are all jobseekers…all the time.  People are changing jobs more than ever before.  The average lifetime number of employers held has risen from 4 in the 1960's to 10.8 in 2006, and many say for Generation X it will be 14.  The implications of this are significant.  What used to be a sign of an inability to "hold down" a job and or the "patience to work your way up" is now pro-active career management, something necessary in case your employer dumps you in a quick downsizing.  This means, everyone is always "looking" toward the next assignment – and that companies are always recruiting, even during a downturn.
People know that job boards only list a small portion of the jobs available and it's not rewarding to be one of hundreds of applicants. There's got to be a better way…
Networking can be a great help when looking for work, but more importantly, for developing your career path – be a job seeker when you must, but career seeker all the time.
Social networks help people connect with the many jobs that aren't on job boards and enlist people who know you to help – and now technology allows us to do so easily and quickly.
The technologies that connect us constantly evolve.  Almost all professional communications now take place on-line or in digital form, email, SMS, instant messaging, Skype.  Your entire network is defined by all these things you do.  People will need to continuously construct, discover and fuel their networks. It's not any one technology, it's woven into all that we do.
Professional and social networking online is not only for the young, or those who live on the coasts, or those in high-tech industries or jobs…it has gone mainstream.
People in many industries, positions, at any age can find career help in social networks. What hasn't changed: the value of offline contacts, helping others out whenever you can, building a solid reputation based on real results.
The Employer Perspective
We're hiring all the time. Even in a downturn, companies are constantly hiring. In the worst month of job losses, in January 2009 when 741,000 jobs were lost, employers also hired 4.4 million people.  If it's not growth hiring, then companies use strategic replacement to bring in needed expertise and knowledge.
All companies must now apply the discipline of continuous quality improvement – while reducing costs in every functional area – and hiring is no exception.
This quality and cost discipline is moving hiring away from easy, expensive, ineffective sources to higher quality, lower cost methods like social recruiting, direct sourcing, free job search engines and more.
There's been a large scale realization that you can't just post jobs on the Internet, that you need to cultivate relationships, set the stage for referrals and amass a network that is mutually beneficial.  Employers want to build the value of their employment brand, their referral network – investments that keeps producing rather than one-time expenses that produce a blizzard of unusable resumes.
Many companies reduced the size of their recruiting staff significantly – and as they ramp up hiring, they're looking for ways to configure recruiting to keep costs low. But now more than ever,  employers need to focus on the highest quality prospects and candidates…and less on those who are not.
Because of this ROI imperative, we believe this recession has put the "hiring" back in hiring manager.  Those people managing sales, manufacturing, finance have had to step up to take on more responsibility in the recruiting process, not just because they have to help out their depleted staffing department, but because it is good for employers, recruiters and jobseekers to have them more involved.
One thing hasn't changed: the value of referrals, the highest quality hire.  And why employees get involved in referrals: because they want to help friends out, help their companies out, increase the value of their networks, give and get back.
The Perspective of the Recruiting and Human Resource Professional
See above.  As the matchmaker between employer and jobseeker, recruiting professionals are subject to all of the changes impacting both groups – and more.
Battling budget cuts, their smaller staffs  – because of ever growing employee and job churn – will have to do more work than ever before when growth hiring returns.
The human resource discipline has grown progressively more  metrics-driven over the years, increasingly speaking the language of finance and marketing.  The recession has intensified demand for vendors serving this market to provide products and services that provide clear and measurable results.
Recruiting has been on the forefront of using social media for business purposes – because  that's  where the candidates are. A year ago, hardly any of us used Twitter, today there are 34 tweets per minute containing the word 'job'…in mid-December, traditionally a slower time for job activity.
What hasn't changed: despite the painfully high numbers of unemployed, recruiters are often still looking for the passive candidate who's still employed,  the needle in the haystack with just the right combination of experience and attitude. It's  hard to find the right skills, experience and fit for critical jobs (and every job feels critical to businesses watching the bottom line).
There's a lot more happening now each of these areas – and a lot that's going to develop. At the core, the business of hiring is about people.  But at Jobvite, we think technology can help with many of these challenges – making "the new normal" a little simpler and more rewarding for everyone looking for work and workers.
Please share your thoughts with us.  As we enter the New Year and many reflect on professional goals and resolutions, I hope this can be a useful forum.