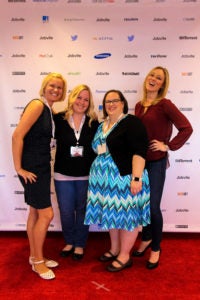 Today is International Women's Day, a global day dedicated to celebrating the social, economic, cultural, and political achievements of women. In honor of International Women's Day, we want to recognize and appreciate the contributions of the women at Jobvite–all incredibly talented and wicked smart.
We thought we would celebrate by asking them a few questions about Jobvite and their careers here to better understand what they value. We surveyed 25 Jobvite women at all levels, from entry level to executive, and across all departments, to better understand their views on the workplace – what they love and what they'd like to see. Here's what we found.
When asked what workplace qualities are most important, nearly 90% of Jobvite women cited "company culture" as the most important quality, followed by "my team and manager" at 80%. Two-thirds of respondents listed pay and recognition as important qualities. We're not surprised to hear this. While pay and recognition are important, we first and foremost want to work with great people at a great company–like Jobvite.
What are some things that companies today can do to continue to support women in the workplace? These answers apply not only to Jobvite–because we're always working on how we can improve and grow as an organization–but also more broadly to workplaces in general.
Provide leadership opportunities, training, and mentoring to develop women leaders.

Deliver flexible work schedules as well as stronger maternity and paternity leave policies.

Continue to support healthy work/life balance, which can sometimes be hard in our fast-paced and dynamic business.
At Jobvite, we're exceptionally proud of our culture of inclusion and fun. So, come join us! Check out our current open positions and contribute to Jobvite's amazing culture and the steep upward trajectory of our business.