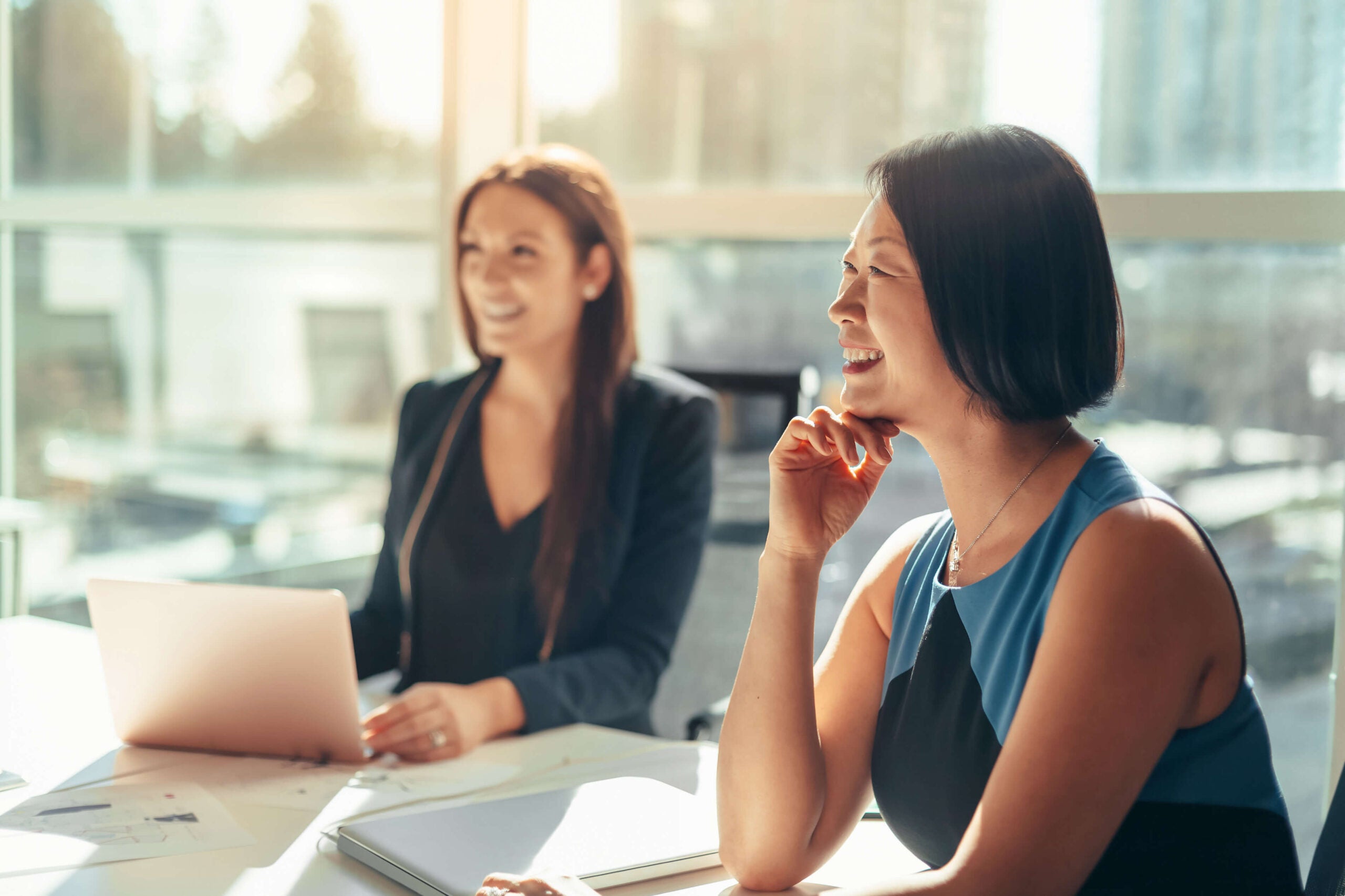 While talks of recession and hiring slowdowns continue to dominate the economic landscape in the short term, employers must also consider the long term in relation to their talent acquisition strategies.
If enterprise organizations minimize this new candidate-centric market, their business will be at a disadvantage in acquiring new talent and driving business results in the years to come.
Your recruiting team is likely seeing these trends firsthand.
Those that understand the macro recruiting trends, remain vigilant in the face of competition, and anticipate turbulence will be better suited to thrive through an uncertain hiring landscape.
As companies reevaluate their TA approaches and workforce needs, it's more important than ever to speak with hiring decision-makers at your business to relay the top recruiting challenges your team is facing and what leadership can do to support them in streamlining hiring this new year.
The talent landscape is still treacherous
It should come as no surprise: Employ data shows 65% of recruiters say their job is more stressful today than it was a year ago. Of those that say it is harder to fill jobs this year than last year, 61% of recruiters say the lack of talent to fill open positions is the reason, while 51% indicate competition from other employers is to blame.
Hiring is a race for talent. Competing on speed is one of the biggest hurdles for recruiters today and, therefore, one of the biggest stressors.
According to Employ data, the average time to hire is under two weeks for 32% of companies and between three and four weeks for 53% of employers. This means that within 30 days of posting a requisition, more than eight in 10 recruiters expect to have their open positions filled.
Within the current labor market, companies face several challenges that make recruiting more difficult, including a notable shortage of talent. Not only are recruiters forced to hire candidates more quickly, but they're also finding it harder to identify the talent needed to fill those roles.
Unfortunately, this could lead to the wrong job candidates filling your open positions, which will likely lead to greater employee turnover within your organization (and a worse bottom line).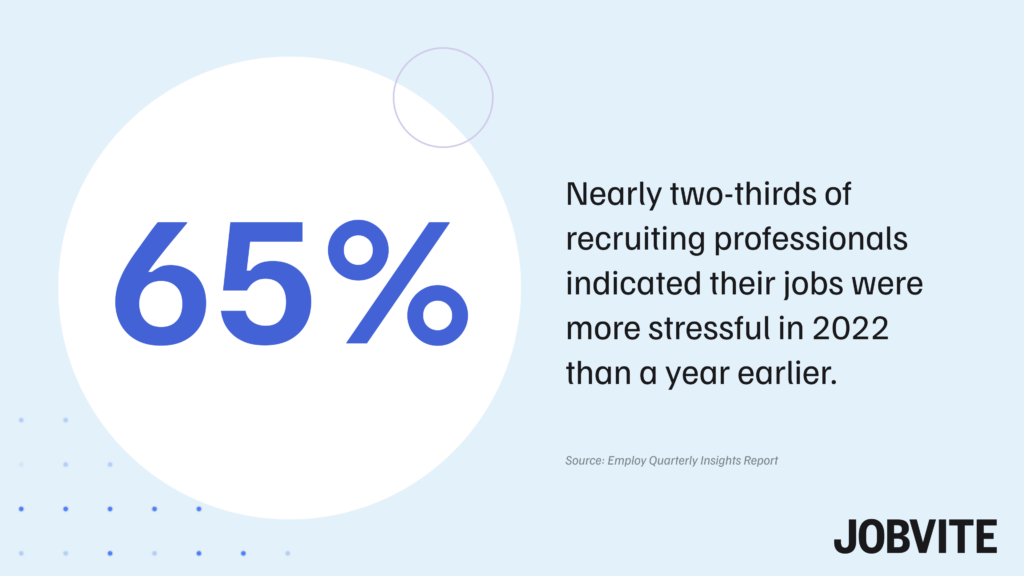 Where leadership can support your talent team
To stay competitive in this unique labor market, business and talent acquisition leaders must support recruiters in reducing manual tasks. Enter recruitment automation.
Through the use of recruiting automation technology, recruiters can do what they do best: focus on the human aspects of recruiting to ensure the best fit for the open position.
Continued investment in automated TA tech is clearly a priority for enterprises.
Per Employ survey data, 47% of brands also plan to invest in additional sourcing, including recruitment process outsourcing (RPO) to help them address current challenges they face in the hiring market.
If these considerations aren't yet in your hiring plan for the next year-plus, consider this a priority to help recruiters feel more supported in their roles.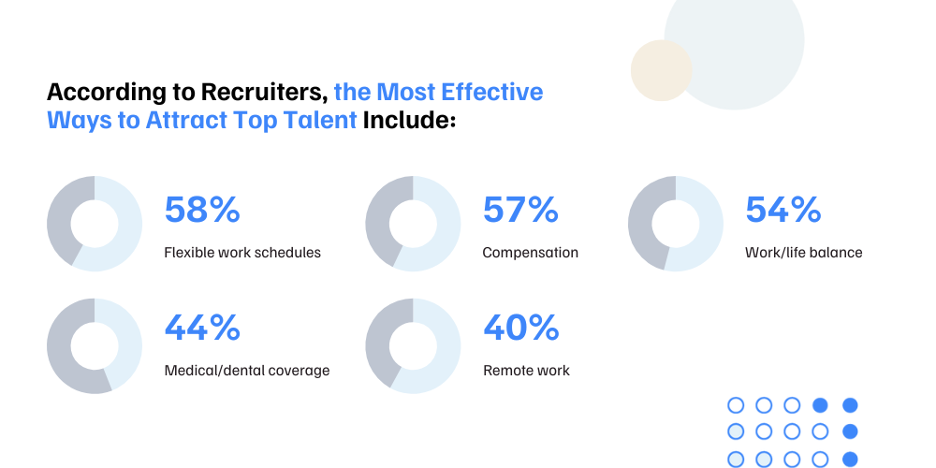 Attracting top talent is an uphill battle
With rising interest rates, continued focus on remote work, and an increased emphasis on employee benefits, companies continue to battle for candidate attention
More than eight in 10 (81%) of talent acquisition professionals indicate that attracting top talent has become more challenging over the past year, with 33% stating it has been very challenging.
As companies struggle to decide where to focus their efforts in meeting candidate expectations, recruiters are seeing firsthand what is working well and what leaves something to be desired.
Where leadership can support your talent team
Hone in on feedback from your recruiting teams in regards to candidate expectations. Not every industry will have the same expectations, which is why broader data only gets us so far.
Overall, flexible work schedules may be the highest-ranked factor that can help your enterprise attract top-tier talent today. But, if your recruiters are hearing more comments in screens about a low starting salary, that is where you'd do well to consider changes.
Recruiters are taking chances — and hope you and others in leadership will too
Recruiters don't use the same talent acquisition tactics and techniques today that worked in 2019. The labor market has changed so drastically in such a short time that your TA team has likely had to recreate the wheel to better identify qualified candidates, many of whom are not actively looking.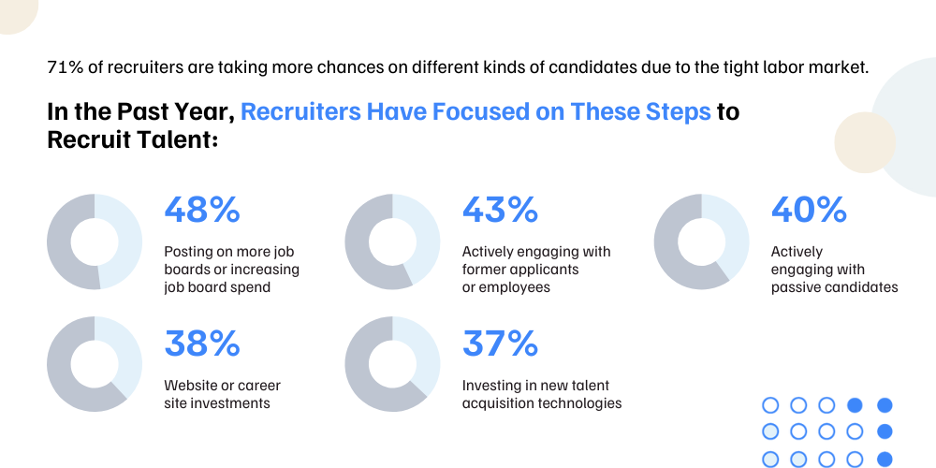 Where leadership can support your talent team
Recruiters have seen success in new job boards, automated systems that help them engage former applicants, and investments in their career sites and TA technologies, so this is where they're hoping leadership will support them in 2023.
When recruiters have a say in the technologies they use, they are more likely to stay at an organization.
In fact, a recent Aptitude Research reports indicates that one in two recruiters would leave their current company for another organization if it had better recruiting and hiring technology in its TA tech stack.
Ensure your talent team is supported
Get further insight into how you can empower your recruiting teams throughout 2023. Find out how to empower and invest in talent acquisition teams to drive recruiting results.
Download the latest Employ Quarterly Insights Report filled with data-driven insights and best practices from more than 18,000 customers and 1,200 HR decision-makers and recruiters.
Learn why Jobvite's Evolve Talent Acquisition Suite is the ideal enterprise recruiting and hiring solution for your TA org. Schedule a live demo with our team today.