Although there are nearly three million jobs less than before the start of the pandemic, the Bureau of Labor Statistics reported last week that the American economy added an incredible 467,000 jobs in January, seasonally adjusted. This positive uptick is considerably higher than what was anticipated by economists, many of whom expected the number of new jobs to show moderate gains due to the Omicron variant.
And while the unemployment rate has slightly increased, it has continued to remain low at 4%. This is great for those Americans seeking employment. But it creates a challenging environment for recruiters and talent acquisition leaders as they continue to source and recruit top talent.
Another big positive — hourly earnings have increased. Average hourly earnings continue to rise, up 23 cents to $31.63 per hour, an increase of 5.7 percent over last year. While pure supply and demand are largely influencing this, states also continue to increase their minimum wages. For example, states like Massachusetts are increasing their minimum wage to $14.25 per hour, with a goal of reaching $15 by 2023. California has raised its minimum wage to $15 per hour, the highest in the nation, for companies with 26 or more employees.
The big question is, how can talent acquisition respond to these changing market conditions to find talent and build pipelines for 2022? The answer: be agile, responsive, and ready to adapt. Here are three ways you can stay flexible and respond to the dynamic talent market.
#1: Revisit Your Compensation Practices
With the increase in average hourly earnings and minimum wages, it may be time to revisit current compensation practices and your communication strategies around them. Start by taking a look at your career site. Does it provide information about your competitive pay practices? Pay is definitely an important factor, but remember, there are other elements that workers look for when searching for jobs.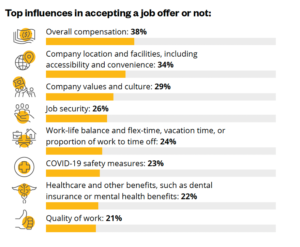 According to Jobvite's Job Seeker Nation Report, overall compensation was the top influence in a candidate's decision to accept a job, but other important factors included company location and facilities, company values and culture, and job security. Revisit your career site to see if it talks to your future employees and covers these important topics.
#2: Stay Flexible in Work Arrangements
While remote work had started to trend down, the demand went back up in January. Encourage employers to let employees work remotely where possible, even if not permanently. Employees across multiple sectors have been impacted by the Omicron variant. And while cases of Omicron appear less severe, enabling employees to work remotely, where possible, and empowering them to care for themselves or family members when impacted, can allow workers to meet family expectations, while still contributing to their work.
#3: Expand Your Diversity Hiring Strategies
February is a great time to review and improve upon diversity recruiting and retention practices. It's early enough in the calendar year to have a drastic impact on current year hiring. While diversity, equity, and inclusion (DEI) can take on a variety of forms, several data points demonstrate the disparity in unemployment between groups. For example, while the unemployment of black Americans has declined over the past year, it remains at 6.9 percent, higher than the national average. Similarly, the unemployment rate of Americans with a disability is 9.1 percent. Take the opportunity to revisit your DEI strategies and identify where you have potential to bring greater inclusiveness of culture, experiences, and worldviews to represent and deliver results for your customer base.
Diversity within the workforce also continues to be important to employees. According to the Jobvite Recruiter Nation Survey, 49% of recruiters report that job seekers are inquiring more about DEI initiatives than they did last year, making it clear that inclusiveness is important to employees. If you're looking to make strides in diversity hiring this year, join us for a webinar on February 22 with Trish McFarlane and Steve Boese from H3 HR Advisors to learn more about how diversity hiring can set your company apart in 2022.
Resolve to Dig Deep and Remain Optimistic About TA in 2022
As we move further into 2022, exhaustion from the last two years is real. But as the labor data from this month prove, America is getting back to work. And that takes grit, determination, and resolve from all of us. The January jobs number represents a bright spot that reflects well on talent acquisition.
We are optimistic for a strong 2022 — and with the right talent acquisition strategies in place — you can recruit and hire the best talent to deliver on your business outcomes. If you are looking for ways to add to your 2022 talent acquisition plans, check out what other successful TA leaders from Shutterfly, The Achievement Network, and Jobvite are putting in place to ensure recruiting success in 2022.
As recruiting experts, we are here to help. Need a small business TA solution? Check out jazzhr.com. Need a mid-market or enterprise TA solution? Check out jobvite.com. Need an RPO solution? Check out nxtthingrpo.com. With over 12,000 customers, we have the expertise and know-how to deliver recruiting results no matter the complexity of your hiring needs.