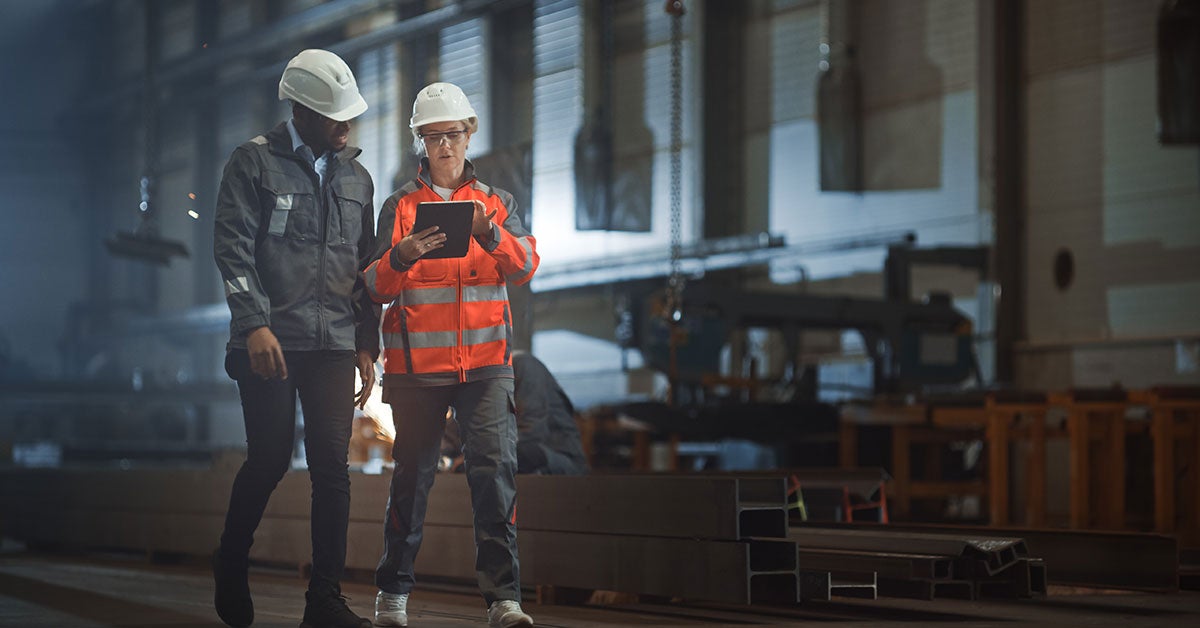 Recruiters in manufacturing face unique challenges. Many of today's manufacturers struggle to attract, hire, and retain talent for a wide range of roles: skilled operators and technicians, assemblers, plant managers, and other key positions.
At the same time, disruptive technology has transformed the talent profile of the manufacturing industry — which means manufacturing companies find themselves competing for college educated, skilled talent. Do you have the right tools to address these issues?
6 tips to hire the best manufacturing talent
The following are six secrets every recruiter in manufacturing needs to move candidates through the pipeline more efficiently and effectively — whether you're dealing with 10 requisitions or 100.
1) Brand like you mean it
Are you capturing the interest of top candidates and standing out from your competitors? Applicants want to know what you stand for — and more importantly, they want to see a consistent, authentic brand identity across every channel.
Don't reinvent the wheel. Corporate marketing likely has a bigger branding budget than you do. Leverage the hard work they've already done by taking the existing corporate brand one step further to communicate your employer brand.
Tell stories that matter. When you're competing with high-profile brands, be clear about what sets your company apart. Share "day-in-the-life" stories and testimonials from your employees. Highlight your workplace values and culture. Tell stories that demonstrate a desirable career path at your company. Accentuate the positive, but don't exaggerate — smart people can see through the fluff.
Demonstrate your commitment to a safe working environment. Be sure that part of your employer brand story articulates and demonstrates your commitment to employee safety and well-being.
Pull it all together on a great career site. Your career site sets the stage for all future candidate interactions. First impressions matter. A robust recruiting platform like Jobvite lets you create a custom, branded career page that incorporates your authentic stories and blends seamlessly with your corporate website's look and feel.

2) Don't ignore the passive masses
Filling the funnel means casting a wide net. Our recent Job Seeker Nation report found most job seekers (63%) are satisfied with their current jobs — yet almost half (48%) are open to new roles.
That means a lot of candidates who might be interested in your job openings aren't actively searching for a new job. You need to find ways to connect with passive, skilled talent who aren't submitting resumes and applications.
Get the word out. From social media to blog posts, you need to communicate relevant content about your workplace, your culture, and your job openings. Using social and online platforms, you'll be able to connect with more candidates outside of tapped-out local talent pools. Word travels fast — especially when candidates are plentiful and good jobs are scarce. Get on the platforms your candidates use regularly (Facebook, Twitter, LinkedIn, etc.) and talk about what makes your company special.
Look to your past. Don't forget silver medalists. Previous applicants are a great source for passive job candidates. These are people who weren't hired the first time around, but who still possess valuable skills and qualities. Jobvite has the tools to put these candidates into a campaign where they can be nurtured. When a position opens up, you'll already have a pool of candidates available.
3) Assess your candidate journey
It's important to get candidates through the hiring process quickly and efficiently — especially for high-volume roles — but there are often hiccups along the way. These delays can slow hiring, alienate candidates, and disrupt hiring team relationships. Having a clear idea of a candidate's path helps everyone manage the cycle more effectively and leads to better, faster hires.
Get a grip on reality. To understand where things go wrong, you first need to establish what's "normal." Start by benchmarking your current standard hiring process. How long does each phase usually take? What are your typical holdups? Do you have any consistent limitations (overwhelmed hiring managers, tight budget, etc.)?
Map the whole process. The candidate journey starts before any direct contact, so be sure to include all the steps related to sourcing and engaging with prospects. Similarly, the hiring process doesn't end with a signed offer letter. Onboarding is a critical step that can influence how long new employees stick around, so include it in your journey assessment.
Take Jobvite's EVOLVE assessment. It only takes 10 minutes to determine your organization's TA maturity level. Afterwards, you'll get tailored action plans to evolve your processes, people, and technologies and track your progress. Look beyond your career site. Candidates do lots of research before (and after) applying, so it's important to understand where they go for information — and what they're going to learn about your company. Monitor Glassdoor reviews and social chatter to make sure that you're putting your best foot forward.

4) Make every employee a recruiter
If you're short on recruiting resources (like most manufacturing companies), you already know how valuable referrals can be. After all, referrals are easier, faster, and cheaper to hire than other candidates. To capture those referrals, harness the power of your employees' social networks.
Communicate regularly. When there's something important to share — a new job opening, a cool company achievement — get it out to your employees through whatever channels work best in your company. When people are aware of what's going on in their workplace, they can evangelize on the company's behalf.
Make it easy to share job openings. When you share job posting info, make sure it's in a format that's easily shareable. Our Job Seeker Nation report revealed that 42% of candidates learned about job openings on social media — so use technology that lets employees share postings with a single click.
Create (and respect) feedback loops. Give employees an opportunity to share their feedback on your referral programs — and make sure you listen. They might have some great ideas that could lead to more (and better) referral candidates.
5) Take your recruiting to the next level with text
In today's world, candidates are never far from their phones. Grab their attention no matter where they are by taking advantage of intelligent texting and automation. Our research shows a 98% open rate for recruiting messages sent by text versus just 20% for recruiting emails.
Streamline pre-screening. With so many candidates in the market for jobs, companies are seeing an abundance of applicants for every opening. By automating the pre-screening process with intelligent texting, you'll be able to narrow the field of candidates without tying up a recruiter's time.
Make scheduling a breeze. Scheduling interviews can be a headache, but it doesn't have to be. With automated smart scheduling, you can easily propose interview times based on interviewer availability and automatically book the meeting when the candidate responds. Schedule changes and cancellations can be communicated instantly, improving the overall candidate experience.
Keep communications open. Automated text campaigns can be used to share information about perks, benefits, onboarding, and more. And candidates can easily contact you with questions.
6) Dig deep — and share what you learn
We all know that data is important in the hiring process. But, simply collecting recruiting data isn't enough — you need real insights from your data, and you need a way to communicate those insights to the right people, quickly and easily. A recruiting dashboard can help by giving you a high-level snapshot of your top metrics in a user-friendly visual format.
Prioritize your metrics. For most companies, time-to-fill and bottleneck analysis provide the most value for optimizing the recruiting process. For example, are there certain hiring managers who are consistently slow to review resumes or submit feedback? Are specific regions or roles taking longer to fill than others? Questions like these are easy to answer when you have reporting at your fingertips.
Customize as needed. Lots of people need insights from recruiting data, but they don't all require the same level of detail. Recruiters need to see open requisitions, applicant counts, and hiring cycle progress — with the ability to drill into candidate profiles and resumes. Execs, on the other hand, want high-level visibility into things like time-to-fill and budget status.
Recruiters in manufacturing are always looking for ways to be more effective and get a jump on the competition. As talent needs shift, manufacturers need to get creative in order to plug the skills gap and attract the highly skilled workforce that can propel their companies into the future.
With a little innovative thinking and the right tech, you can find answers to these critical challenges. And Jobvite is here to help. To see how manufacturers are recruiting smarter with Jobvite, take a look at our Case Studies page — just filter by industry and choose "Manufacturing."
Reach out to our team today to schedule a custom demo of our applicant tracking system and learn how our advanced ATS can help you achieve your manufacturing hiring goals.