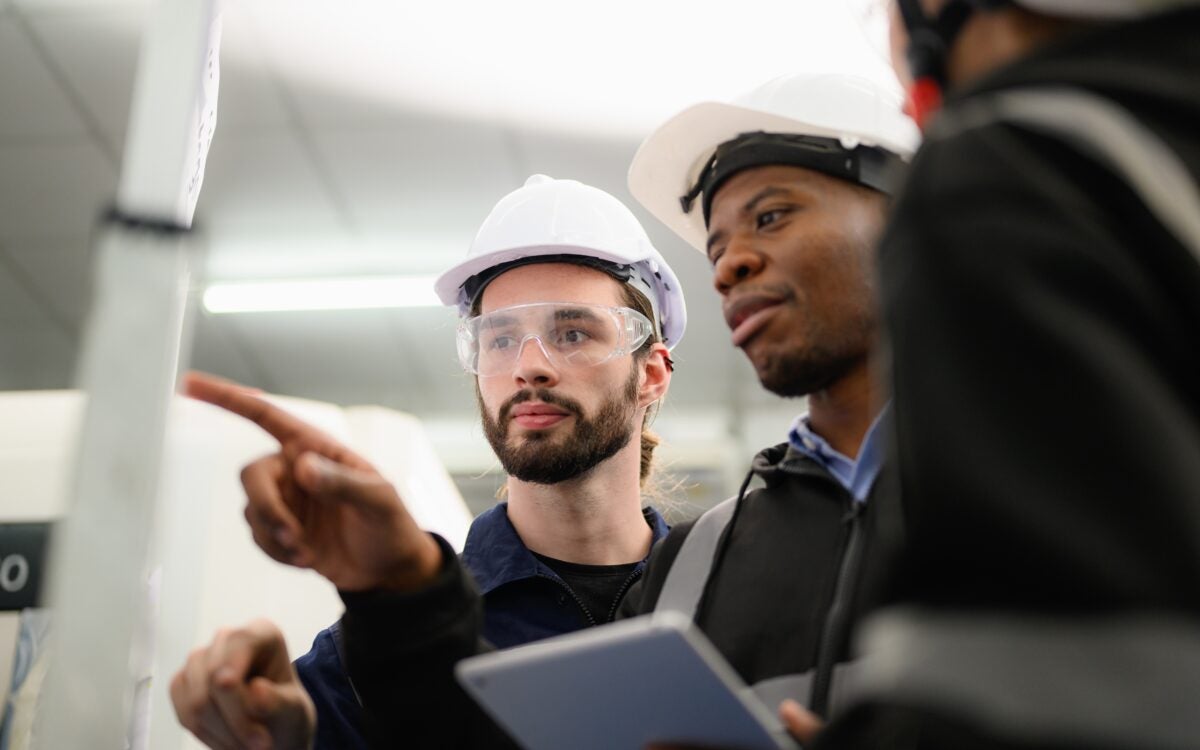 Job growth in the manufacturing sector has been pretty extraordinary since 2019. Companies in this space have searched for better ways to find and hire the right skilled talent to help them maintain their upward trajectory.
Many manufacturing orgs have turned to purpose-built talent acquisition solutions to tackle hiring complexity and stay competitive in the tight labor market.
Let's break down the state of jobs in manufacturing based on the latest data, look at the challenges of hiring that recruiters and human resources decision-makers face, and explore how the right TA solutions can support larger manufacturing enterprises in streamlining their recruiting and hiring activities.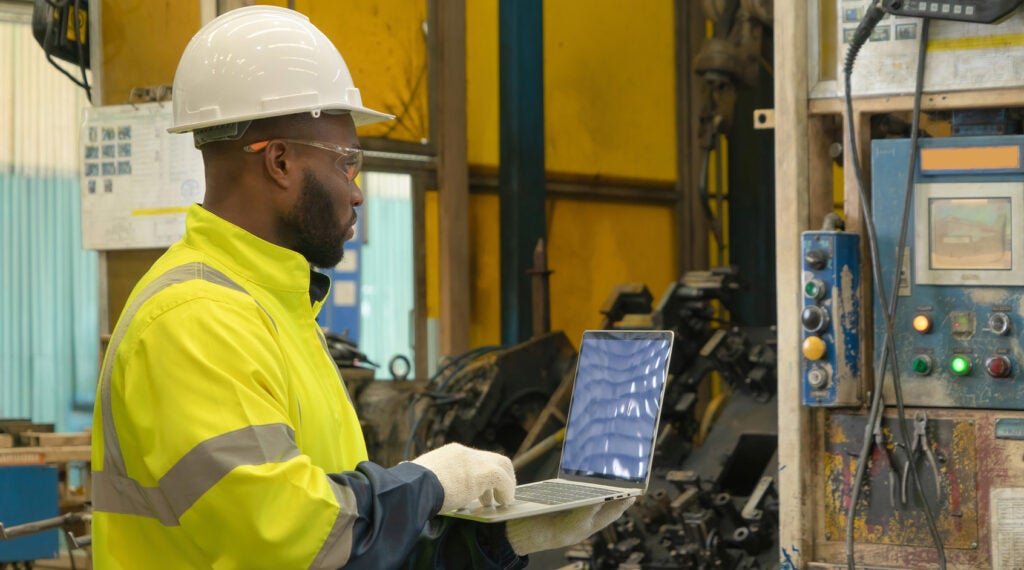 The current state of the manufacturing labor market
The manufacturing sector has experienced significant growth over the last several years, and for the first time since 2021, shed jobs — just 4,000 — in February 2024.
In the prior six months, manufacturing had seen a monthly gain of 21,000 jobs, per the Bureau of Labor Statistics, and had increased by 150,000 jobs since its previous peak in January 2019.
The BLS JOLTS Report released in March 2023 also recorded that the number of open jobs in manufacturing increased to 791,000 in January 2023 versus 730,000 in December 2022.
While these numbers are lower than historical highs in April 2022, the number of current job openings in manufacturing is still almost double what it was in 2019.
In February 2023, computer and electronic product manufacturing added 2,800 positions, followed by chemical manufacturing with 2,500. Other job gains in manufacturing included:
Navigational, measuring, electromedical, and control instruments: 1,500 jobs added
Nonmetallic minerals manufacturing: 1,500 jobs added
Transportation equipment: 1,300 jobs added
Petroleum and coal products: 1,000 jobs added
Those areas that lost jobs within the manufacturing sector last month included:
Plastics and rubber manufacturing: 4,700 jobs shed
Furniture manufacturing: 2,800 jobs shed
Textile mills: 1,700 jobs shed
Paper mills: 1,100 jobs shed
Fabricated metals: 1,100 jobs shed
Dealing with hiring complexity in the manufacturing sector
Nearly two in three recruiters (64%) in the manufacturing industry say their job is more stressful today than it was just one year ago, according to Employ data.
Between the high number of open roles and increased candidate expectations, recruiters are feeling more pressured than ever to find and hire quality talent.
Some of the stress comes from recruiters not having the resources or support they need to hire in today's complex market. Around 42% of hiring teams shared that they don't have the resources they need to be successful.
On top of this, 67% of recruiting professionals in manufacturing said their current hiring volume is higher than last year, with 60% indicating their top priority is improving quality of hire.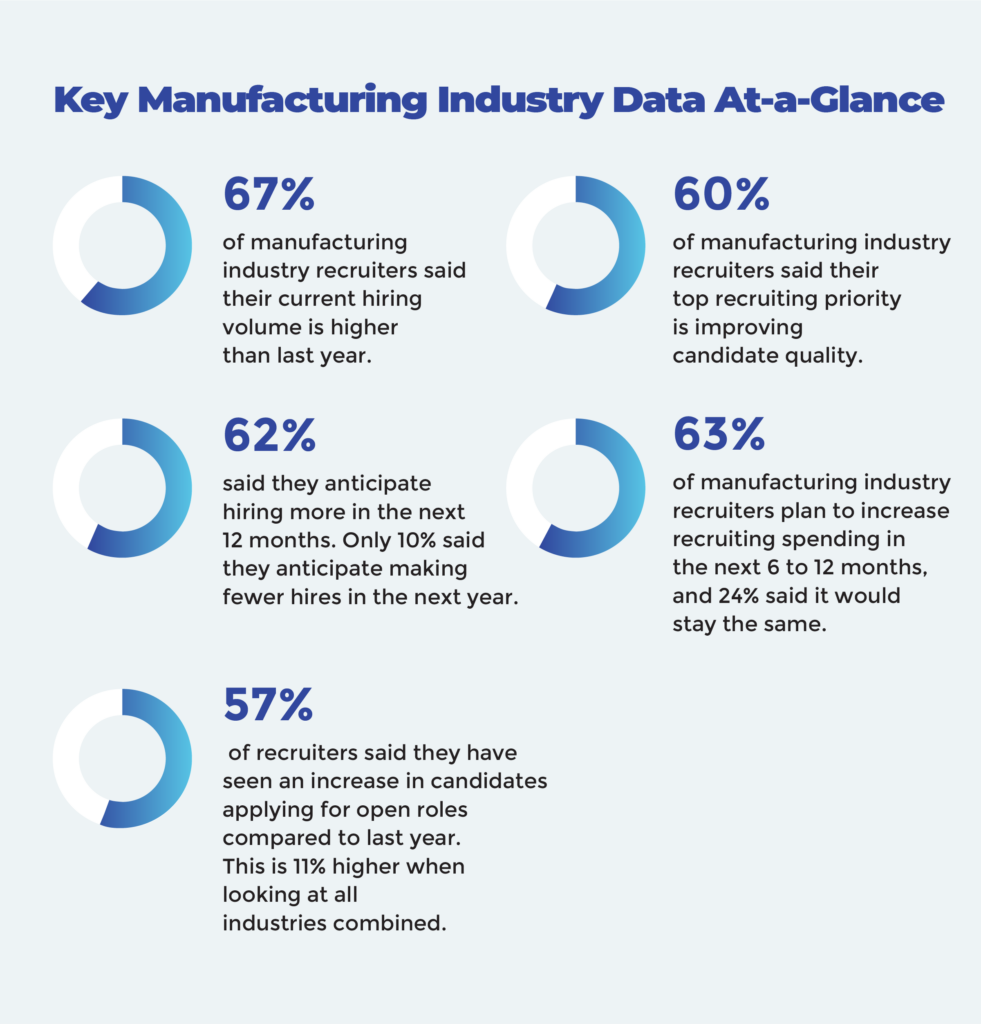 There's also an increasing disconnect between what company leadership assumes recruiters need and what they actually need to find and hire top talent. In fact, 58% of recruiters believe that leadership doesn't understand their role in the organization, making it more difficult to do their jobs.
With the significant growth in manufacturing over the past several years, there is more hiring activity going on than ever before. And it means that qualified candidates are getting harder to find and are even harder to impress. This is reflected in the latest Employ data: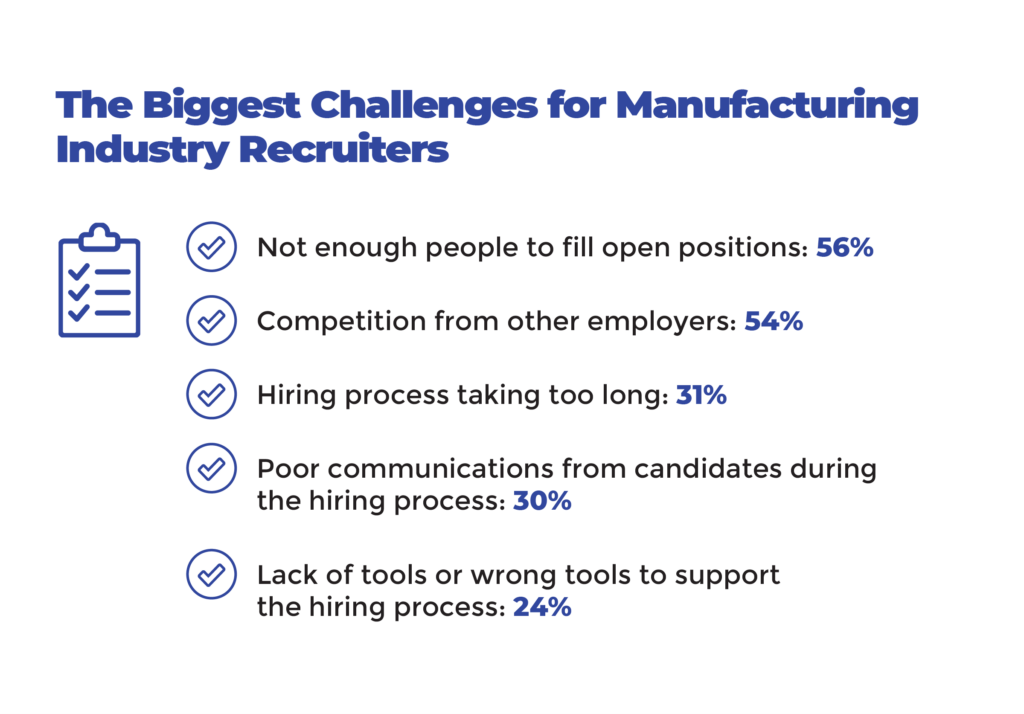 Recruiters in the manufacturing industry are trying to overcome the challenges of keeping pace with hiring demands and increased candidate expectations — not to mention tapped out talent pools.
Hiring teams within manufacturing have had to adapt to the changing labor market to find and attract quality talent before they're snagged by competitors.
Talent teams have had to source candidates from a variety of places and even revisit some old standbys like job boards. Using professional groups to source talent for highly technical roles that are hard to fill, like engineers, has proved fruitful for recruiter looking for new sources of talent.
These and other candidate sourcing strategies are helping recruiters grow their talent networks with qualified candidates for their distinct manufacturing roles.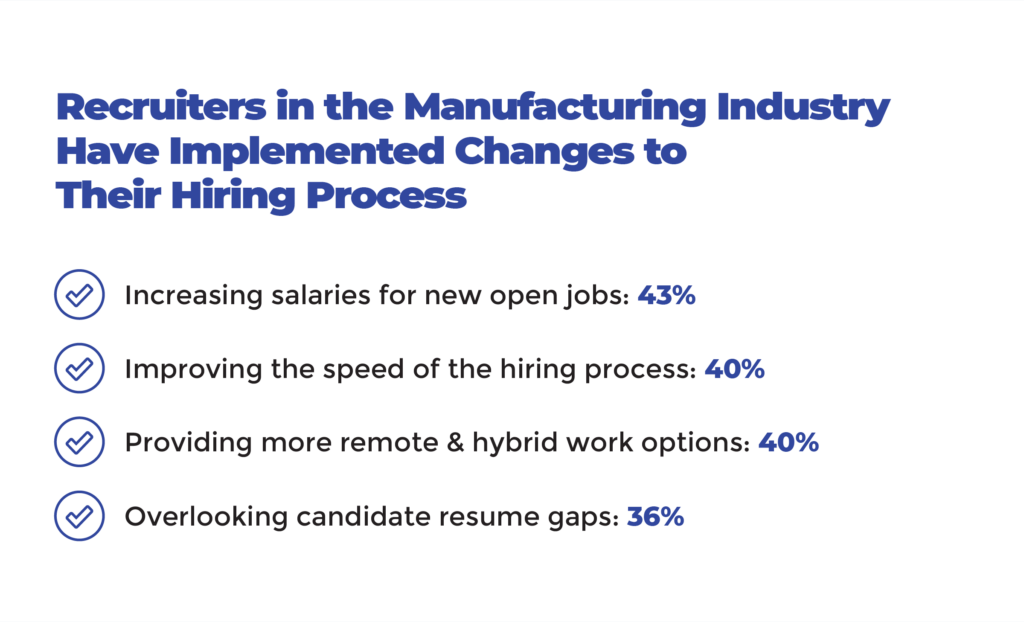 Hiring teams have shifted focus to increasing salaries, efficiencies, and offering more flexibility to open roles.
Because job seekers considering roles in the manufacturing industry do not have significant amounts of time to engage with recruiters during the day, they need an intuitive hiring process that they can complete quickly on their own schedule.
Recruiting teams in this industry must prioritize new technology and enhance the candidate experience to help find and hire qualified manufacturing talent.
What manufacturing job seekers want
The Great Reshuffle led to employees searching for better opportunities at companies that offer greater value. It has put — and kept — candidates in the driver's seat for job offer negotiations.
Job seekers in the manufacturing industry are looking for better all-around experiences and seeking employers that can provide them.
Beyond compensation, active job seekers are looking for career advancement opportunities (52%), greater work flexibility (45%), better company leadership (31%), and a better company culture (28%), based on the Q1 2023 Employ Quarterly Insights Report. They're also focused on finding:
More paid time off (PTO)
Better health insurance
Better DE&I across an organization
Employee bonus programs
How to hire the best manufacturing talent at scale
Hiring in the manufacturing industry is challenging and requires a purpose-built, comprehensive, all-in-one solution that streamlines the hiring process for skilled talent and recruiting workflows.
Jobvite's Evolve Talent Acquisition Suite empowers manufacturing companies to amplify their recruiting capacity and deliver better hiring results to drive business performance.
With purpose-built TA solutions from the Evolve Suite, you can hire skilled workers, and streamline how your manufacturing company attracts, hires, onboards, and retains talent.
Using the Evolve Talent Acquisition Suite, manufacturing companies can:
#1: Reduce talent acquisition costs and time to hire
Ensure hiring compliance and expedite the recruiting process. Jobvite's suite of tools for manufacturers streamlines recruiting, speeds hiring, eliminates unnecessary costs, and gets skilled talent up and running faster.
#2: Connect with skilled workers in real time
Built specifically for the complex needs of manufacturing companies, Jobvite offers tools like Intelligent Messaging to connect with skilled talent where they are. Leverage mobile capabilities and deliver a modern, streamlined candidate experience to engage and convert candidates faster.
#3: Remove recruiting roadblocks and streamline efficiencies
Pinpoint roadblocks that exist in hiring manufacturing workers. Streamline recruiting and onboarding leveraging automation and AI to eliminate barriers, increase recruiter capacity, and keep talent engaged.
With powerful recruiting capabilities, strong integration with your existing tech stack, streamlined onboarding, and more efficient processes that can help manufacturers quickly identify and secure talent for their businesses, you can stay ahead of competitors for the short and long term.
Learn more about Jobvite's talent acquisition solutions for companies in the manufacturing sector
There is a better way to tackle the challenges of finding skilled talent for open manufacturing roles.
By streamlining complex talent acquisition activities with the Evolve Talent Acquisition Suite, companies in the manufacturing sector can ensure they get the best possible employees who will help drive their business forward.
Learn more about Jobvite's purpose-built recruiting solution for the manufacturing sector.