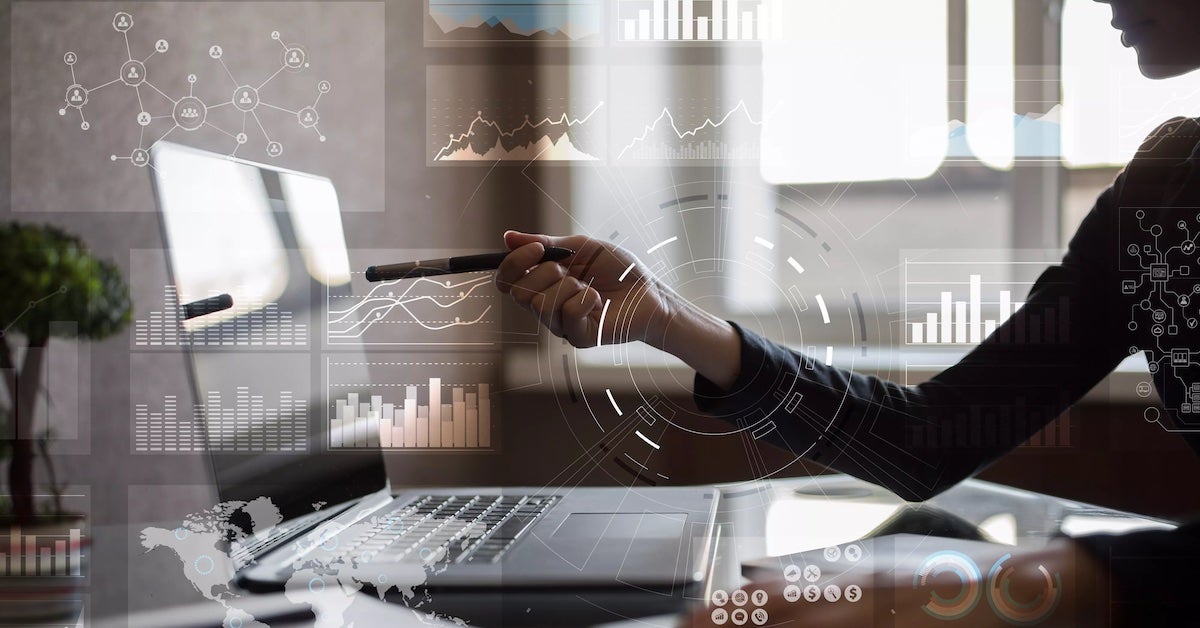 More and more enterprises are ditching their dated applicant tracking systems (ATS) in favor of more complete and advanced talent acquisition suites today. Specifically, their onboarding recruiting technology that helps them better identify, engage, convert, and analyze candidates.
It can be difficult to discern exactly how effective your recruitment software is in helping you hire high-quality talent. Thankfully, there are several questions you can ask yourself that can reveal the efficacy of your current ATS — and determine if it's time to upgrade to a better solution
8 questions your hiring team members should ask about your recruiting technology
Automation capabilities. Candidate relationship management functionality. Analytics dashboards. A simplified application process. Integrations with other helpful HR and recruiting tools.
The top-tier ATS vendors off these (and more) for TA teams.
If you're applicant tracking software lacks said offerings, it may be a sign to move on from it.
Ask yourself these questions to determine if you are getting the best possible results from your current TA tech or if you need to eliminate your current ATS in favor of a better one.
1) What are our current candidate conversion rates?
On average, companies convert only 30% of applicants. Jobvite defines the candidate conversion rate as the process of transitioning a career site visitor into a known candidate or applicant by either completing the job application process or joining a talent network.
First, figure out your candidate conversion rates. And if you aren't achieving conversion rates of at least 70%, check out the Fortune 500 Candidate Conversion Audit report to see what common mistakes other companies are making and where you might have opportunities to improve quickly.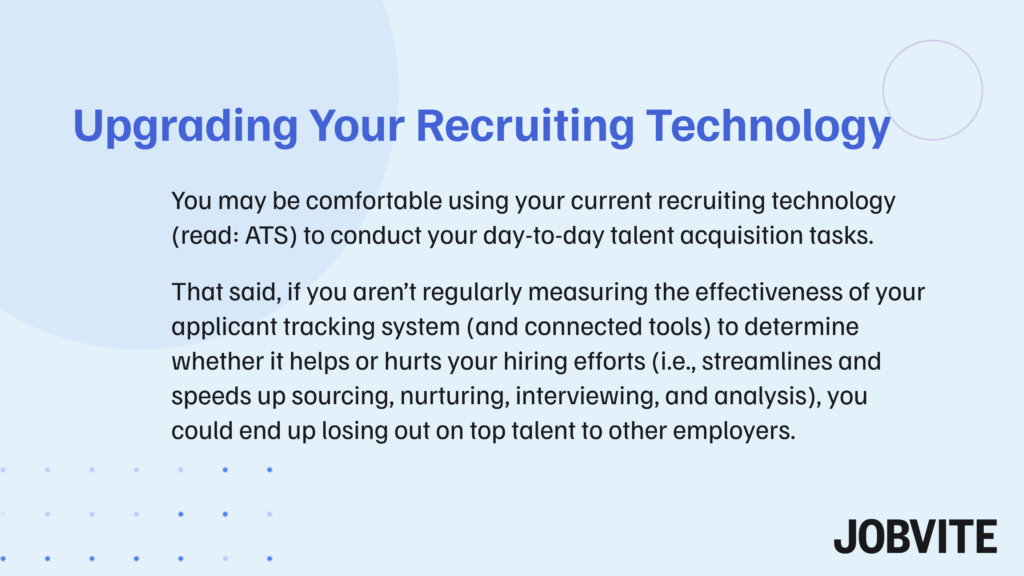 2) Are we automatically sourcing qualified talent?
According to Aptitude Research, recruiters spend up to 16 hours per week scheduling calls and 10 hours looking for candidates in their ATS. Recruiters can reduce time spent on sourcing by around 30% using automated technology.
Not only does automation cut down on time and effort, but AI finds the right candidates for the role by pre-screening for you and directing them to recruiters or hiring managers when the time is right.
Your talent team needs to source top talent with the aid of automation in the years ahead.
3) Do we deliver strong candidate comms with texting and chatbots?
Intelligent messaging helps pre-screen and answer candidate questions – recruiting teams are using chatbots and texting to pre-screen candidates and answer their questions automatically.
Texts to candidates boast an impressive 98% open rate, compared to email (20%). Intelligent messaging keeps candidates engaged in all stages of the hiring process. Texting and chatbots should be part of your core talent acquisition suite.

4) Is our onboarding process helping or hurting?
All employees need high-quality onboarding to start with your company to have a chance of succeeding. Provide a consistent onboarding experience for every employee using onboarding software as part of your talent acquisition suite and retain that top talent you just hired.
5) Do we have visibility to know what is working and what is not?
Strategic TA teams constantly measure their processes and work to improve them.
A robust talent acquisition analytics platform empowers agile recruiting orgs to keep an eye on key metrics tied to pipeline management efforts and make data-driven changes as needed.
The analytics built into your recruiting technology should enable you to easily, efficiently, and quickly measure results as it relates to applicants, nurtures, interviews, offers, and other facets of your day-to-day effort and improve hiring outcomes.
6) Are we getting as many employee referrals as we can?
It's a known fact that referrals are a great source of candidates and often make the best hires. If you aren't managing referrals from within your talent acquisition suite, you are missing out on this great source of candidates.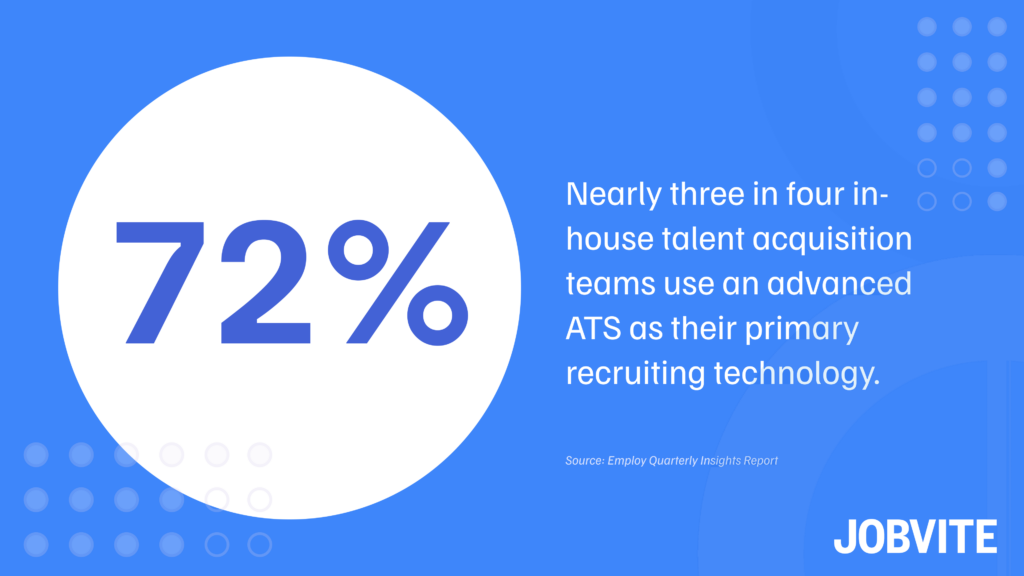 7) What about internal candidates? Can we easily identify them?
Internal candidates make great candidates for new roles. Having an internal mobility program not only helps to retain top talent for longer, it gives you a great career path story for future hires. And that goes for your recruiters as well.
Per Aptitude Research, 32% of recruiters are looking for other career opportunities.
8) Do you have a strategic plan to continually improve your TA process?
None of us can make immediate improvements to current processes or technologies overnight. If we try to do too much too quickly, we'll fail. So, get strategic and thoughtful about how mature your current processes and technologies are and where you can improve and get better results.
Need help getting started? Take 10 minutes to complete the EVOLVE Talent Acquisition framework to identify and prioritize areas for improvement — including with your recruiting technology.
According to recent research from HR expert Josh Bersin, leading recruitment technology is helping TA teams retain top talent and market a strong employer brand to source high-quality candidates.
The sooner you consider areas to recruit smarter, the sooner you can enjoy the benefits.
Get a glimpse into how Evolve, our complete Talent Acquisition Suite, helps enterprises streamline their recruiting and scale their hiring. Request a one-on-one demo today.