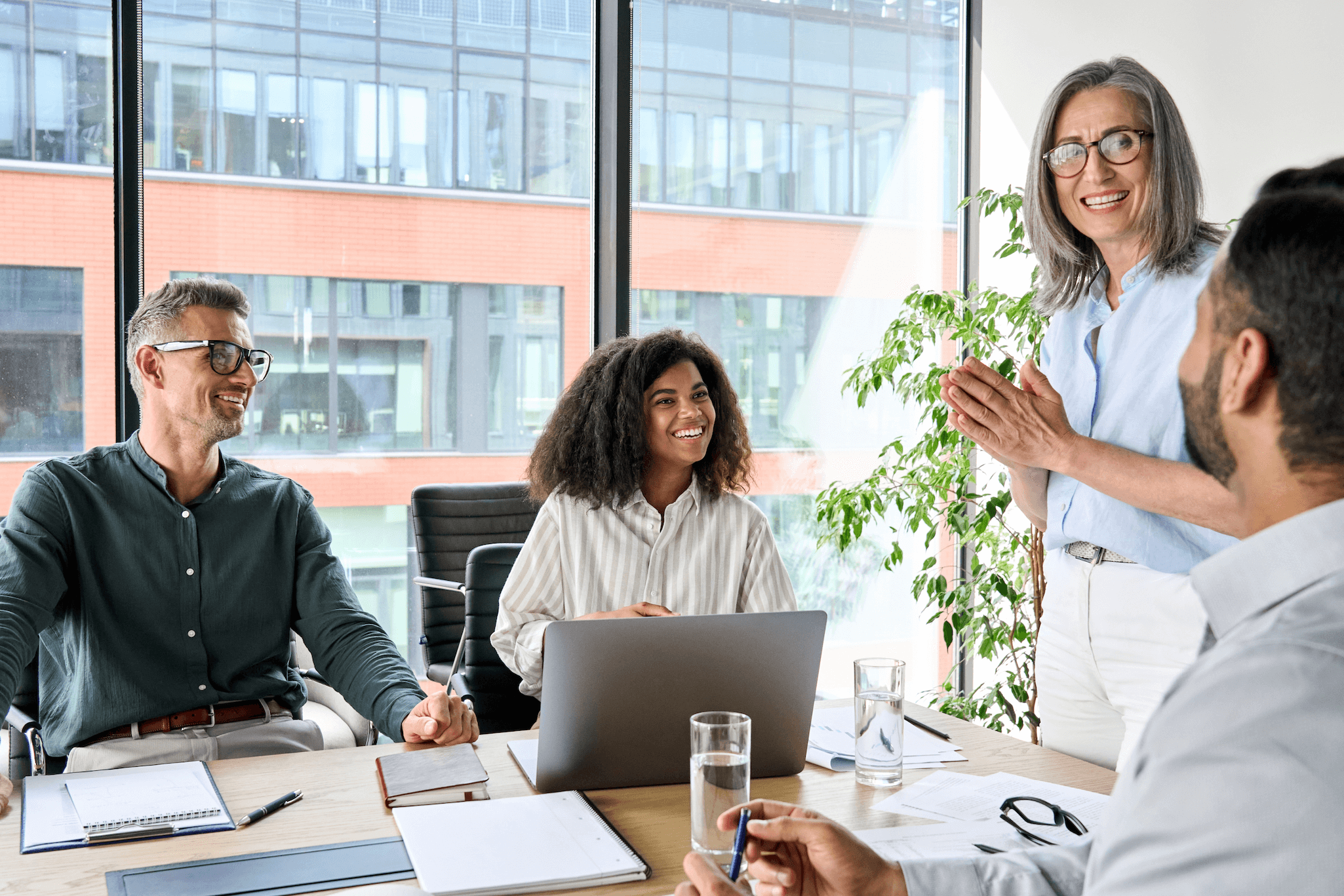 Nearly half (46%) of human resources leaders plan to invest more in HR technology in the coming years to improve daily workflows and become higher-performing HR teams, per Gartner.
It's encouraging to see CHROs getting budget to bolster their team's tech stacks.
However, it's important to remember the best tools can only help human resources departments carry out their day-to-day tasks and contribute to high-level business goals when they have a structured, well-planned HR strategy in place. Specifically, one with two key objectives in mind:
Centralize all workforce information to make it easy for HR team members to track insights tied to employee engagement, satisfaction, output, and retention, and use those insights to recommend data-backed actions and adjustments to leaders and managers.
Develop an analytics-oriented talent acquisition strategy that helps the recruitment side of human resources operations enhance every element of their hiring efforts.
It's this second objective some CHROs neglect to factor into their annual HR strategies — but one that deserves just as much attention to ensure HR helps drive the business forward.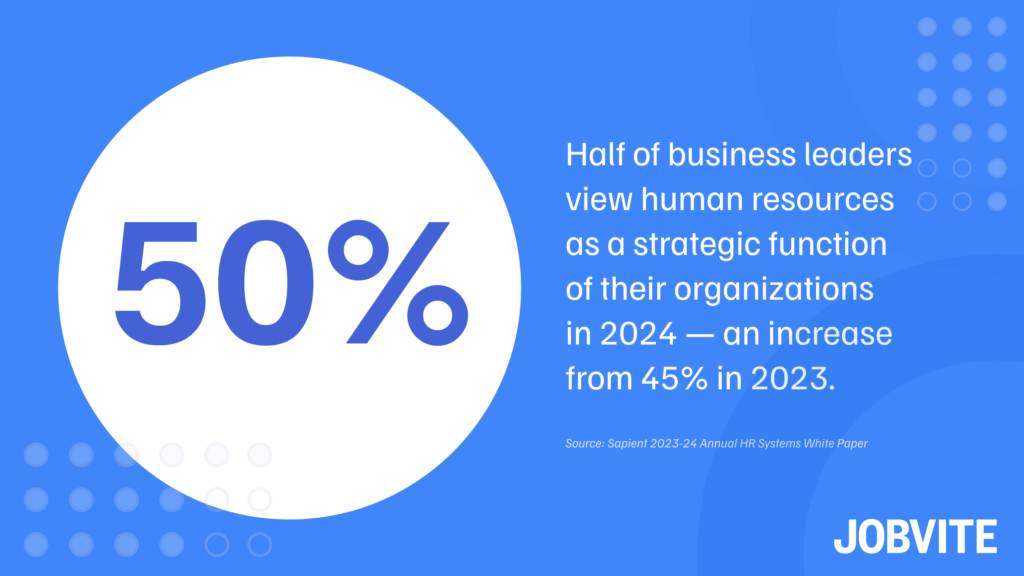 Essential elements of a successful HR strategy
High levels of burnout and fatigue, a candidate-centric market, and adjusting to the transition from mostly in-office work to remote and hybrid models have all made work more difficult for human resources over the past few years.
It's understandable that HR strategy planning, execution, and optimization isn't always top of mind with CHROs. On the talent acquisition side of HR teams, the 2023 Employ Recruiter Nation Report found there are many reasons TA leaders and recruiters are experiencing high levels of stress today: 
Not enough qualified candidates (45%)
Competition from other employers (35%)
More open roles to fill (34%)
Fewer resources to support hiring (33%)
A lack of AI-powered recruiting technologies (30%)
More employees leaving the organization (30%)
Despite these stressors in human resources departments — particularly those at enterprises such as yours — these teams are still tasked with developing an HR strategy for their businesses that helps them achieve important goals.
So, what do human resources teams, including CHROs and other talent leaders, need to establish a well-coordinated HR strategy that ties back to organizational objectives?
In short, they require the right people, processes, and technology.
Across your enterprise, chances are human resources is one of the most malleable departments. That's because HR team members often have multiple roles and responsibilities.
Some HR generalists may focus on workforce management activities, like payroll, but that doesn't mean these individuals work solely on the same set of limited tasks and initiatives year-round.
Many human resources teams have clearly defined roles for their HR personnel, so they have defined "swim lanes," as it relates to their core duties.
Look at leading, large-scale organizations today, and you'll typically see human resources practitioners focus on both sides of the HR strategy coin: workforce planning and talent acquisition.
"[Human resources] must partner with executive leaders to manage future talent risks," Gartner analysts recently wrote. And the best way to do this is assign specific HR team members to both tasks: some to focus on retention and turnover, and others to focus on recruiting and hiring.
Regardless of the distinct HR processes and activities you're tasked with, you need top-rated, easy-to-use tech that streamlines your work and enables you to find the info you need to succeed.

The two tiers of technology for your HR strategy
"[Human resources] technology has become increasingly sophisticated and intelligent," HR tech and business expert Josh Bersin recently shared with SHRM. And, of course, he's right.
The HR software marketplace continues to grow, with new artificial intelligence tools and human capital management systems making it easier than ever for companies of all kinds to develop, track the performance of, and improve their HR strategies.
Building a best-of-breed HR tech stack requires your business leaders to factor in the two talent management approaches mentioned above — and to distinguish HR software leaders from laggards, so they don't regret their eventual investment.
1) Human resources management software
Within this tier, there are three subsets of tools that drive modern enterprise HR strategies.
Human capital management (HCM) software
Your HR department needs to manage payroll, track compensation and benefits, set up and routinely update org charts, monitor employee engagement and productivity, and generally keep an eye on workforce-related trends. These workforce patterns, in particular, can help execs with SWOT analysis and inform workforce planning changes in the short and long term.
Consider the HCM software Jobvite connects with. Our customers sync their UKG, ADP, and BambooHR instances to transfer data tied to hired candidates into these systems to automatically create official employee profiles and records and, in turn, automate a once-laborious, manual task.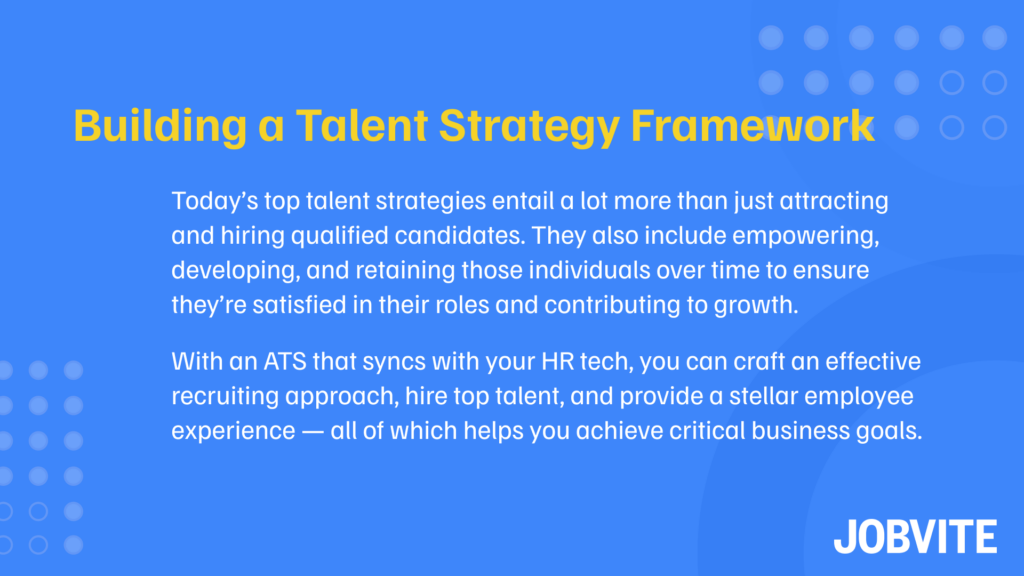 Culture, learning, and feedback tools
An equally critical tier of human resource planning technology is one that:
Helps strengthen the company culture through proactive messaging and community-building
Provides training and development to employees to aid their career advancement efforts
Enables HR to send eNPS surveys and use results to realize both a better working environment and better business outcomes
The common thread among these kinds of HR solutions? They help human resources work with business leaders and people managers to help employees realize internal mobility goals.
"Pursuing a mobility- and retention-centered model will mean finding ways to integrate hiring and talent management databases to better match internal candidates with interdepartmental needs," Employ SVP People & Talent Corey Berkey wrote for Forbes. "These tools can also help provide channels that support employees through the internal application process."
Other niche workforce technologies
There are too many niche workforce tools to list here that enterprise HR professionals need to execute their human resources strategy. That said, some increasingly popular technologies focus on:
Tracking the mental health and well-being of their workforce, particularly in times of disruption
Executing change management plans with their C-suite during periods of structural change
Creating a corporate "wiki" to act as a single source of truth of company info for employees
The effect of using tools like these is they help your HR team keep tabs on and improve workers' well-being and aid the enterprise in achieving company goals tied to the overall business strategy. That includes improving workforce diversity and showing a commitment to employee wellness.

2) Enterprise applicant tracking system
"Besides streamlining your recruitment processes, technology can also improve the candidate experience while driving speed and efficiency," Corey wrote for SpiceWorks. "However, there are too many shiny objects … that will fail on some core level to deliver what recruiting leaders actually need."
What's the ideal way to navigate the crowded talent acquisition tech landscape?
"Take as objective a view as possible on what your team needs from your [recruiting and hiring] technology and where you can optimize current tools," Corey recommended. "Then, search for a [talent acquisition] partner with the expertise and knowledge to work collaboratively with you."
One of the most common partnerships CHROs and TA leaders form are those with their applicant tracking system vendors. Notably, those that not only offer a world-class ATS, but also provide ongoing, hands-on support to help HR recruiting orgs thrive with their platforms.
Once you've secured tools from the first tier, turn your attention to enterprise recruitment technology. For example, with Jobvite's Evolve Talent Acquisition Suite, your HR team can:
Realize more predictable hiring outcomes, thanks to built-in recruitment analytics
Brand your career site with highly optimized messaging and visuals to boost applications
Execute a high-volume hiring initiative using our advanced recruitment marketing features
Leverage AI and automation to put a variety of formerly arduous tasks on relative autopilot
Source, nurture, and convert candidates at scale to speed up hiring and close reqs faster
Provide exceptional recruitment experiences for your HR staff and engaged candidates
Make more data-driven decisions across your full-cycle recruiting strategy
Your HCM software may offer some applicant-tracking functionality. But, what your enterprise really needs to take your talent acquisition approach to new heights in the years ahead is built-for-purpose recruitment technology intended for large organizations like yours.
If your business is included in the half of large-scale companies struggling to identify and engage qualified candidates today, a holistic solution can address this part of your HR strategy.
Learn why strategic human resources teams continue to invest in Jobvite — and how our enterprise recruiting platform can accelerate and improve your hiring efforts.