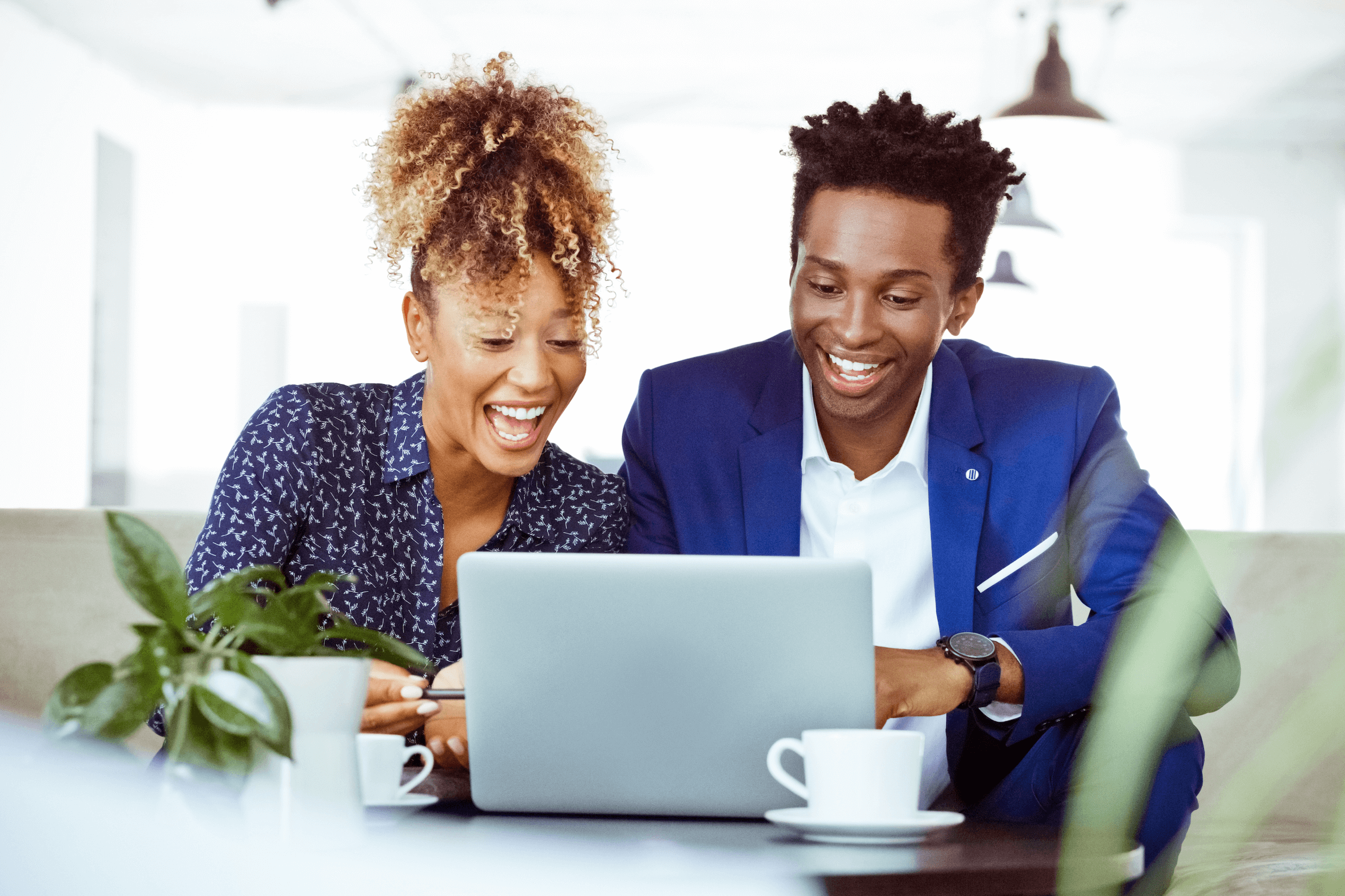 There are certainly many "evergreen" HR trends (an oxymoron, but bear with us) your human resources team and C-suite are already well aware of and have taken action on. These likely include:
Implementing a more human-centric approach to building a strong company culture
Prioritizing employees' mental health and their work-life balance in a disruptive period
Boosting employee retention by training and promoting top performers company-wide
Offering flexible working hours, particularly for those working remotely/in hybrid roles
Ensuring the employee experience is a positive one by improving the work environment
And these 2023 HR trends will certainly remain a top focal point for HR leaders in 2024.
That said, there are certainly a growing number of other, more recent (and urgent) workforce-related events, patterns, and shifts that will impact your human resources function's efforts to empower your workforce to thrive in the workplace (virtual and/or in-person) in the year ahead.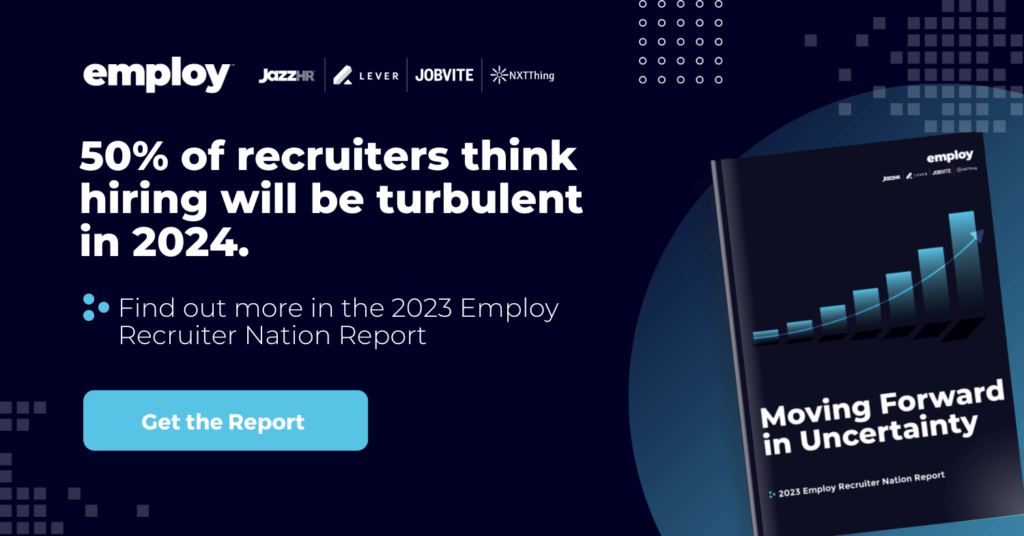 7 HR trends to know about in 2024
Here are some of the top HR trends today — more specifically, ones from the latest edition of Employ's Recruiter Nation Report, which features in-depth recruiting and hiring data as well as expert "people" insights for CHROs and their teams — you should know heading into 2024.
1) Talent acquisition will continue to adapt to ongoing uncertainty
What better way to kick off our HR trends list than to share one from a fellow Employster?
Employ SVP People & Talent Corey Berkey detailed how all companies — from SMBs to enterprises — will continue to evolve their talent acquisition processes and priorities in 2024.
That's mainly due to lingering concerns about a recession and further tightening budgets.
Two specific ways in which Corey envision's TA teams altering their approaches in the year ahead?
Eliminate inefficiencies, and enhance their existing recruiting methods.
"As businesses have adjusted hiring plans in reaction to economic conditions, talent acquisition teams have felt the impact," said Corey. "Navigating a full requisition load with less tools or … resources forces teams to change their approach." (Translation: Find ways to work smarter.)
Corey added how employers of all sizes and across industries are now "seeking ways to flex their recruiting practices and zero-in on high quality candidates, working to drive higher initial candidate quality." These are efforts that "will shape talent acquisition … into 2024."
2) The "do-more-with-less" hiring approach will (mostly) stick
No business division — whether it's human resources, marketing, sales, or support — wants to have to do their jobs with limited budget and resources. And yet, in today's business climate, that's what ongoing economic uncertainty requires most (if not all) teams to do.
That includes talent acquisition functions of today's human resources teams.
"Whether companies are growing or slowing, talent acquisition teams are being asked to do more with less based on the current economic uncertainty" WorkTech Founder and Principal Analyst George LaRocque shared for our 2023 Employ Recruiter Nation Report.
"Yet, while the economy may have been cooling … the available talent and required skills remain more complicated to find than ever," George added. "Today's recruiting challenges are the same as those previously associated with competition during times of strong economic growth."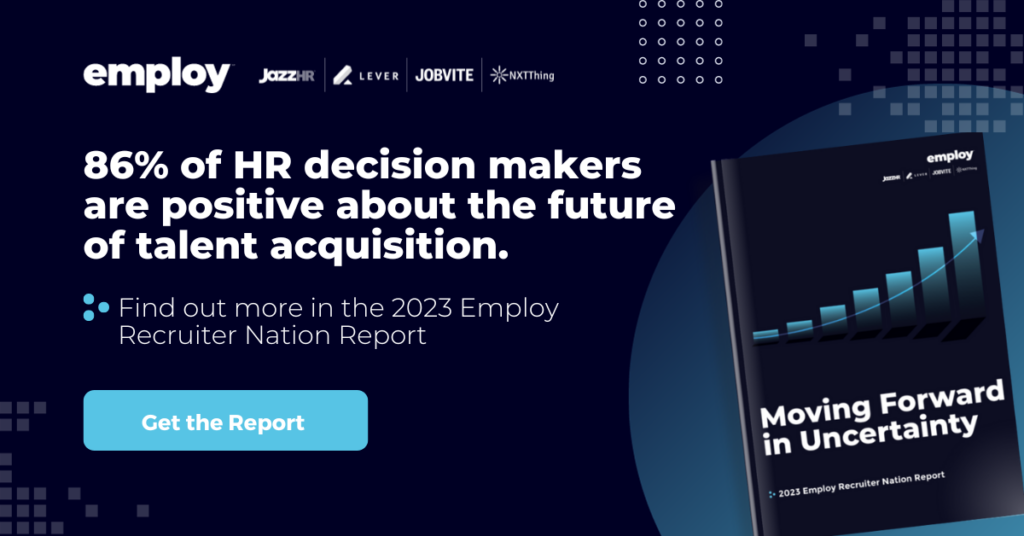 3) Orgs of all sizes will renew their focus on diversity recruiting
H3 HR Advisors Cofounder Steve Boese and CEO and Principal Analyst Trish Steed insisted employers will spend their time, resources, and energy on diversity, equity, and inclusion (DEI) initiatives in 2024 and the years ahead. Specifically, with a concerted focus on diversity hiring.
"Making increased commitments to diversity hiring is an important first step," the duo noted.
"But, they also need to back up statements with actions, like using modern recruiting technology to facilitate blind screening and interview reviews, creating more diverse internal hiring teams, and publishing diversity hiring goals, and progress towards achieving these goals."
Updating impact descriptions and career sites with messaging that relays your efforts around DEI certainly go a long way in proving your dedicated to making progress, Steve and Trish added.
However, proactive efforts to make ongoing strides with DEI — including with diversity hiring (e.g., implementing a skills-based TA approach to hire a broader array of underrepresented talent) is what will show your company truly cares about creating a more diverse, fair, and welcoming workplace.
4) Differentiation from other employers becomes a focal point
The Great Resignation led to a scarcity of talent actively looking for new work during the global pandemic. But, the market has since shifted. (And drastically, to say the least.)
Now, there's a surplus of professionals aiming to join new companies. And yet, many job seekers remain selective regarding which employers they consider speaking with and joining.
Guidewire Software VP and Global Head of Talent Attraction Ian Creamer noted how, despite a sizable number of active candidates exploring new career opportunities, HR/TA teams must still ensure their open roles (and employer brand at large) stand out from other orgs looking to hire.
"There is so much uncertainty in the market," said Ian.
"The expectation of hiring managers and leaders is that the tide of layoffs should equal much easier access to talent, and that's not always the case," Ian added. "We hire in the technology space, and truly top talent remains as hard to hire as ever."
Ian added that "candidates are still showing up with multiple offers already in hand," making it difficult to convince top-tier talent his company engages for open roles to accept their offers.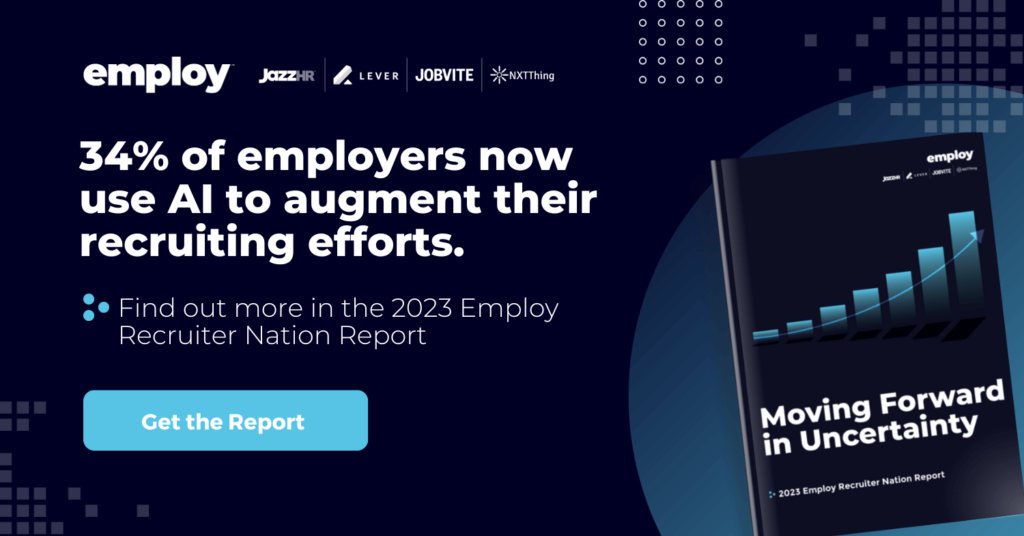 5) The use of artificial intelligence in TA continues to grow
Notice that the "AI-is-a-trend-crowd" has grown increasingly silent since early 2023? That's because artificial intelligence is, in fact, here to stay. And it's an "HR trend" all talent teams should investigate further, as there are undoubtedly several AI use cases for leveraging the advanced tech.
Restaurant Clicks CEO Brian Nagele remarked how arguably the top initial use case for TA teams is to leverage AI's bias-reduction capabilities. (Ideally, by onboarding a leading recruitment platform that already has AI recruiting functionality baked in to help make bias-free hiring decisions.)
"Many human resource departments are becoming aware of the (sometimes) unintentional biases which occur during the hiring process," said Brian.
"The beauty of using artificial intelligence to review resumes is that the software is blind to the physical appearance of any applicant."
Brian added how leading AI tech used by HR professionals today "focuses on recognizing candidate qualifications to filter through top talent." This, in turn, can help reduce potential hiring biases and ensure HR functions solely consider talent based on their skills, expertise, and other qualifications.
6) Companies will prioritize candidate experience improvements
Despite not having as many recruiting resources as they'd like for 2024, NXTThing RPO Founder Terry Terhark said CHROs will ensure their teams will stay focused on the work at hand.
But, that doesn't solely mean refining and streamlining TA processes. It also entails making sure each job seeker their recruiters engage for openings have a strong candidate experience.
"Companies still need to pay attention to the candidate experience, their employment brand, and the speed of their recruitment process" to outcompete other orgs for top talent, per Terry.
Of all the latest HR trends featured here, improving the CX is really a perpetual task for TA teams. However, as Terry can attest, job seekers are becoming increasingly "picky" with employers.
Provide a consistently enjoyable hiring experience, and you'll "win" more top talent.
7) Analytics will continue to play a pivotal role for hiring teams
Given data is now an indispensable asset for all HR/TA teams, HRU Technical Resources Talent Acquisition & HR Analyst Tim Sackett said it shouldn't be a shock that using analytics to drive recruiting and hiring decision-making will remain a strategic imperative for employers.
"Organizations with world-class recruiting functions are measuring the funnel," per Tim.
"It is imperative that TA leadership and your executive team understand the recruiting capacity that your team can deliver. You only get that by measuring the [recruitment] funnel."
Lighthouse Research & Advisory Chief Research Officer Ben Eubanks also believes actionable talent analytics is something employers of all types and across sectors must utilize daily.
"Recruiting has seen some massive swings in recent years," Ben declared.
"The one thing that we consistently see … is that employers prefer hiring practices that deliver predictability. Anything we can do to streamline talent acquisition activities, take a more proactive approach, and make data-informed decisions is going to deliver a higher degree of predictability."
Download the new Employ Recruiter Nation Report today to discover more data and insights that can help you plan, execute, and optimize your talent acquisition strategy in 2024.