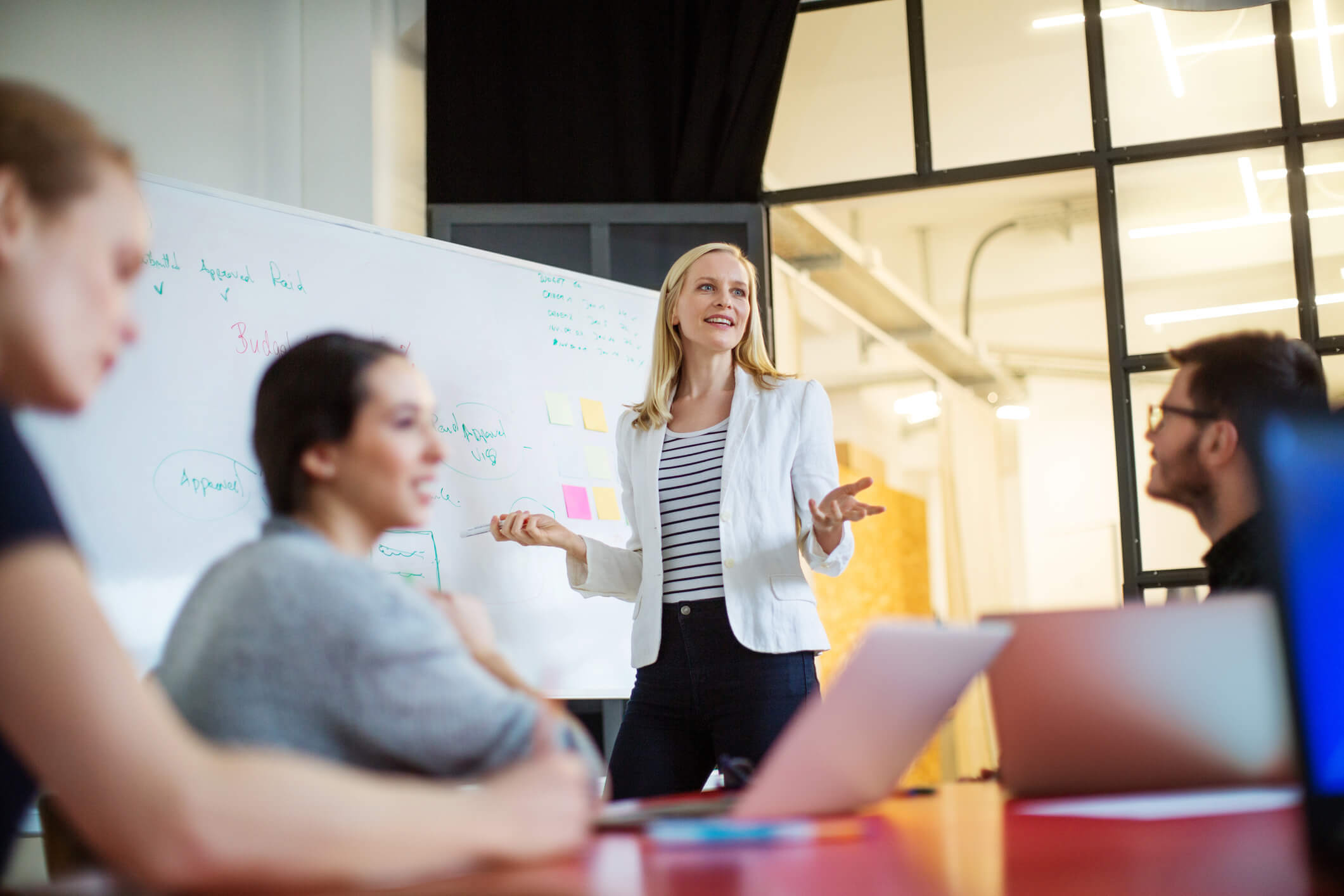 Your company's success hinges on the ability to attract and hire the best talent. And your annual recruitment plan is the linchpin of your talent acquisition strategy. But, you can't just develop a recruiting plan. You also have to revisit it frequently. (That is, at least quarterly, but ideally monthly).
Why? Because while said plan may lead to the engagement and hiring of many high-potential candidates in the initial weeks and months after producing it, your org's business objectives will invariably change over time. And with those changes often come new headcount needs.
Put another way?
Creating a successful recruiting plan that accounts for every team's and department's distinct hiring needs and overarching business goals for the year ahead should be a top priority for your C-suite and TA/HR leadership at the end of every calendar (or fiscal) year.
But, you and your executive staff can't forget that every prosperous recruitment plan should include check-ins to see if it's leading to the desired ROI. (That is, a high volume of net-new prospects added to one's talent pool and many new high-quality hires for each business unit and location.)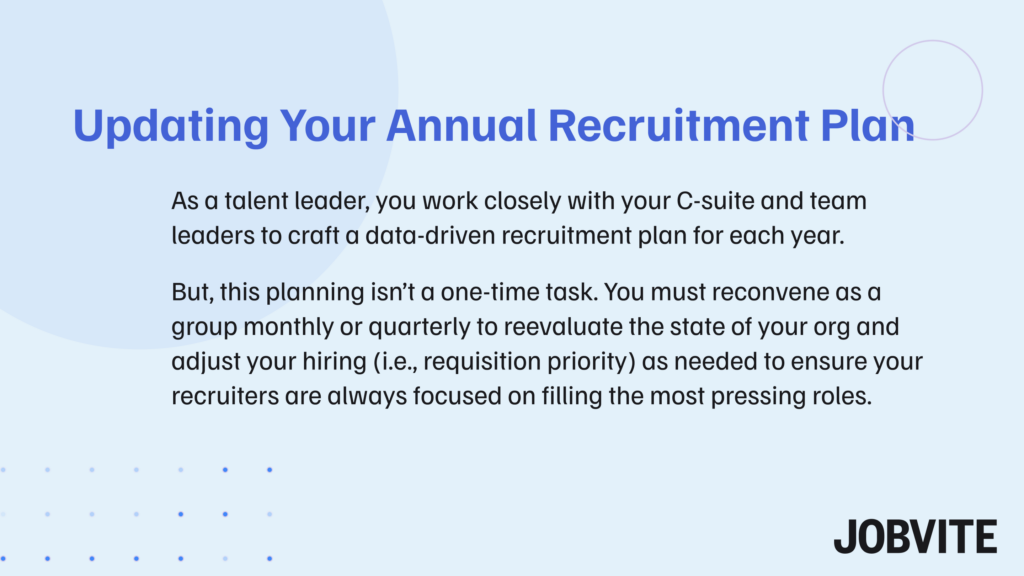 Why revamping your recruitment plan regularly is critical to your hiring success
It's impossible to overstate the significance of a strong (read: scalable and sustainable) hiring plan.
Specifically, one that leads to a streamlined and easily repeatable hiring process, thanks to the use of advanced recruitment tools and technologies by the entire hiring team. (More on this shortly.)
By regularly reviewing and updating your recruitment methods and solutions and reviewing the state of your recruiting budgets and metrics (from cost per hire to recruiting funnel speed), you can not only boost your new-hire conversion rate, but also set a solid foundation for future business growth.
Simply put, the pros of recruitment plan "refreshes" are many for your talent team and org at large.
You can increase the quality and quantity of your candidate pool
Innovative sourcing methods can greatly enhance your recruitment process. Social media platforms, online job boards, and employee referral programs can all contribute to a more effective sourcing strategy. By fostering connections in the industry and staying up-to-date on relevant communities and online groups, you can ensure that your enterprise taps into the best talent pools available.
You can better attract top talent with enhanced employer branding
The collective power of each employer brand element (e.g., your job description copy, career site layout, social media presence) impacts your ability to attract the most qualified candidates today.
A strong brand boosts the public perception of your business. As it relates to recruiting, though, it also fosters trust with job seekers and can convinces these folks your org is the right fit for them.
By investing in your org's reputation and ensuring a consistent message through your job postings, website, and social channels, you can greatly enhance your pool of potential candidates.

You can augment interview and candidate evaluation techniques
A key part of revitalizing your recruitment plan is refining your interview and assessment techniques.
By incorporating behavioral interview questions, simulation exercises, and case studies into your hiring strategy, you can better assess each job candidate's abilities, potential, and work style.
In turn, this can help you make more informed, confident hiring decisions.
Your can work with HR to make your new-hire onboarding seamless
Your work doesn't end once you've made a job offer. A strong employee onboarding process is essential to ensure that your new hires feel welcomed and well-integrated into the company culture.
By providing the necessary resources and support to your HR colleagues from day one with onboarding a new staff member, you can contribute to the never-ending process of realizing a positive and productive work environment that encourages employee retention and engagement.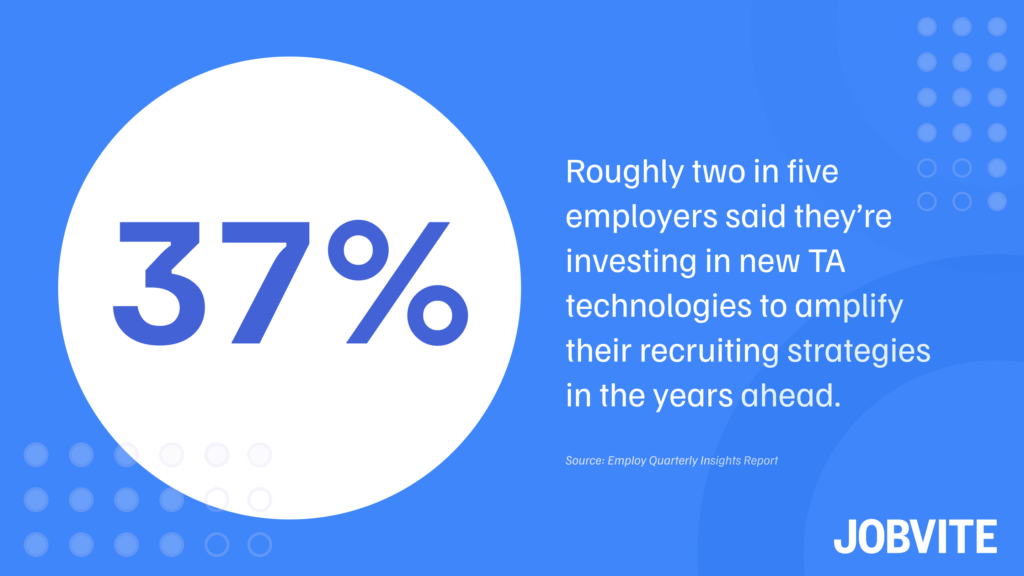 How to assess and improve your recruitment plan
Those are the pros of routinely revamping your recruitment plan. But, what are some actual tactics and activities you should look to update? We can think of a handful of focus areas for your TA team.
Clearly define the job opening and specifications
Ensure your team understands the position you are looking to fill and the required qualifications.
Begin by revisiting your job specifications to establish whether they accurately detail the qualifications, skills, and experience required for each role. In so doing, you'll avoid wasting time on ill-suited applicants and better target qualified candidates who align with your specific needs.
Streamline your talent screening and interviewing
A well-structured and efficient interview process is pivotal to your organization's hiring success.
By enhancing the quality of your interviews via updating interview questions, streamlining the interview process (i.e., removing unnecessary stages), and training hiring managers to conduct effective interviews, you'll be better able to identify top "contenders" for open positions.
Don't forget about silver-medalist candidates
A core part of any successful recruitment plan is making the effort to revisit and engage with candidates you have previously considered for other roles. By keeping a line of communication open with formerly engaged prospects, you reduce the need to source net-new candidates for roles.
Ensure you have the right ATS software
This is arguably the biggest facet of your talent strategy to regularly evaluate and improve.
Technological advancements have come to the forefront in recent years, making it easier than ever to find and manage potential candidates. Implementing an applicant tracking system (ATS) to help streamline and manage your recruitment strategy effectively is a no-brainer for your org.
"For those [talent teams] not using purpose-built technology, now could be the time, or risk losing out on top-tier candidates," Employ SVP People & Talent Corey Berkey recently wrote for Forbes.
Find out how you and your talent team can execute your recruiting strategies more effectively and efficiently with Jobvite's powerful enterprise applicant tracking system.