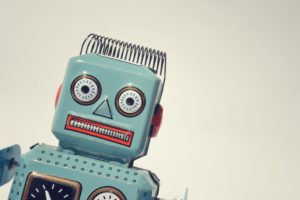 If you've been following my series of recruiting articles here on Jobvite, then you're hopefully approaching the next 12 months with a renewed optimism about the results you'll be able to generate from social media. But what else does the recruitment industry have in store for us over the coming year? In a break from my usual social recruiting advice, today I'm sharing four trends that I think we can expect to see gather significant momentum this next year:
The Rise of LiveChat in Recruiting

Increasing Experimentation with ChatBots

Embracing the Power of Candidate Retargeting

Job Boards Becoming Recruitment Agencies
Let's look at each in turn, starting with a new means of engaging with candidates.
The Rise of LiveChat in Recruiting
If you've been at all active in the recruitment technology market this last year, you'll undoubtedly have experienced LiveChat interactions on many of the websites you've visited. There are a number of technology providers in this field, most notably intercom.
In the last months, I've become aware of entrepreneurs building variants of these tools specifically with candidate engagement in mind. I've commented elsewhere that we've entered an era in which finding or attracting candidates is no longer the big challenge. Rather, it's converting those candidates into applicants – and people who want to join our business – that is the biggest modern day recruiting challenge.
With that being the case, I can well imagine that companies whose career sites offer candidates the ability to interact live with its staff will trigger a noticeable increase in candidate conversion. Firstly, just the act of making yourself available to candidates (rather than hiding behind an email black hole) immediately makes people warm to you and be more inclined to apply. That's before we talk about the power of the actual interactions that follow, where candidates' concerns or challenges re. applying for roles can be addressed in real time.
Just as companies all jumped on the LinkedIn bandwagon once the pioneers had shown the results that could be produced, so I expect we'll see the same with chat technology adoption. It'll be a tough sell at first, but once there are case studies out there demonstrating the impact this is having, I fully expect to see the rate of adoption accelerate.
Increasing Experimentation with ChatBots
A related topic is that of ChatBot adoption. I'm sure you'll have read some case examples of companies experimenting with ChatBots already. But there are at least two reasons for thinking these will grow rapidly in popularity in the recruitment industry.
Firstly, Facebook opened up its Facebook Messenger service to business use earlier this year – and opened up its API for external developers to begin building on top of it. This has huge repercussions. Firstly, with an enormous base of existing users – many of whom use Messenger on their smartphones – this has created a simple means by which companies can integrate chat functionality for any part of their business (recruiting included). All that part of the business needs is its own Facebook page (which many in recruitment already have) – and then they're immediately able to interact with candidates on their smartphones on a channel they're already familiar with.
The opening up of the Facebook API has meant that a number of companies have now built clever integrations that allow companies to reply with auto-responder messages, create targeted lists of users, drip-feed content to specific audiences and lots more besides. With open and clickthrough rates that email marketers and InMail users could only dream of, you can begin to appreciate why recruitment teams would find this a powerful new way to interact with candidates.
The second reason we can expect to see a rise of ChatBots is simply owing to the growing burden there will be on recruitment teams, once candidates do start using these chat tools in droves. Given that companies are not interested in the majority of applications they receive ("they're a necessary evil to get to the good candidates"), it stands to reason that they'll want to minimize the time they invest with such candidates and only have real dialogue with those who look to be the best fit for the business. Cue the embracing of ChatBots to manage an otherwise onerous resourcing challenge.
Embracing the Power of Candidate Retargeting
I certainly perceive that there's a snowball effect gathering momentum in the area of candidate retargeting. By way of a quick recap, this involves taking your past website visitors – or candidates whose email details you hold – and then having adverts shown just to that specific audience. So, for example, your company might put a series of adverts into the Facebook feed of people who've visited your company careers page but not yet gone on to submit an application.
That this repeated exposure produces higher conversion rates is a proven fact in the world of consumer marketing. Many in the recruiting space believe the same principles hold true, for driving up application rates from those candidates who've already shown a degree of interest in joining a business. As more and more case studies emerge of this having driven up results, I fully expect companies to start using this approach more consistently and more aggressively.
Job Boards Becoming Recruitment Agencies
This has also been a tumultuous last 12 months for the job board industry. We've seen Monster being acquired by Raandstad. We've seen SimplyHired shut up shop entirely. Perhaps most surprisingly, we've seen Indeed launch a new arm to its business that's essentially a recruitment agency with competitive fee rates.
I say surprisingly, because Indeed has the most to lose from doing this compared to other job boards. It's been on the up over the last years and now commands a significant share of spend amongst recruitment agencies. But this could pave the way for other job boards to follow suit. Certainly I've seen a number of them roll out services that increasingly resemble those of a full-blown recruitment agency.
Could this happen more widely within the industry? I suspect it could. Across large swathes of the sector, business is down through a combination of clients switching their spend to LinkedIn or switching candidate attraction spend direct to Indeed. Yet most job boards still have significant candidate traffic volumes that they are unable to properly monetize, because their traditional client base have committed annual spend to LinkedIn and / or Indeed. In that scenario, which I believe is widespread, the most compelling way to get a job board business to thrive once again is to embrace a move into a full recruitment agency service model. How many will have the stomach for this is a different question entirely, but it's certainly the direction in which I expect to see the industry heading.
How about you? What other trends do you expect to see grabbing the headlines over the next year or two? Do add via a comment, would love to hear your thoughts.
About the Author
Tony Restell is the Founder of social media agency Social-Hire.com and helps candidates and recruiters leverage social media. You can find Tony on Twitter; or join him on one of his forthcoming webinars where he'll walk you step by step through the processes he uses to get results for recruiting teams on social media.