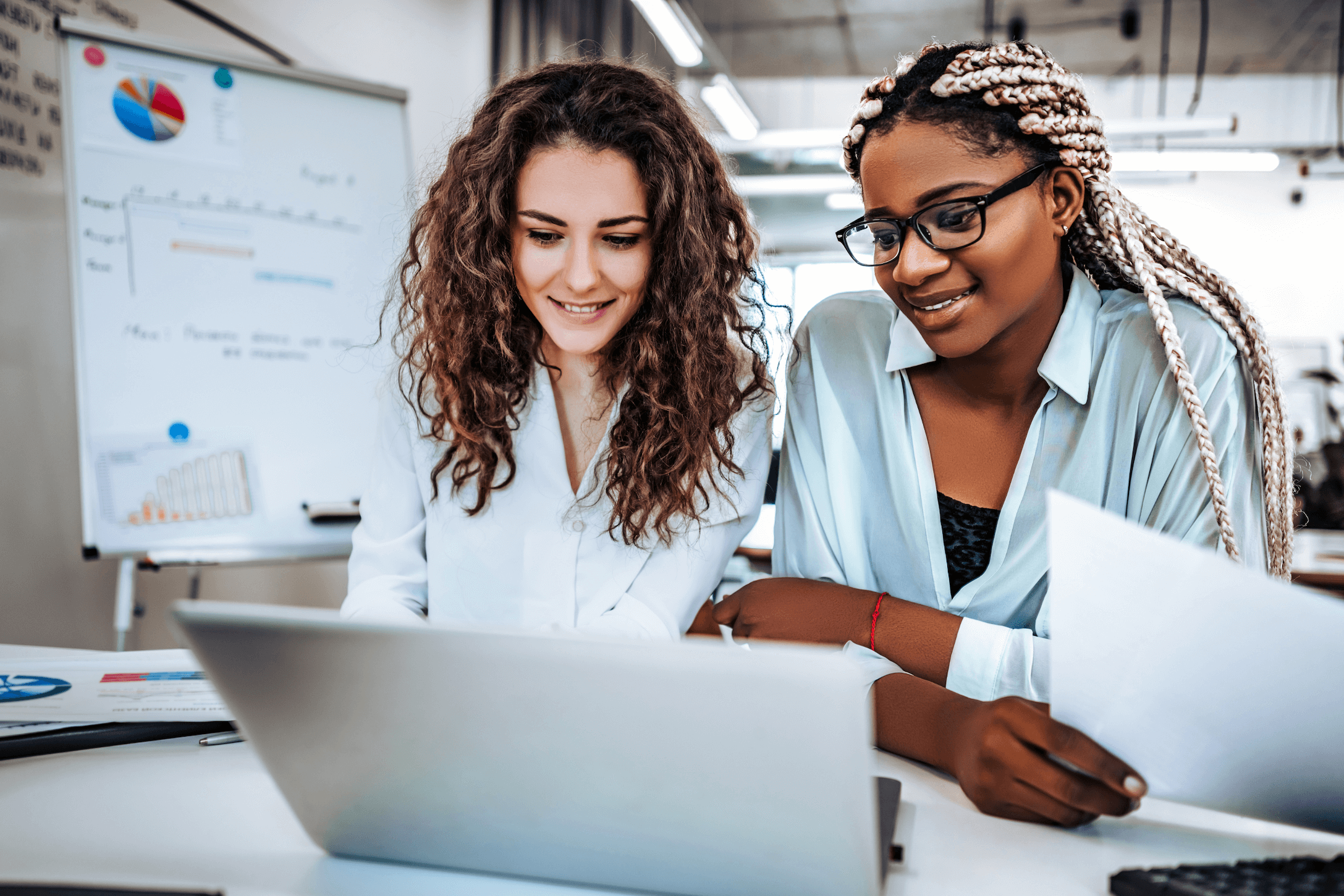 There are two sides of the onboarding coin, so to speak:
There are the new hires who need to spend the first few weeks on the job getting caught up to speed on the business at large via an employee handbook and hands-on training and learn more about their role and who they'll need to work with on and outside their team.
And then there are the human resources and other hiring team members charged with taking the reins from talent acquisition to carry out the training and orientation periods for new staff members through a formal onboarding experience that helps them acclimate.
On the HR side of said coin, human resources specialists must abide by onboarding best practices to ensure newly hired employees have everything they need to succeed from day one and feel empowered to thrive in their new positions and the work environment at large.
At the same time, HR teams — particularly those at enterprises — must also execute a highly efficient and effective onboarding process that ensures they're alerted the moment job offers have been accepted by candidates and, in turn, enables them to start planning their onboarding ASAP.
That's where an applicant tracking system with bulk onboarding capabilities can help.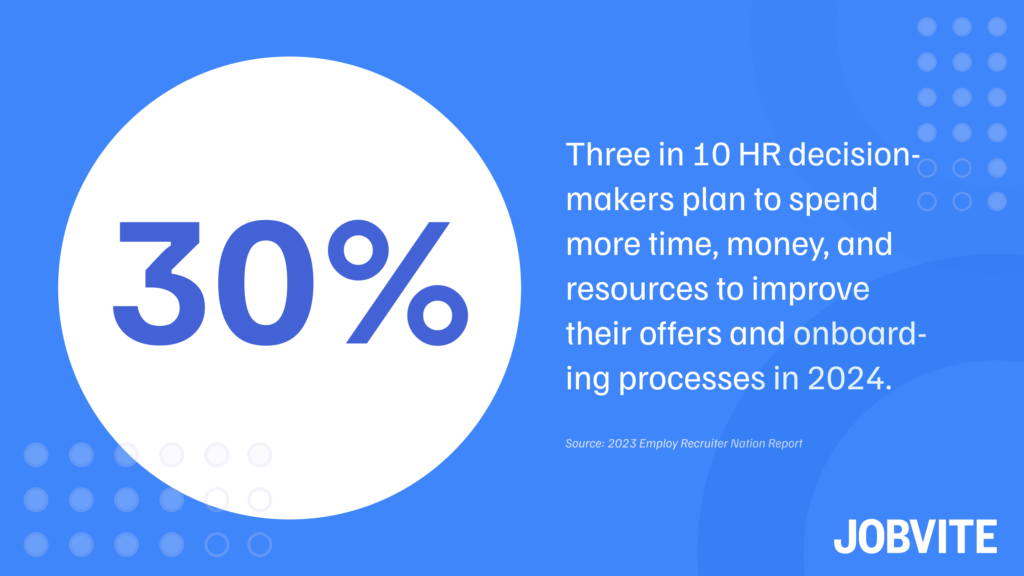 What the optimal onboarding experience entails for today's HR pros and hiring managers
Before diving into the benefits of leveraging human resources technology with bulk onboarding functionality built in, it's worth reviewing the modern onboarding "checklist," of sorts, that leading HR teams at large-scale companies use to provide stellar employee experiences for new hires today.
Creating an onboarding kit that covers the role, team, and culture
New hires are, more often than not, rightfully stressed about their first day and weeks on the job.
That makes it worthwhile to alleviate that anxiety by giving them an onboarding kit that features a comprehensive breakdown of what the entire process will entail and pertinent info about their position, their team/colleagues, the company culture, and other business-related details of interest.
Ideally, these kits are 90% the same, but with that remaining 10% including details related to their specific role and department added in to give them a lay of the land regarding who they'll work with, what tasks they'll take on, and ongoing team initiatives they will get briefed on post-onboarding.

Breaking down business objectives and providing a roadmap
Employees feel much more at ease when they know exactly what onboarding entails and get insights that can help them flourish once this orientation period ends (e.g., short- and long-term goals specific to their work and department, metrics monitored for each business unit and the org at large).
Once these objectives are laid out, that's where hiring managers can enter the onboarding process. Notably, team leads can connect their new reports with others across the org who can
Harvard Business Review contributor and business consultant Gleb Tsipursky recommends people managers who will oversee a new employee implement a training program that "progressively helps [their] new hire understand their responsibilities and achieve their goals."
Per Gleb, this can be through "a mix of on-the-job training, workshops, and mentorship programs."
Connecting your TA and HR tech to enable seamless data sharing
The above facets of the onboarding experience obviously apply to new hires. As it pertains to your HR team's experience during this process, though, it's certainly critical to have a leading HCM solution where you can store employee data and info and add notes to their profiles as needed.
But, it's equally important to ensure your talent acquisition tech syncs directly with your HR systems of record to facilitate a seamless initiation of the onboarding process.
Specifically, you need an ATS, like Jobvite, that helps recruiters pass the baton, so to speak, to human resources professionals such as yourself so they can kickstart their new hire orientation — specifically, that for multiple employees joining their orgs at the same time — with ease.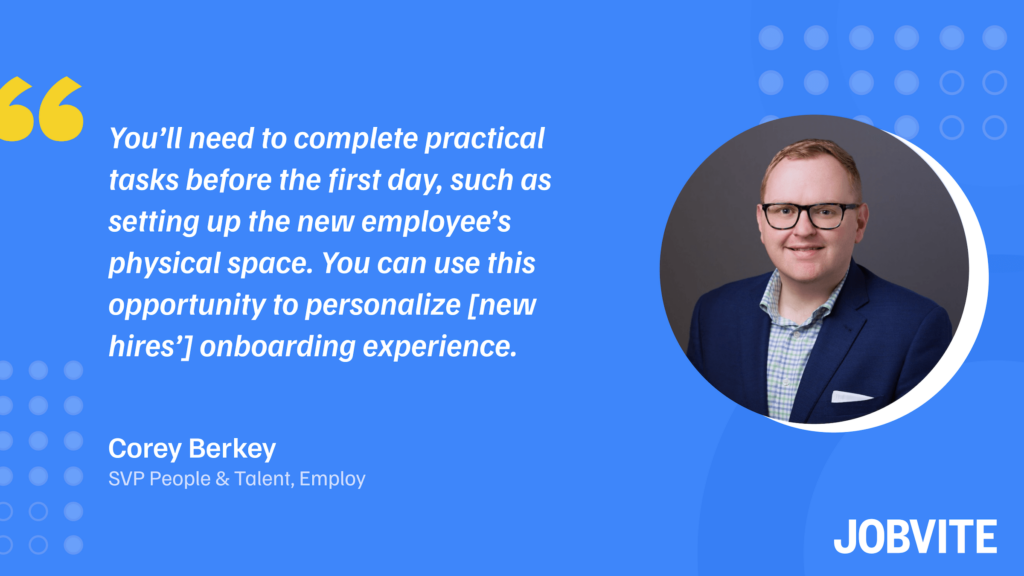 How bulk onboarding workflows help hiring teams streamline new employee orientation and training
Given your enterprise, like countless others, hires several employees each month, it only makes sense to have HR software that enables your team to create streamlined workflows that start in your ATS and transition to your human capital management software as onboarding begins in earnest.
That's why Jobvite developed our new Bulk Onboard functionality. Here's how it works.
Once candidates who officially accept a job offer are labeled as new hires in our applicant tracking system, those individuals can be automatically grouped together and assigned to the same workflow in Bulk Onboard simply by checking their profile box.
After a group of new hires has been assigned to the appropriate workflow (i.e., one tied to a given role, team, and/or location), a chain of activities for specific onboarding stakeholders is initiated. Each of these individuals is then notified of their upcoming task(s).
Given your enterprise likely employs new team members for several teams each month, different "pathways" can be created for different business units. This ensures their onboarding experience is highly relevant to the roles they take on and departments they join.
All in all, Bulk Onboard simplifies the end-to-end new hire training and orientation process.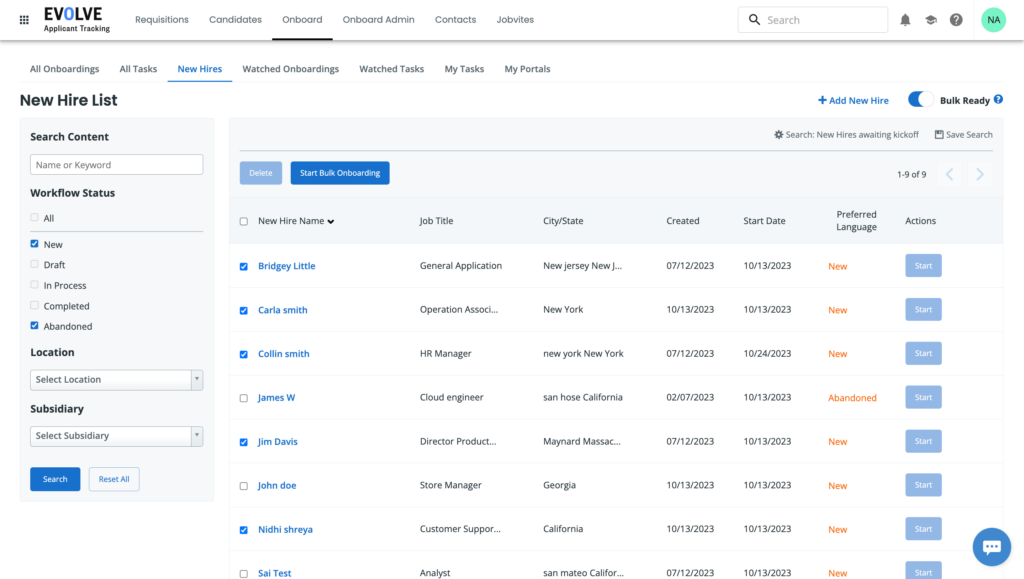 Specifically, the features ensures onboarding administrators and orchestrators (a.k.a., the people ops personnel who set up all the workflows in Jobvite and trainings for new employees) can complete onboarding quickly and efficiently — while providing a stellar experience for new staff members.
"If you can use automation to take care of much of the administrative work [tied to onboarding], it frees you to focus on creating people connections and relationships that strengthen the bonds for new hires and improves retention," employee experience expert Jen Stroud shared with SHRM.
There are certainly of tools that offer such onboarding automation that are available to HR teams.
But, why not use an ATS with automated workflows and dynamic profiles for all new hires — capabilities that enable HR to get the ball rolling with onboarding effortlessly — instead?
"Large-scale employers with high-volume hiring strategies need their onboarding efforts to be as precise and systematic as possible," said Employ Product Marketing Manager Ieshia Hill.
"With Bulk Onboard, human resources hiring teams can make sure newly signed employees can be added to onboarding workflows en masse, as needed, and — in turn — save substantial amounts of time with what is historically a heavily time-intensive task."
Learn how Jobvite's Bulk Onboard can help your team execute more effective employee onboarding programs. Schedule a demo of our best-in-class enterprise ATS software today.