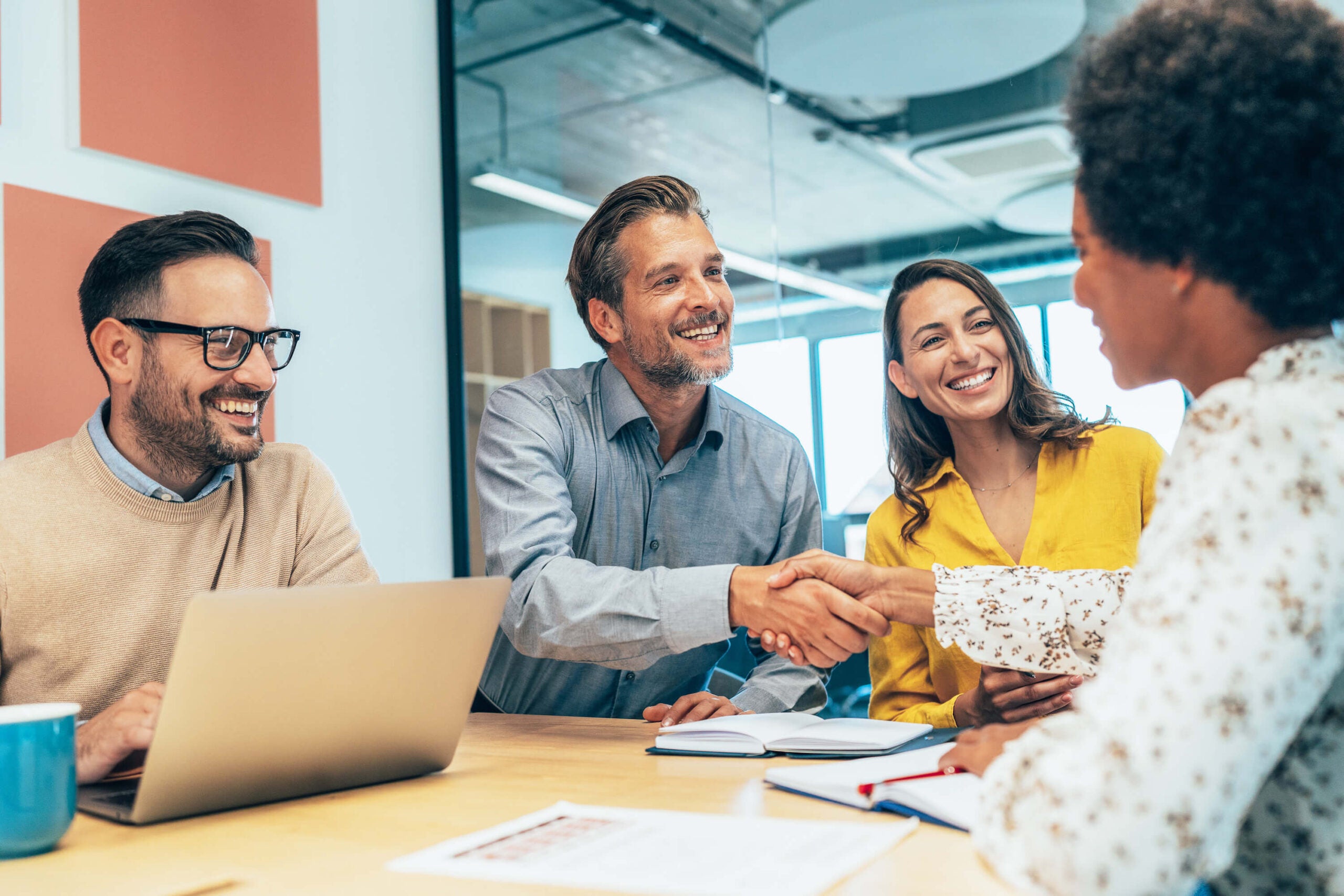 The first, second, and third priority for all of your enterprise talent acquisition team members today is to engage and convert candidates at scale and continually enhance your recruiting strategy.
To accomplish this, your best bet is to turn to advanced yet intuitive recruitment technology.
Specifically, your business should invest in a leading candidate relationship management (CRM) solution that can help you plan and carry out your recruitment marketing ideas, manage your individual and collective pipelines, nurture prospects of interest through the funnel, and analyze your recruiting team's work — all from a single solution.
We could cover (and, well, have covered extensively) each of these TA activities and how to best conduct each one in a modern hiring platform your entire team can leverage with ease. (Hint, hint.)
Today, though, we're going to focus solely on the first item: recruitment marketing tactics you can execute with the aid of a built-for-purpose CRM tailored to large-scale orgs like yours.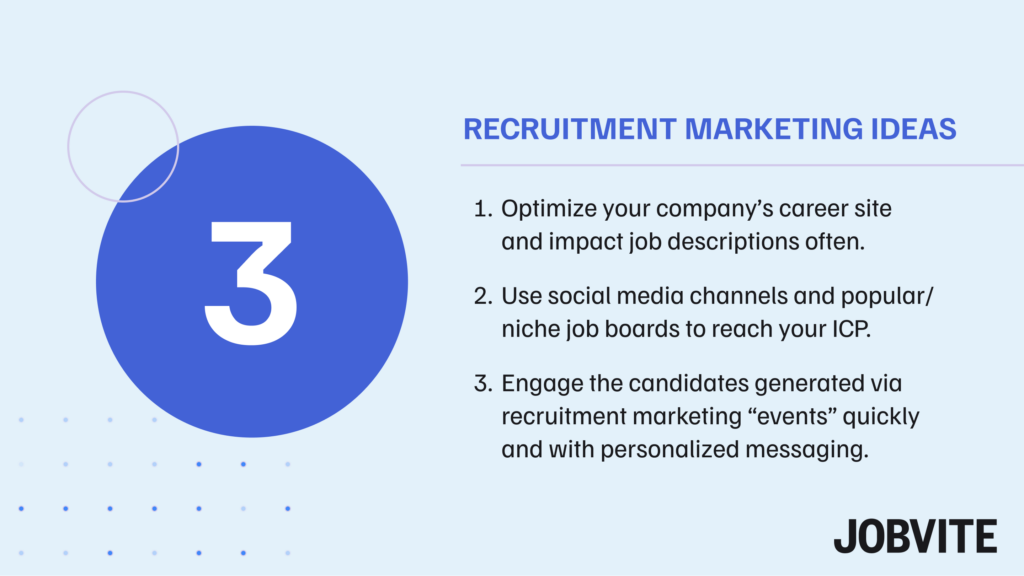 3 recruitment marketing ideas to help you get more candidates into your talent pool
Whether you're charged with promoting highly specific job openings (e.g., those for technical or C-suite positions) or handle a high volume of requisitions each month, the recruitment marketing ideas below can help you get both your brand and latest job postings in front of the right audience.
1) Optimize your career site and job descriptions
Your "owned" recruitment marketing collateral should always be addressed before turning to paid tactics. In other words? Focus on promoting your brand and available jobs on your org's website.
Your career site is the main gateway for job opportunities your ideal candidate profile (ICP) looks for. So, that makes it vital to regularly optimizing postings published on your corporate site. That means:
In addition to job description optimization, it's essential to revisit the language used in postings often. Candidates often apply for a job based on how well the job description resonates with them as well as how inclusive the language incorporated is. (Tip: Avoid gender-biased terms and phrases.)

2) Use social media and job boards to reach your ICP
The above recruitment marketing idea covers your owned efforts. Now, let's turn to external channels on which you can promote your postings and employer brand at large to resonate with your potential candidates. There are two fairly obvious digital locales where you should allocate your time:
Social media
Create and share engaging content on platforms like LinkedIn, Twitter, and Facebook, which not only showcases your company culture but also promotes your open roles. Also, engage with your followers, actively participate in industry chats, and encourage employees to share your job postings.
As for paid ads for your job openings, A/B test different types of promoted postings on LinkedIn (e.g., ones for different kinds of roles for different teams and with different job titles) to see which perform best in terms of clicks and general engagement as well as actual application completions.
Job boards
Make the most of both popular and niche job boards to get word out about your open positions.
LinkedIn, Indeed, Glassdoor, ZipRecruiter: Those are the fairly obvious go-to channels.
That said, experiment with publishing postings to industry- and/or role-focused job boards to see how many applicants those generate. (Who knows? You and your talent team may find one or two more proven sourcing channels by investigating and posting to lesser-known career communities.)
3) Engage leads generated via recruitment "events"
Not all of our recruitment marketing ideas are ones that entail getting more leads into your talent pool. This one focuses on nurturing active candidates you earned through the two above approaches.
Here's a common scenario your recruiting team has undoubtedly encountered over the years:
You designate a few hundred dollars to get a posting for a highly important, senior-level role at your org to be the feature job listing on LinkedIn for a month or so.
Thanks to the attractiveness of the role in question (due to well-written job description), you generate several hundred applicants and reach your applicant threshold.
It's essential to engage the most qualified candidates of interest who seem like the best fits for the position. And that requires the right talent engagement platform.
With the right ATS and CRM tools in place — with dynamic candidate profiles that are automatically created upon application submission and update as new prospect or recruiter actions are taken as well as built-in nurture features — you can easily (and quickly) a) determine who the top 3% of applicants are, and b) deliver bespoke, follow-up messaging to each of these job seekers.
You put a great deal of time, effort, and money into targeted recruitment marketing activities. Thus, you need to ensure you connect with generated leads in a timely, individualized manner.
Only when you're able to do that in a repeatable and sustainable way can you achieve your recruiting KPIs and long-term TA goals (e.g., hiring top talent in your hiring managers' desired timeframe).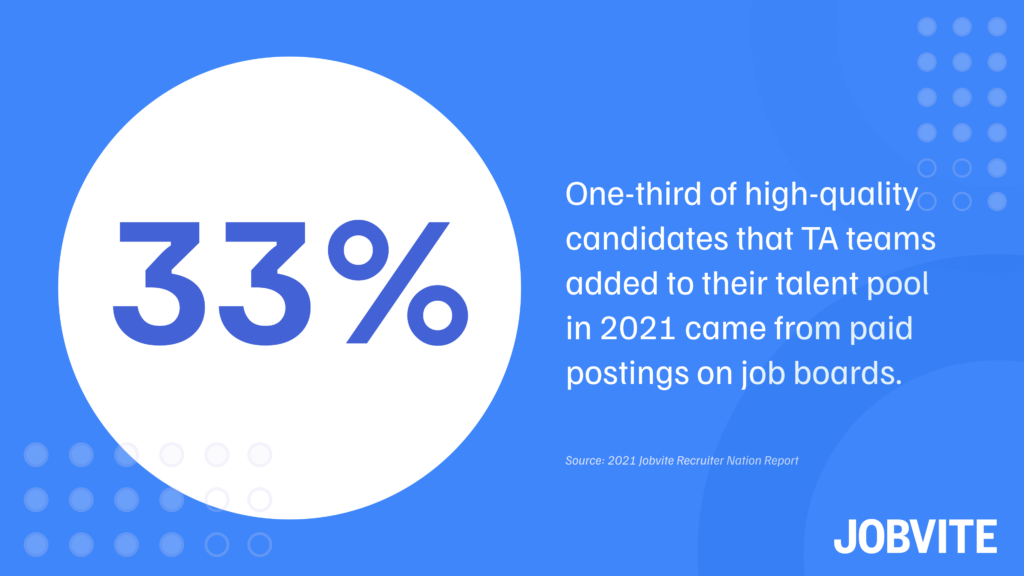 Leveraging recruitment marketing tech
With technology advancing faster than ever, recruiters need to stay abreast of the latest digital advancements that can help them work more efficiently and better connect with passive candidates.
One of the most effective ways to achieve this? Using leading recruitment marketing software. There are three distinct benefits of utilizing this kind of tech to engage candidates in your database.
Collect candidate details and track their preferences
With an integrated database (i.e., a CRM that has built in recruitment marketing capabilities and syncs with all other critical TA tools), recruiters can maintain more detailed and enriched candidate profiles and better understand the preferences and motivations of passive candidates. 
This insight can then be used to craft more compelling, customized messages and campaign materials. This improves the chances of converting passive candidates into engaged opportunities.
Investing in recruitment marketing tech (really, a powerful ATS and CRM) that offers comprehensive, dynamic data collection and robust applicant-tracking functionality saves talent specialists precious time (i.e., from not having to manually connect TA systems or "share" data across solutions).
With automatically updated, real-time data tied to all recruiting activities — including data related to targeted marketing ads, emails, and SMS messages — in a centralized platform your entire hiring team can access, recruiters like you can focus more on refining your nurture outreach efforts.

Organize and segment your talent pool for targeted comms
Another valuable benefit of using technology with recruitment marketing tools is the ability to segment your talent pool into specific groups based on factors such as skills, location, or industry.
By organizing your talent pool into meaningful segments, you can ensure that your outreach efforts are as relevant and targeted as possible. (And that you don't waste any of your TA spend.)
The top recruitment technology provides customizable filters and tags. This makes it easy for recruiters to segment their candidate pool and craft custom-tailored comms for each prospect. (Something that also impacts the quality of candidate experience for each job seeker.)
Build candidate relationships with personalized, timely messages
Speaking of messaging, CRMs also offer automated email campaigns. Instead of relying on manual messaging, you can use this kind of tech to automate the delivery of personalized email to a single lead or multiple candidates at predetermined times.
Or, if you prefer to execute text-based recruitment marketing ideas (a likelihood, given how research continues to show SMS comms are preferred by many job seekers today), there's tech that offers built-in candidate texting. Just look at Jobvite. Our customers automate responses to recent applicants to ensure they connect with them shortly after the click "Submit."
Want more recruitment marketing ideas and hiring insights? Connect with the experts at Jobvite. Our team can explain how our recruitment technology can strengthen your talent acquisition strategy.